IN FOCUS: Experiencing Rwanda's plastic bag ban, and whether Singapore could adopt a similar approach
Rwanda's approach of banning plastic bags with stiff penalties in 2008 has reaped environmental rewards. What lessons could Singapore learn in its own push to cut its massive amounts of plastic waste?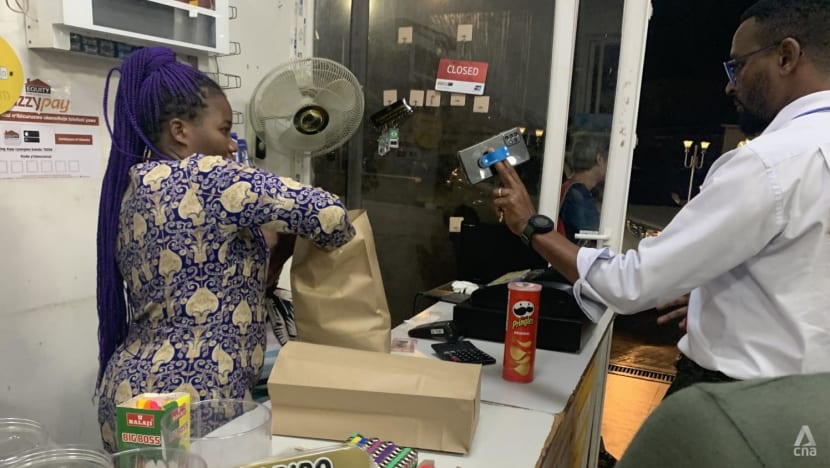 KIGALI, Rwanda: The signs in airport arrival areas around the world commonly warn passengers against smuggling drugs, weapons or large amounts of currency.
But the white sign that confronted me as I cleared customs in Rwanda's Kigali airport last month presented a rather unusual message: "Use of non-biodegradable polythene bags is prohibited."
In 2008, Rwanda banned plastic bags in a push to protect the environment, part of a plan to help revive the country after it was devastated by a civil war in the mid-1990s.
The small east African nation is one of at least 40 countries that have restricted, banned or taxed the use of plastic bags, but its approach is one of the most extreme.
Owners of factories caught producing non-authorised plastic bags face up to a year in prison, while those who sell them could be fined a maximum of 300,000 Rwandan francs (S$408).
Exceptions include plastic bags used in the packaging of meat, chicken, fish and milled cassava leaves, so they can easily be refrigerated.
In Singapore, large supermarkets will have to charge at least 5 cents for each disposable carrier bag from mid-2023. The Government has stopped short of a full ban, citing how bags are used to dispose of trash and then incinerated, instead of taking years to degrade in a landfill.
Back at Kigali airport, I had two plastic bags in my suitcase: One for my slippers and another for laundry. Rwanda's plastic bag ban did not cross my mind as I was packing, and now I was at the mercy of customs officers.
"Any plastic bags in your luggage will be confiscated at the airport or other point of entry," Rwanda's official tourism site cautioned. 
Officers did not check my bags, so off I went with my polythene contraband into the country (I made sure to take them back home with me). I was in Kigali to cover the Jun 20 to Jun 25 Commonwealth Heads of Government Meeting, which involved both the leaders of Rwanda and Singapore.
Rwanda has been dubbed the Singapore of Africa, and if first impressions were anything to go by, the African nation more than 8,000km away has taken this comparison seriously.
The hilly and pleasant streets of Kigali were lined with grassy verges, trees and traffic cameras that strictly enforced a 60kmh speed limit. Locals I spoke to painted the image of a law-abiding population, and after asking where I was from, lavished praise on Singapore.
"Singapore became a first-world country in a short amount of time," a bespectacled man cooed behind a counter as my colleague waited to buy a SIM card.
But the biggest similarity for me was how clean the streets were. I noticed hardly any litter in Kigali. What I saw every 100m or so was a sanitation worker in a high-vis vest sweeping the pavements.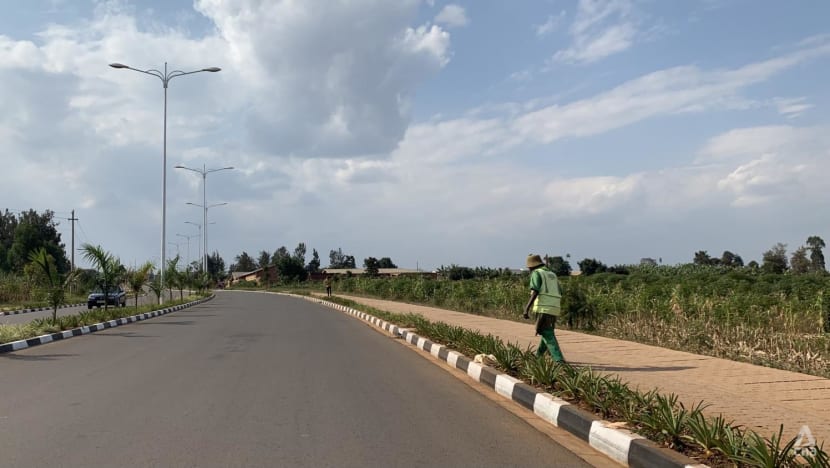 This was not an act put on specifically for the Commonwealth meeting.
Articles about Rwanda over the years have called it one of the cleanest nations in the world. The country even sets aside every last Saturday of the month for a community work day called Umuganda. Citizens work together to clean the streets, cut the grass or trim the bushes.
While Umuganda helps keep up the high level of cleanliness, part of it is also thanks to the plastic bag ban, said my driver and Kigali resident Igor Kayiranga, 33.
"People threw a lot of them on the roads," he said of the pre-ban era. "It was something that was not good."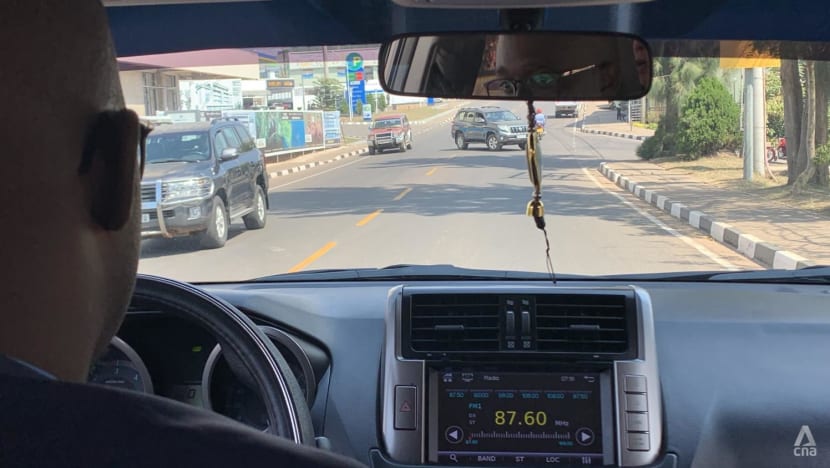 In Rwanda, improperly discarded single-use plastic can prevent rainwater from penetrating the soil and cause flooding as well as low agricultural productivity, or clog drains and produce breeding grounds for bugs that transmit diseases like malaria.
Rwandan authorities were also concerned about how some plastics were being disposed of. When burned, they released harmful and toxic pollutants into the air.
"Moreover, toxic chemicals used for manufacturing plastic often enter the food chain when animals consume them. This is a concern since a big proportion of the population's diet is meat," a spokesperson for the Rwanda Environment Management Authority (REMA) said in emailed responses.
The spokesperson said the plastic bag ban was implemented to protect the environment, economy and public health through the reduction of trash and litter.
"Plastic bag bans save municipalities money by way of less trash to pick up. Bans can also save retailers time and money since they no longer need to provide plastic bags," the spokesperson said.
PAPER BAGS AND NAKED BINS
The early days of the ban were not without challenges.
A "large black market" for plastic bags emerged, REMA said, attributing this to a lack of alternatives and an unwillingness to change habits.
"Rwanda had at that time no industries that produced environmentally friendly, reusable bags. Huge investments were also required to expand nascent recycling capacities," the spokesperson said.
To tackle this, companies that used to make plastic bags were given tax incentives to buy equipment to recycle plastic or manufacture environmentally friendly bags, REMA said.
Authorities also conducted routine inspections and acted on tip-offs to ensure compliance from business owners.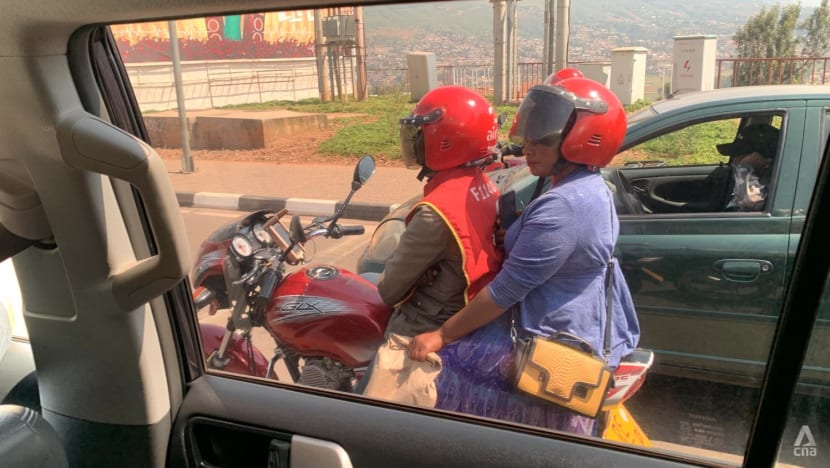 More than a decade since the ban kicked in, I observed how it has become the status quo.
Supermarket cashiers packed groceries in small paper bags, the kind used to take out a fast-food meal in Singapore. Public bins and those in hotels were not lined with plastic or anything at all. I did not spot a single plastic bag lying on the streets or being freely handed out.
At home, people combined their rubbish in burlap or polypropylene sacks that were used as packaging for food like potatoes or flour, before leaving them outside for collection, Mr Kayiranga said. Sometimes, refuse workers would only take the trash so the sacks could be reused.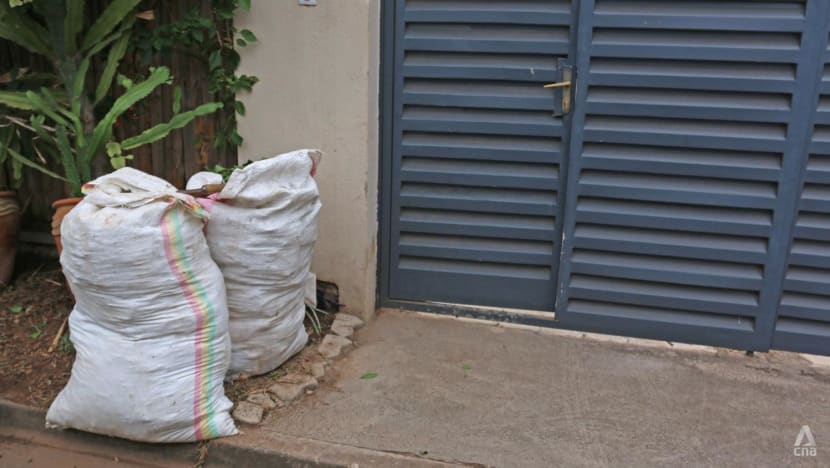 These sacks could also be bought at the market. If they were not available at home, people used any sort of packaging – even gardening gloves – to consolidate their rubbish.
When asked if bins at home got dirty because they were not lined, Mr Kayiranga said people usually put food waste in empty cartons first.
"Of course, at the start of a new policy you will have difficulty, but progressively now we're good with this. And it's also nice to see the roads clean," he added.
SINGLE-USE PLASTIC OUTLAWED TOO
In fact, the Rwandan government has gone a step further. In 2019, it passed a new law banning single-use plastic like bottles, straws, plates and forks.
Businesses that sold single-use plastic materials had three months to clear their stock, while manufacturers had two years to start shifting to producing greener alternatives.
Once this grace period ended, errant manufacturers could face heavy fines, lose their trading licence or even face closure.
Despite that deadline, my experiences showed there was still some way to go.
One restaurant I visited still gave out plastic straws with beverages. When asked why, the waiter said the establishment had not finished its stock of plastic straws, and would switch to alternatives once they ran out.
At one cafe, my four cups of takeaway iced coffee came in plastic cups. When I wanted to find out more, the waiter thought my driver was from the government. He clammed up and said he could transfer the coffee to paper cups if we wanted to.
While it was clear that there was not yet full compliance, REMA said "good progress" has been made, citing "future plans" to promote single-use plastic alternatives and reusable packaging materials.
FRAGILE PAPER BAGS
As I continued to go about Kigali, I encountered some practical difficulties with the plastic bag ban, like during a trip to the supermarket without my own reusable bag.
I bought a carton of fruit juice, two blocks of chocolate and a 1.5L bottle of water, which the cashier put in a single paper bag. I had barely left the supermarket when the bag started to tear at the bottom. I ended up carrying the water bottle separately.
At a fast food place, I requested to take out a side of poutine, or fries topped with cheese curds and gravy. The waitress packed it in an aluminium container and put it in a paper bag.
During the car ride back to the hotel, the gravy seeped through the container's paper cover and inevitably the paper bag. I entered my room with my jeans slightly soiled and smelling of poutine.
Separately, my colleague who stored a paper bag with banana cake in the fridge found that the bag tore easily after a few days kept in cooler temperatures.
When asked about such concerns, REMA acknowledged that people had become dependent on plastic because it is cheap to produce, light and therefore easy and cheap to transport, and "incredibly" strong and durable.
"But it's these advantages which also make it so harmful. The micro-plastics that result from these processes are harmful to the environment. It is also very difficult to recycle," the spokesperson said.
"Shoppers are encouraged to make more environmentally friendly choices in packing and transporting items."
CHALLENGES ABOUND
Still, there continues to be some pushback.
REMA said some people still smuggle plastic bags into Rwanda, something alluded to by local non-governmental organisation Rema Environment Awareness Organization.
"We are doing a lot, but when your neighbours don't have that policy, I think it will be difficult for us," said its project coordinator Johnson Kayitare, pointing out that people could buy plastic bags in countries like Congo, Burundi and Tanzania and bring them across the border.
Mr Alan Gahamanyi, who runs a supermarket on a busy street in Kigali, told me that some customers have "begged" to be given a plastic bag so they could use it at home, for instance, to store vegetables.
"It's illegal," the 31-year-old said. "Unless I pack meat in it, I cannot give you one."
With prior approval from authorities, supermarkets are permitted to hand out biodegradable plastic bags if customers buy fresh meat.
Mr Gahamanyi then pulled out a plastic pack of nuts imported from a neighbouring country, saying that he thinks authorities are still working with food exporters to modify the packaging on Rwanda-bound products.
The REMA spokesperson acknowledged that some neighbouring countries still use single-use plastic, which is why their products arrive that way.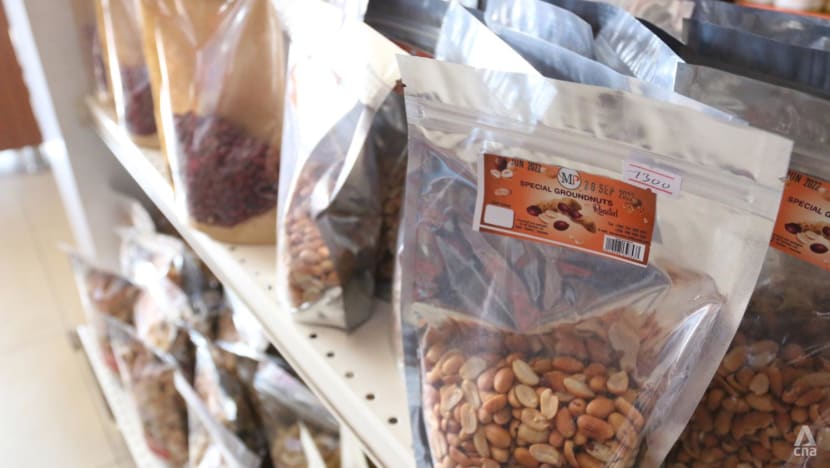 Mr Gahamanyi felt this discrepancy in packaging standards could hurt the local economy.
For instance, he gestured at a similar pack of nuts that was produced locally but came in paper packaging. This cost more, yet the packaging was of lower quality, he said.
"Imported goods can be more competitive than local ones, and economically it's not very smart," he said, adding that his customers always choose imported products over local.
"Imported products come in plastic, then you tell the locals not to use it. This doesn't make sense."
On a more personal level, Mr Gahamanyi admitted that the plastic ban has led to some challenges. For example, he said the sacks used to pool rubbish were "not user-friendly" and difficult to tie up, while unlined bins get dirty and needed to be cleaned from time to time.
"You've got to change your lifestyle if you want to eradicate plastic," he said. "It's challenging, but it's for the good of nature."
REMA said the plastic ban has helped cut emissions, reduce waste, increase agricultural productivity and fight climate change.
The environmental benefits have also led to an increase in tourism, the spokesperson said, asserting that Rwanda is cleaner than neighbouring countries.
"Not only did eliminating plastic trash save lives, it also boosted economies," the spokesperson added.
SINGAPORE'S PLASTIC SITUATION
In 2021, Singapore generated 982,000 tonnes of plastic waste, of which only 6 per cent was recycled.
According to Singapore's National Environment Agency (NEA), households and trade premises threw away about 200,000 tonnes of disposables each year in 2019 and 2020, with disposable bags making up about two-thirds of this.
This amount of disposable bags can fill up about 400 Olympic-sized swimming pools.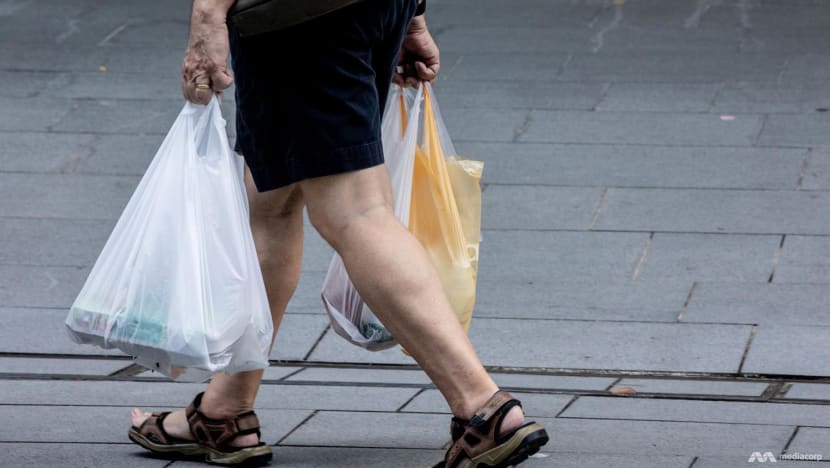 "Such excessive consumption is unsustainable. It not only uses up resources, but also adds to Singapore's carbon emissions when they are incinerated in our waste-to-energy plants," NEA said in January when it invited public feedback on charging for plastic bags in supermarkets.
Professor Seeram Ramakrishna, who chairs the Circular Economy Taskforce at the National University of Singapore, said scientific studies have shown that materials contribute to about 23 per cent of total emissions by human activities.
"In other words, a careful management of single-use plastics, and plastics commingled with solid waste in the society, will have impact and hence important in our fight against climate change and bringing back a healthy living environment," he told me.
COULD SINGAPORE BAN PLASTIC BAGS?
Minister for Sustainability and the Environment Grace Fu said in August 2020 that Singapore was not "in a hurry" to ban plastic bags, given that plastic waste is incinerated and in turn produces energy.
Therefore, the value of such a ban is "a little different", she was quoted in media reports as saying during an online dialogue on sustainability and plastic recycling.
Instead, the Government has decided to introduce a charge on plastic bags to discourage excessive use, stressing that the charge will not remove access to such bags used for bagging waste, one of the most common concerns raised.
A 2018 study by the Singapore Environment Council found that shoppers take 820 million disposable carrier bags from supermarkets alone each year, an average of 146 bags per person.
"Households can consider repurposing packaging from the products they purchase for bagging their rubbish," NEA said in a summary of responses to the public consultation.
Prof Ramakrishna said it should be noted that Singapore's per capita usage of plastics is "far higher" than Rwanda's.
"Plastics are entrenched in our society serving a range of purposes unique to Singapore," he said.
"However, for Singapore to be taken as a good role model in sustainable development by the world, Singapore needs to draw up an aggressive plan on plastics similar to the recent pledges on carbon tax and carbon neutrality by 2050."
Prof Ramakrishna called for "bold efforts" on several fronts, including developing a full-scale plastics recycling industry, mandating recycled content in products, and getting companies to report their measures and performance in the circular economy of materials.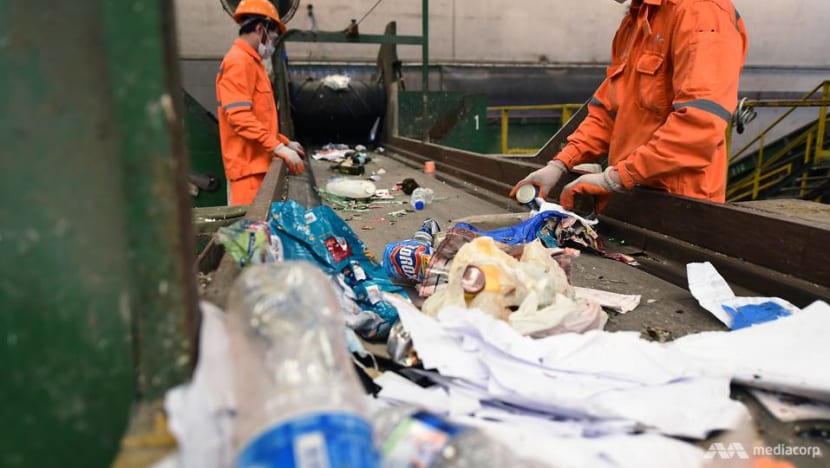 NEA said the bag charge will contribute towards the Singapore Green Plan 2030 objective of reducing the amount of waste to landfill per capita per day by 20 per cent by 2026, and 30 per cent by 2030.
The Plastics Recycling Association of Singapore was also launched in August last year to improve Singapore's capability in plastics recycling, by bringing together stakeholders to exchange knowledge and best practices.
Prof Ramakrishna said a plastic bag ban in Singapore could contribute to a "desired change" in consumer behaviour and promote new business models as well as innovations in products and services.
"Leveraging own experience, Singapore Inc can serve other markets and societies, thus creating new avenues of economic growth and competitive advantage," he added.
"Furthermore, such credible practices and pro-earth outcomes will touch, inspire and transform our young minds and hearts."