At this Ukrainian school, students not only bring their books, they also carry emergency bags
Missile strikes and power outages are a new reality that Ukrainian students have to adapt to.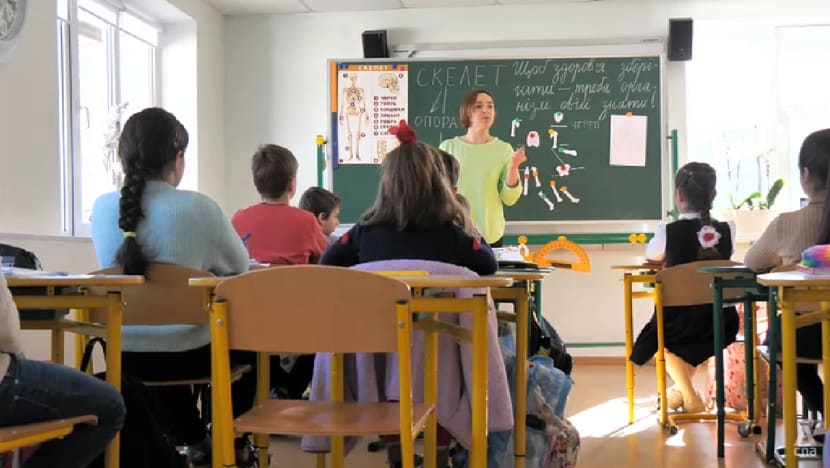 KYIV: At one elementary school in Ukrainian capital Kyiv, students not only bring their books but also their emergency "go-bags". 
Roughly two-thirds of children at the school attend lessons in classes, while the rest learn remotely. 
"Now, they not only bring their school bags to school but also an emergency suitcase," said Ms Iryna Mudrytska, the deputy director of education at School Number 327. 
"Without noise, without pushing, and attentively listening to the teacher, they head to the shelter," she added, referring to instances when air raid sirens sounded. 
Some of the students at the school have left Ukraine, after Russia's full-scale invasion in February last year. 
NEW REALITY OF MISSILE STRIKES, POWER OUTAGES
This comes as millions of people have fled their homes over the past year, tearing young Ukrainians from their schools and support networks.
For the students who stayed behind, Russian missile strikes are a constant threat at the school. They also have to adapt to the new reality of frequent power outages.
During air alarms, children between six and eight years old will continue their studies at a shelter below ground. On one occasion, they spent five hours underground.
Staff, who have been trying to make the shelter seem like just another classroom to help alleviate anxiety, said teaching in these conditions has been a learning experience. 
Students returned to classrooms in September last year. 
The school's psychologist Tamila Dzhafarova said the children are now better prepared. 
"They now behave more calmly when they hear the air alarm signal, they feel safer within the walls of the school, and they feel supported by the teachers and by me as a psychologist," she added. 
IMPACT ON STUDENTS
Some teachers said the war's escalation has had a bigger impact on older students, who are more aware of the situation.
Student Mariia Chaikina said: "It's much easier to live in war with your friends, with someone who can support you and with someone who understands you. Because I think only Ukrainians can understand me at all."
According to the United Nations, some 1.5 million children in Ukraine are at risk of post-traumatic stress disorder, depression, anxiety and other mental health conditions.
World Vision estimates that about 25 per cent of children do not have access to schooling.  
World Vision Ukraine's country response director Catherine Green said: "Once you have children disengaged from schooling, the knock-on effects are significant in terms of their mental health and psychosocial wellbeing, in terms of their ongoing learning, in terms of their ongoing ability to contribute to the rebuilding of this country once peace arrives."
With millions of Ukrainians displaced, many children are being forced to continue their studies in new communities and often in new languages, said observers. 
Educators said students can adapt quickly to these extraordinary circumstances, but they hope this lesson in resilience will soon be over.