How the lives of Russians have changed since the war against Ukraine began a year ago
Four in five people approve the actions of Russian President Vladimir Putin, an independent research organisation has found.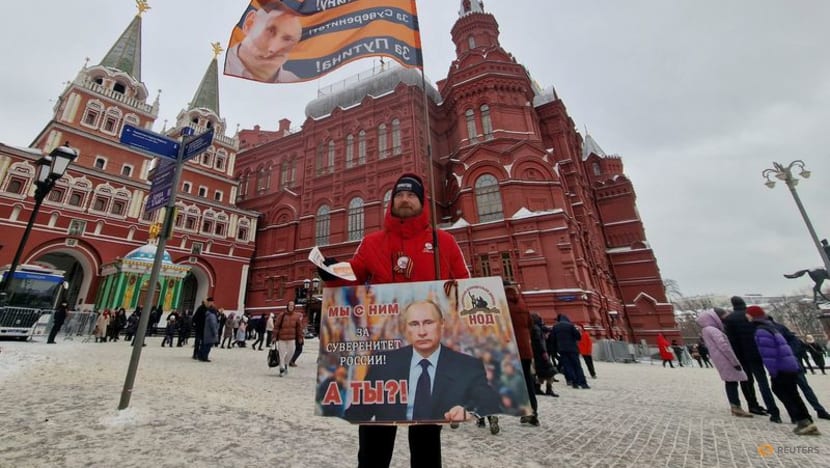 MOSCOW: Russian authorities are trying to balance the need to maintain calm at home, while assuring citizens that the country's "special military operation" against Ukraine is necessary for its survival. 
In January, the Levada Center, an independent Russian non-governmental research organisation, found that four in five people supported the actions of Russian President Vladimir Putin. 
That level of support has not changed much over the past year, said researchers at the research firm labelled a foreign agent by the authorities. 
"No news about, for example, big losses or some tragedies, or even the cases when the Russian army, for example, retreated from the Kharkiv region," said sociologist Denis Volkov, director of The Levada Center, who believes future waves of mobilisation would be met with less of a reaction.
"They didn't have much influence on these questions of support for the military, support of the idea of peace talks. No big changes."
RISKING GEOPOLITICAL ISOLATION
Russian leaders have said that they must fight until the Kremlin's vaguely defined goals in Ukraine are achieved, even if that has led to geopolitical isolation from other parts of the world. 
However, there are still some countries who feel there is something to gain from Russia's desperate need to sell energy, find new trade routes, and make more allies, said observers. 
Meanwhile, Russians interviewed by CNA said their lives have barely changed at all. 
"All is well. We rely on our government, on Putin. We love him, respect him. For us, he is a source of pride," said one resident. 
However, others believe not everything is the same as it was last year.
"Salaries, of course, have decreased. This is clear," said one resident. 
Some Russians approached by CNA declined to be interviewed, as they could get into trouble if they expressed anti-government positions. 
Participation in anti-war protests have already seen thousands fined and hundreds jailed.
PERSPECTIVES ARE SLOWLY CHANGING
But thousands of kilometres from the capital, in the Siberian city of Novosibirsk, city councillor Anton Kartavin has found a little more wiggle room to be critical.
He is trying to support those struggling with local issues and the impact of the so-called special military operation, without breaking the law. 
But this is not an easy task, said Mr Kartavin. "I think lots of repression for us is like everyday life. It's like, 'Yes, I was fired, I was in political jail, my house was searched one time. But this is fine.' It's life for a politician in Russia."
Every Friday at his constituency office, he hosts a livestream on YouTube to provide advice and answer people's questions.
"Right now, people are coming to me for the same problems that they came for in 2020, for 2021. It's all the same," said Mr Kartavin. 
"But their perspective slowly changed. They ask more questions now. Maybe our government is not correct? Maybe we are doing something wrong?"
He believes democracy and elections are still the best way to change direction, adding that people need alternatives to vote for, despite the risks of being an opposition politician.