Singapore and Uzbekistan ink deals to boost cooperation in tourism and security
Both sides also discussed ways to further strengthen trade and investment ties, as well as deepen collaboration in agri-food export.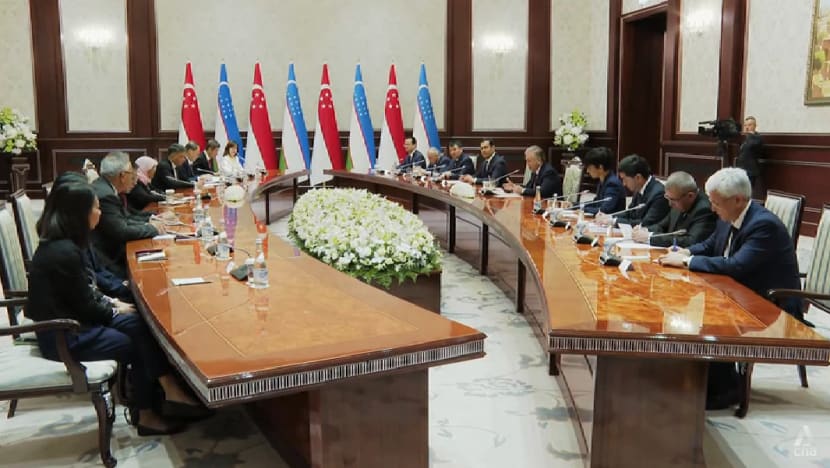 TASHKENT, Uzbekistan: Singapore and Uzbekistan have inked agreements to boost cooperation in areas such as tourism and security.
On Wednesday (May 24), Singapore President Halimah Yacob, who is on a five-day trip to Central Asia, and her Uzbekistan counterpart Shavkat Mirziyoyev witnessed the exchange of the memoranda of understanding (MOUs). 
Both leaders also discussed ways to further strengthen trade and investment ties, as well as deepen collaboration in agri-food export.
FACILITATING BUSINESS VENTURES ON BOTH SIDES
Under one of the new pacts signed between Singapore and Uzbekistan, best practices for marketing tourism products will be exchanged.
Another agreement will see both countries working together to combat and prevent crimes.
The other deals touch on cultural and legal cooperation. 
Firms from both countries also stepped up their collaboration, with new deals in domains such as transport infrastructure and renewable energy made at a business forum between Singapore and Uzbekistan companies.
The new agreements will better facilitate overseas business ventures on both sides, said Dr Shahzad Nassim, vice chairman of the Singapore Business Federation's Middle East & South Asia Business Groups.
"I think over the last five years, the interest in this region, especially in Uzbekistan, has definitely increased, given that Uzbekistan is the gateway to Central Asia, and it's also a transit corridor between Asia and Europe," he added. 
"There are quite a few (sectors) like transportation, finance, infrastructure, smart urban solutions, education, food. (Sectors) here that people find that there will be interest for Singapore companies."
FIRMS NEED TO BE PROACTIVE IN FINDING NEW MARKETS
Speaking to business leaders from Singapore and Uzbekistan at the forum, President Halimah also called on companies to be proactive in finding new markets.
She added that they need to source for opportunities to ensure continued success. 
"In today's global landscape, geopolitical tensions and fragmentation have become a growing concern. As such, economic resilience and diversification have become increasingly important," said Madam Halimah.
She added that some Singapore firms have already ventured into Uzbekistan, in sectors such as master-planning, logistics and education.
She pointed out that tourism is an area the two countries can work together on, adding that it will strengthen people-to-people ties and boost connectivity between both sides.
On Wednesday, Mdm Halimah also visited the Kuksaroy Palace, where she was welcomed by Uzbekistan President Mirziyoyev.
Both leaders had wide-ranging discussions including the scope for the two countries to collaborate in the area of inter-faith dialogue, given their multi-ethnic and multi-religious societies.
At the palace, Mdm Halimah planted a tree at its Alley of Honoured Guests as a sign of friendship. She also attended a state banquet hosted by Mr Mirziyoyev. 
Earlier this week, Singapore and Kazakhstan inked four deals, including one that will improve market access for Singapore firms expanding into Kazakhstan. Both sides also deepened collaboration in areas such as services and investment, as well as public administration. 
Mdm Halimah will be travelling to Samarkand on Thursday for the last leg of her state visit.