Relief workers brave Türkiye-Syria aftershocks to aid quake response
Charity group Action for Humanity says the situation has been highly stressful for its relief workers in Türkiye and Syria. Many continue to work despite worries over their families' safety.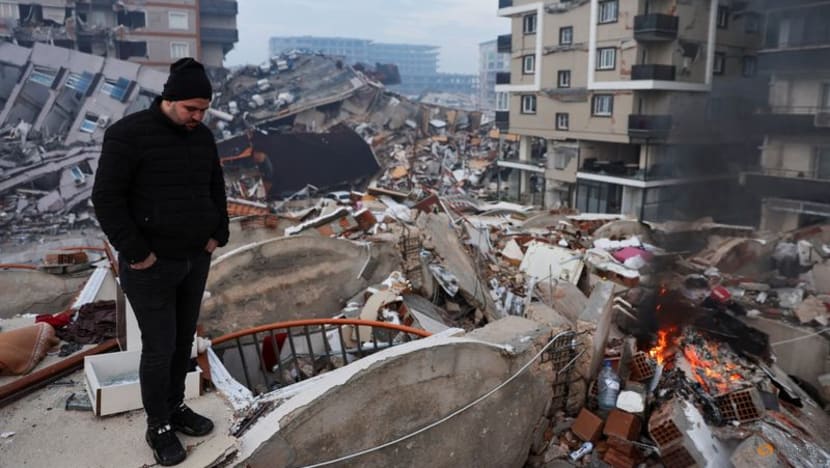 Amid the devastation in quake-hit Türkiye and Syria, aid workers are braving aftershocks to deliver humanitarian support. 
But despite being trained and experienced in relief efforts, many were not prepared for the scale of the disaster. 
"We usually come up with a clear situation report and identify the damage – for floods, airstrikes, multiple emergencies – but yesterday, this was not possible," said Action for Humanity's Wassim Khmaja on Tuesday (Feb 7).
"The damage is too vast and exceeds the capacities of any NGO."
He added that the past day had been highly stressful for the group's relief workers in both countries, with many continuing to work despite worries over the safety of their families. 
"(Some of our colleagues) are not sure if their families are alive and safe, or if their houses have collapsed or not," said Mr Khmaja, head of Global Programmes at the non-profit agency.
"But at the same time, driven by duty, they are roving between affected villages and towns, assessing the needs of those affected, trying to get supplies and deciding on the best way to intervene."
The magnitude 7.8 quake ripped through Türkiye and Syria on Monday, killing more than 5,000 people and leaving tens of thousands more trapped, injured or homeless.
Hundreds of aftershocks followed, including a powerful 7.5-magnitude tremor which caused more buildings to collapse and drove thousands onto the icy streets. 
Survivors who evacuated risk freezing in the bitter cold. Some are too scared to go back into their homes for fear that the next impact could topple their buildings.
"More than 50 of our organisation's staff members, with their families and kids, were in their cars and drove very far away from any buildings. So you can imagine the threat," Mr Khmaja said.
"The situation is very chaotic. Even if some of the partially damaged houses can be used as a refuge, it is still cold and there are no warm places," he said, adding that some quake-hit areas have completely lost electricity.
WORSENING A FRAGILE SITUATION
The agency has employees working in both the quake-hit countries, including more than 500 staff members in Syria aiding millions affected by the country's ongoing, decade-long civil war.
"The situation was already fragile and vulnerable for these people, and with the earthquake in this weather condition, it has become much worse," said Mr Khmaja.
"None of the health facilities are fully equipped to absorb this earthquake in Syria. The hospitals are completely not functional now because they are over their capacities, flooded by the injured and casualties."
The organisation also lost staff in the quake, including a programme employee and his family when their building collapsed, as well as a nurse and her two children, who worked in a mobile clinic providing medical aid to camps housing internally displaced people.
Some staff members are still missing following the disaster while others are frantically digging through rubble to find their loved ones.
"Some of my staff told me: 'We went through the war, experienced the missiles, the airstrikes, the refugee situation. But the quake was more terrifying for us'," said Mr Khmaja.
Syria, already grappling with a cholera outbreak, now faces an even more dire situation, as quake damage to sewer systems and water facilities will add waterborne diseases to the plate, he added.
With communication lines affected and many transport infrastructures inaccessible – including roads and at least four Türkiye airports damaged – it is difficult to get a full picture of the devastation, said Mr Khmaja.
The number of casualties and displaced people is expected to climb as rescue operations continue.
The aid agency said there is an immediate need to ensure that medical facilities, electrical generators, communication lines and transport infrastructures are fully equipped and running, along with food and warm clothes for those affected.
NEED FOR STRONGER STRUCTURES
The powerful aftershocks are expected to persist, said Mr Adam Pascale, chief scientist of Australia's Seismology Research Centre.
"These aftershocks will continue for years at smaller magnitudes. But those that will be causing ground motion and shaking, creating problems for rescue efforts, will likely continue for days, if not weeks," he said.
Türkiye could emerge from this natural disaster more resilient by rebuilding to tougher standards that would reinforce its infrastructure to better withstand earthquakes, Mr Pascale said.
"It's not the earthquakes that kill people. It's the collapsing infrastructure that has the greatest impact," he said.
"To protect our society, it really is more about the infrastructure and the quality of construction, and making necessities such as power, water and other services to be more earthquake resistant."