A glance at the world's deadliest quakes in past 25 years
The Türkiye-Syria earthquake is among the deadliest in the past two decades.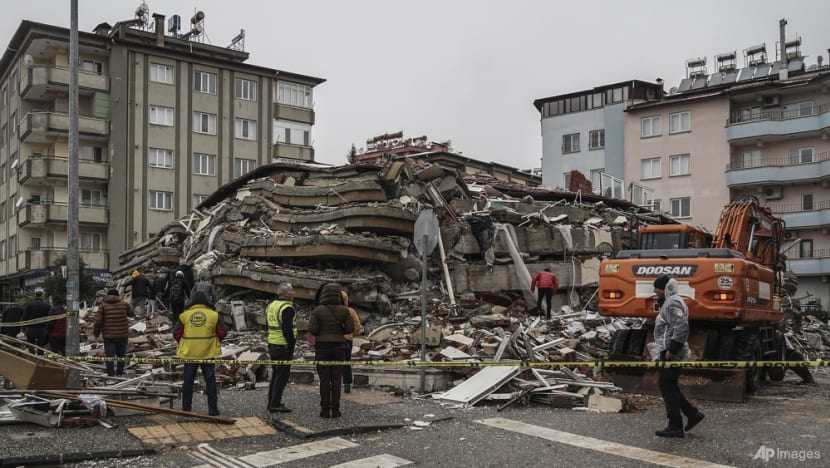 A magnitude 7.8 earthquake shook Türkiye and Syria on Monday (Feb 6), killing more than 10,000 people in the two countries.
The death toll is expected to rise as rescuers working in cold and snow look for trapped people in the rubble of toppled buildings.
Türkiye is in one of the world's most active earthquake zones. A quake along the North Anatolian fault line in the northern Turkish region of Duzce killed more than 17,000 people in 1999.
Here are some of the world's deadliest earthquakes in the past 25 years:
Jun 22, 2022: In Afghanistan, more than 1,100 people die in a magnitude 6.1 earthquake.
Aug 14, 2021: In Haiti, a magnitude 7.2 earthquake kills more than 2,200 people.
Sep 28, 2018: A magnitude 7.5 earthquake hits Indonesia, triggering a tsunami and killing more than 4,300 people.
Apr 25, 2015: In Nepal, more than 8,800 people are killed by a magnitude 7.8 earthquake.
Mar 11, 2011: A magnitude 9.0 quake off the northeast coast of Japan triggers a tsunami, killing nearly 20,000 people.
Jan 12, 2010: In Haiti, more than 100,000 people are killed by a magnitude 7.0 quake. Government estimates put the number at a staggering 316,000 dead.
May 12, 2008: A magnitude 7.9 quake strikes eastern Sichuan in China, resulting in more than 87,500 deaths.
May 27, 2006: More than 5,700 people die when a magnitude 6.3 quake hits the island of Java, Indonesia.
Oct 8, 2005: A magnitude 7.6 earthquake kills over 80,000 people in Pakistan's Kashmir region.
Mar 28, 2005: A magnitude 8.6 quake in northern Sumatra in Indonesia kills about 1,300 people.
Dec 26, 2004: A magnitude 9.1 quake in Indonesia triggers an Indian Ocean tsunami, killing about 230,000 people in a dozen countries.
Dec 26, 2003: A magnitude 6.6 earthquake hits southeastern Iran, resulting in more than 20,000 deaths.
May 21, 2003: More than 2,200 people are killed in a magnitude 6.8 earthquake in Algeria.
Jan 26, 2001: A magnitude 7.6 quake strikes Gujarat in India, killing as many as 20,000 people.
Aug 17, 1999: A magnitude 7.6 earthquake hits Izmit, Turkey, killing about 18,000 people.
May 30, 1998: More than 4,000 people are killed after a 6.6 magnitude temblor hits Afghanistan's Badakhshan province.