US concerned about 'deepening relationship' between China, Russia after Xi Jinping meets Vladimir Putin
Presidents Xi Jinping and Vladimir Putin met on the sidelines of the Shanghai Cooperation Organisation leaders' summit in Samarkand, Uzbekistan on Thursday.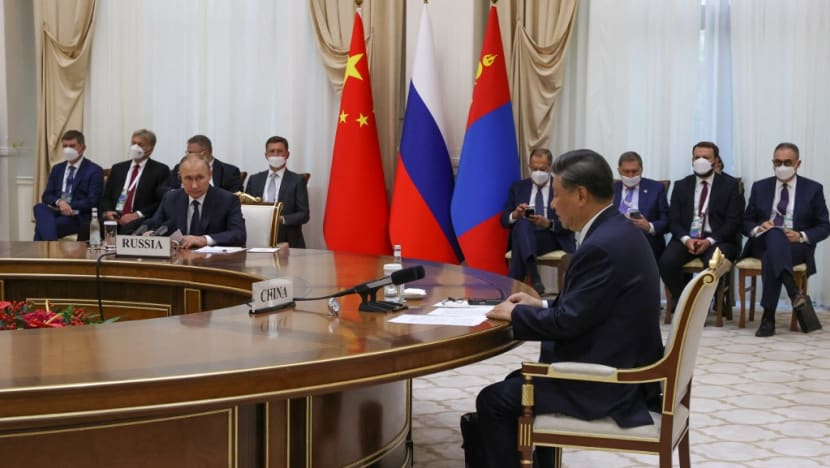 The United States is concerned about the deepening relationship between China and Russia, said the US State Department after Chinese President Xi Jinping met his Russian counterpart Vladimir Putin in Uzbekistan on Thursday (Sep 15).
It was their first face-to-face meeting since the start of the Ukraine war, with Xi calling Putin "my old friend" and Putin addressing Xi as a "dear friend".
Putin said on Thursday he understood that Xi had questions and concerns about the situation in Ukraine, but praised the Chinese leader for a "balanced" position on the conflict.
In a press briefing on Thursday, US State Department spokesperson Ned Price said the relationship between China and Russia has not deepened over the course of "days, weeks or months", but over the course of years.
"Of course, we've seen this relationship move even more closely together. We have made very clear our concern about this deepening relationship and the concern that every country around the world should have about this relationship," he said.
While it was "not surprising" that Russia and China are coming together, Price said what was "striking" was Putin's admission about Xi's concerns regarding the Ukraine war.
"It's not surprising that (China) apparently has such concerns. It is somewhat curious that President Putin would be the one to admit it so openly," he added.
"I say it's not surprising because what – we've seen (China) resort to verbal and in many ways geopolitical gymnastics over recent months, trying to avoid criticising Russia's war against Ukraine, at least trying to avoid criticising it openly."
Price said Russia is "looking for every conceivable lifeline" when it comes to the war, and was turning to countries like North Korea and Iran.
China will have to go to "extraordinary lengths to even attempt to explain" how the Ukraine war would not "automatically" be at odds with its principle of sovereignty, added Price.
The US has information that Russia was seeking security assistance from China.
"We also made very public the fact that we would be watching very closely and that (China) would incur significant costs if it provided military assistance to Russia in its war or if it aided Russia in a systematic way evade the sanctions that the international community had imposed on it.
"We have not seen (China) do either of those things," Price said.
The US on Thursday slapped more sanctions on a long list of Russian officials and companies, ramping up pressure over the Ukraine invasion.
Top officials overseeing Russian securities markets operations, a neo-Nazi fighter group, Russian and pro-Russian officials in occupied parts of Ukraine, and a children's rights official who allegedly directs the removal of Ukrainian children to Russia were all named to the US sanctions blacklist.
The GRU intelligence agency and a top economic advisor to President Vladimir Putin, Maxim Oreshkin, were placed on sanctions lists.