US, allies building up 'active deterrence' amid geopolitical tensions: US ambassador to Japan
The need for deterrence against China is in the face of what Mr Rahm Emanuel called "very aggressive behaviour" on the diplomatic and economic fronts.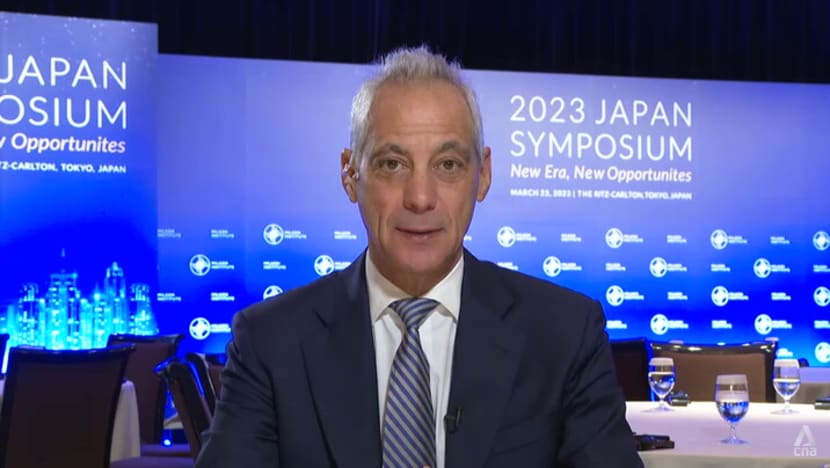 The United States and its allies, such as Japan, are building up "active deterrence" amid heightened geopolitical tensions, US ambassador to Japan Rahm Emanuel said on Thursday (Mar 23).
He was addressing Tokyo's moves to boost its defence spending sharply and distance itself from its pacifist posture, and whether these could mean that the US and Japan are preparing for a major conflict in the region.
Mr Emanuel, speaking to CNA's Asia First on the sidelines of the Milken Institute's Japan Symposium, noted that what Japan has done in the area of defence complements other pillars of its national security.
When it comes to the US, President Joe Biden has taken an approach of "energising allies and alliances to work together", he said, pointing to several areas of cooperation among countries in the Indo Pacific.
In the past year, the US, Japan and South Korea have all issued strategic documents that are complementary and coordinated in their vision of the area, he added.
The Philippines, US and Japan, for instance, are actively engaged in discussions about economic and strategic cooperation, while Australia has invested in the AUKUS alliance, he noted.
India's participation has also revitalised the Quad, he said. He stressed that the Quad, a security dialogue between the US, Japan, India and Australia, is not aimed at containing China, but deterring it.
On how effective the Quad is given their economic links with China, Mr Emanuel, who was former US President Barack Obama's chief of staff, said: "They're willing to have economic trade, the US does.
"But what we won't do is allow you to steal our intellectual property and act like you're abiding by the rules."
Last July, head of the US Federal Bureau of Investigation Christopher Wray warned business leaders that China aimed to "ransack" the intellectual property of Western companies, so it can speed up its own industrial development and eventually dominate key industries.
NEED FOR DETERRENCE
The need for deterrence against China is in the face of what he called "very aggressive behaviour" on the diplomatic, economic and defence policy fronts.
Mr Emanuel pointed to clashes between China and India on the border of the Himalayas, and an attack against a Philippine coast guard vessel near a disputed South China Sea reef which Beijing has defended as "professional and restrained".
He also highlighted the alleged spy balloon that China flew over the US, which Beijing refuted as an "airship" used for civilian meteorological and other scientific purposes that had strayed into US airspace.
"It's deterrence because China's wolf warrior strategy, their economic coercion, their economic espionage, and their build-up of a defence that is in constant conflict with their neighbours has put everybody in the region on edge," he said.
The US and its allies are avoiding conflict, said Mr Emanuel, a former mayor of Chicago.
"The best way to avoid a conflict is an active, engaged, and strategically thought-through deterrence and every country in the region that borders China is actively involved in one way or another with robust deterrence because they know what an unhinged China is," he said.
LIKE-MINDED COUNTRIES COMING TOGETHER
When asked if Washington is trying to establish an organisation similar to the North Atlantic Treaty Organization (NATO) - an alliance of countries from Europe and North America - in the Indo-Pacific, Mr Emanuel refuted the idea, saying it is "just a mythology that's built as basically a pinata to punch".
It is not about creating another NATO, but "about like-minded countries realising that their economic security, their national security and their political security all (are) dependent on coming together and working together", he said.
"The kind of core crux of this is China and Russia undermining all the assumptions of a more collaborative and cooperative world. And people don't want to be a part of that," he said.
"The US, its allies, whether it's on the defence side, the economic side, or the diplomatic side, is involved in some way, realigning its resources, its strategy, to adjust to a world changed by COVID, conflict and coercion," he added.