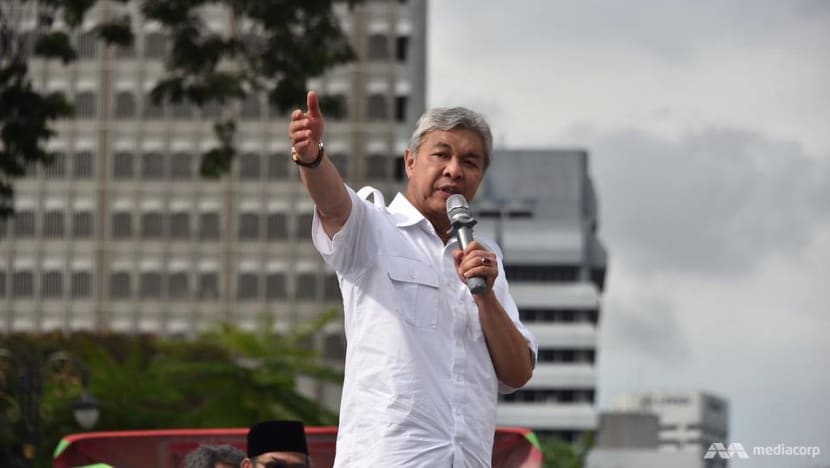 KUALA LUMPUR: Leaders from Malaysia's main opposition parties United Malays National Organisation (UMNO) and Parti Islam Se-Malaysia (PAS) have pledged to stay united on issues relating to the Islam religion and Malay race.
In their respective speeches at the anti-International Convention on the Elimination of All Forms of Racial Discrimination (ICERD) rally on Saturday (Dec 8) afternoon, UMNO president Zahid Hamidi and PAS president Abdul Hadi Awang said that the large turnout of supporters from both parties is a positive sign for Malaysia.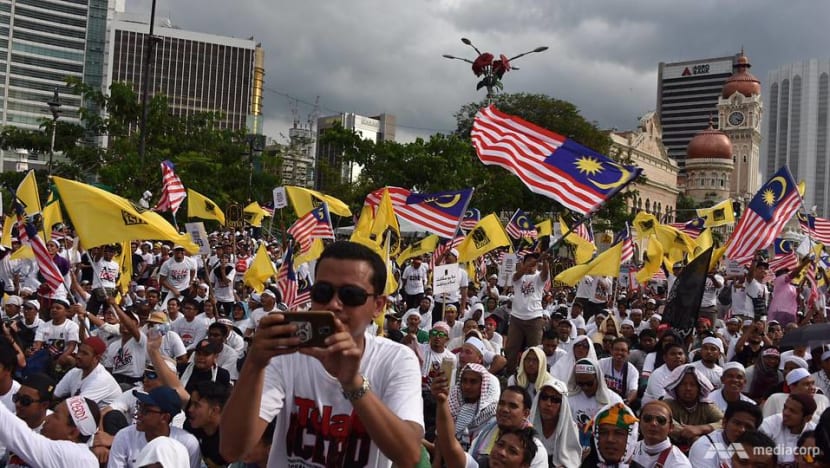 Mr Zahid said: "Us gathering here as one people is symbolic. The current Pakatan Harapan government should not play a fool with these people. If they do, we will be united and gather again like we have done today."
"The collaboration between UMNO and PAS will be made clear over issues against Islam and Malays … This is not a political partnership, but a partnership for the people. I hope both supporters will be united from now onwards," said the former deputy prime minister.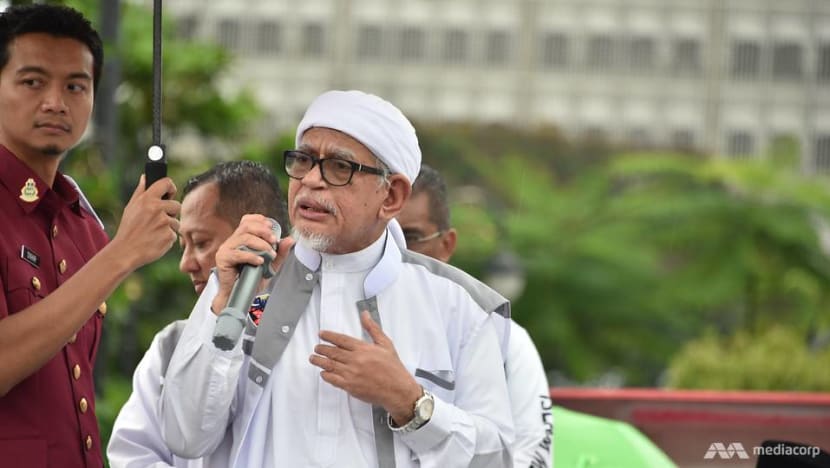 Mr Hadi lauded the efforts of both parties, as well as various Non-Governmental Organisations (NGOs) to gather at Dataran Merdeka for the demonstration.
"Thank God, look at the response from the people today, it's excellent ... some of you who had previously supported (the Pakatan Harapan) government have made a U-turn to support us," he said, applauding them.
Mr Hadi, who is the Member of Parliament for Marang constituency in Terengganu, also spoke about how MPs from both PAS and UMNO worked together to exert pressure on the Pakatan Harapan government so that it would not ratify ICERD.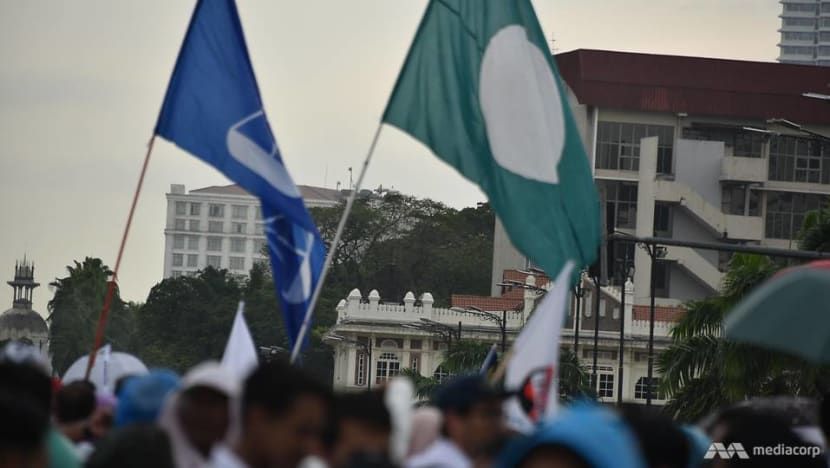 He said: "We, the members of parliament told them - if you agree to ratify ICERD and bring it to parliament, we will send millions of people into the streets, because gathering in the streets is also a form of peaceful demonstration."
U-TURN ON ICERD
ICERD is a United Nations Convention that condemns discrimination and calls upon states to pursue a policy of eliminating racial discrimination in all its forms.
Earlier in September, Dr Mahathir told the United Nations General Assembly that Malaysia would ratify all the human rights conventions it had yet to adopt, a total of six, including the measure against racial discrimination.
Then, Dr Mahathir had promised that Malaysia will espouse the principles promoted by the UN in its international engagements, saying: "It is within this context that the new government of Malaysia has pledged to ratify all remaining core UN instruments related to the protection of human rights." 
But he had added: "It will not be easy for us because Malaysia is multi-ethnic, multi-religious, multicultural and multilingual."

Later in November, the Malaysian government backpedaled on its decision and chose not to ratify ICERD because it would require a two-thirds majority in parliament to amend the Federal Constitution.
"ICERD promotes freedom and less discrimination. Article 153 (of the Constitution) gives some privileges to the indigenous people, which means some may interpret it as being discriminatory," Dr Mahathir had told the media. "If we tried to abolish these privileges, it will go against Article 153."

The Pakatan Harapan government does not have a two-thirds majority in Parliament. Furthermore, several Pakatan Harapan MPs stated that they were not in favour of the ratification.
The proposed ratification of ICERD had also drawn criticism and protests from government and opposition representatives as well as NGOs. 
Many feared that its implementation may undermine some of the privileges enshrined in the Federal Constitution and dilute privileges for ethnic Malays, who form the majority in the country.
RALLY CROWD STRETCHED ALONG JALAN RAJA
The crowd at the anti-ICERD rally stretched 1km along Jalan Raja, between Jamek mosque and the National Mosque.
Malaysian police said that there were 55,000 people who attended the rally but organisers disagreed.
Rally director Kamaruzaman Mohamad told the crowd at 2pm that organisers estimated there were 300,000 people present.
In his speech, Mr Zahid hinted that there were 500,000 people present at the rally.
Mr Zahid said: "I've been informed that supposedly there're only 55,000 present today. So stand up, wave your flags, so that they'll see that there're half a million people here."
The rally was scheduled to finish at 6pm but it officially ended at 5pm due to wet weather.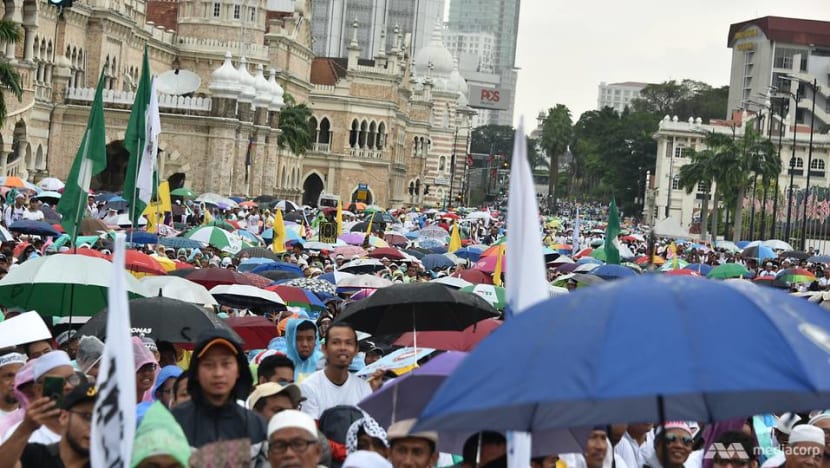 The demonstration was largely peaceful, with Mr Kamaruzaman repeatedly reminding the crowd not to damage public property and to listen to instructions from police officers.
The crowd took heed and there were no clashes throughout the event. After the rally ended, many were seen picking up litter at the rally site while the crowd dispersed.
Among those present for the rally were former prime minister Najib Razak and his wife Rosmah Mansor. The duo did not speak on stage and merely joined UMNO and PAS politicians seated at the front of the stage.
The couple, clad in red ponchos because of the rain, posed for photographs with some of the crowd after the event ended.