Potential shake-up in Xi Jinping's leadership team at China's 20th Communist Party Congress
There are few clear signs of who will be promoted to key positions within Mr Xi's inner circle, given the opaque nature of China's politics, but analysts said that political loyalty remains key.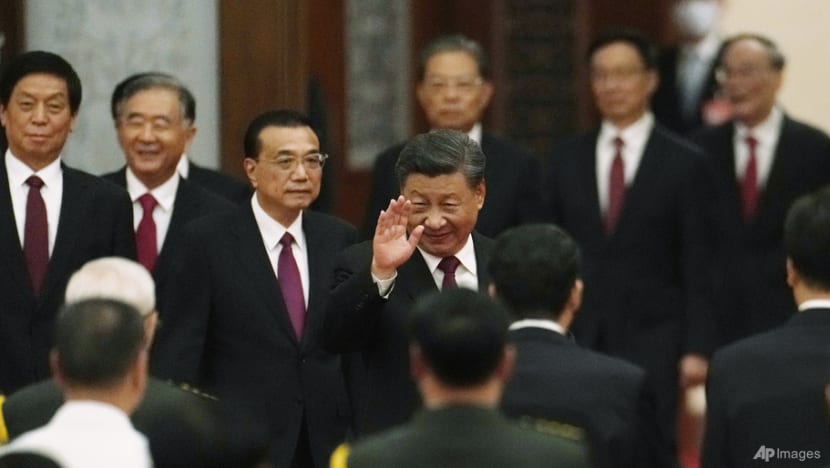 BEIJING: A reshuffle among China's political elite will be closely watched as the Chinese Communist Party's (CCP) 20th National Congress convenes from Sunday (Oct 16), with President Xi Jinping widely expected to secure an unprecedented third term as party leader.
There are few clear signs of who will be promoted to key positions within the core leadership, given the opaque nature of China's politics, but analysts said that political loyalty remains key.
The Chinese government's decision-making body, the Politburo, or political bureau, currently has 25 members. Of those, seven – including Mr Xi – make up the Standing Committee, the most powerful political body in the country.
AGE LIMIT GUIDELINE
The informal political age limit known as "qi shang ba xia" (directly translated to "seven up eight down") means that those 67 years old or younger on the day of the congress can stay on or take up new positions, while those 68 or above have to retire.
The exception is likely 69-year-old Mr Xi, who looks set to be granted a precedent-defying third term at the helm, breaking decades-old tradition.
But for others, Mr Xi is expected to use the age guidelines in the selection process to consolidate power and limit potential opponents, said Mr Neil Thomas, a senior China analyst at political risk consultancy Eurasia Group.
"My view is that Xi is more likely than not to retain the existing age norm of 67 up, 68 down," he said. "Because that's going to help him to avoid his allies being too close to the centre of power for too long, and potentially becoming rivals, or be able to establish themselves as potential alternatives to Xi as leader," he said.
"It also creates vacancies at the top of political power that Xi can use to motivate younger allies who are still coming up through the system to give them hope of continued advancement and a reason to keep supporting Xi and his leadership," Mr Thomas added.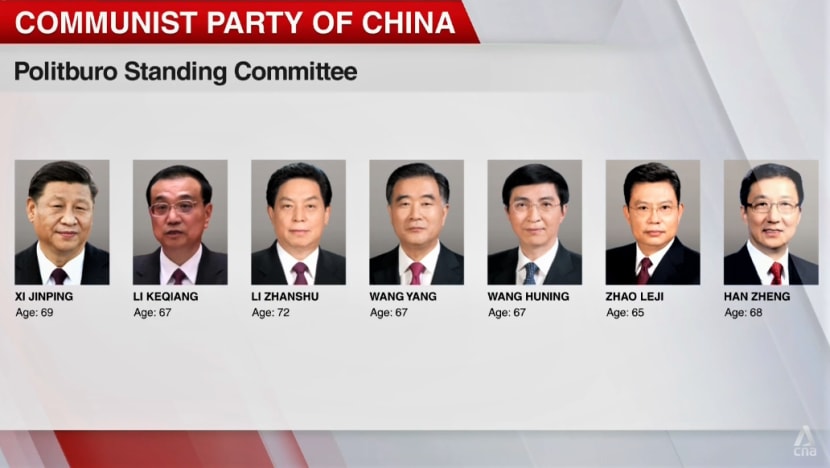 If the retirement rules are observed at the upcoming congress, a number of Politburo members are expected to step down. Among them is the party's number three ranking official Li Zhanshu, 72, chairman of the National People's Congress, the country's legislature.
PREMIER LI KEQIANG COULD STEP DOWN
China's Premier Li Keqiang, the party's number two, could also step down from the Standing Committee even though he is only 67, observers said.
This is due to Mr Li's confirmation that he will relinquish his post as head of the State Council when he completes his second term in March next year. The post is governed by term limits under the country's constitution.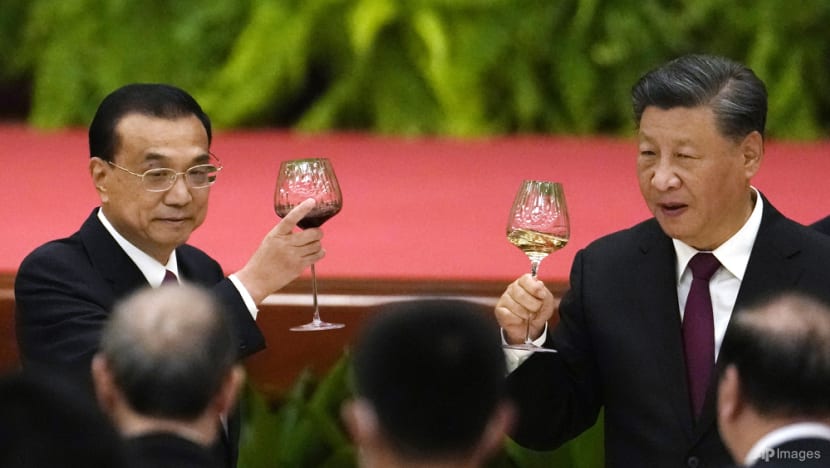 "There was a legacy of a division of labour between the general secretary and the premiership, namely that the general secretary would hold tight to the politics of it and the premier would be primarily in charge of the economy," said Professor Steve Tsang, director of the SOAS China Institute at the University of London.
"Xi Jinping changed that in his 10 years, that economy has to be run by the general secretary too," said Prof Tsang, adding that at the upcoming congress, a "different set of games" is planned.
"Whoever is going to be premier knows that the premier is like the equivalent of the COO (chief operating officer) for managing the economy, with a general secretary doubling up effectively as the CEO (chief executive officer)."
When Mr Xi and the Standing Committee meet the press at the end of the congress, likely next weekend, the person who walks out behind the president as the party's number two, and takes over Mr Li as the country's premier, will be closely watched.
The role is especially important as China faces economic headwinds with an ailing property sector and fallout from its zero-COVID policy.
Analysts said that frontrunners for the role are typically among those who have experience as vice premier.
POSSIBLE CONTENDERS FOR PREMIER
If age is not a factor, experts suggest that 70-year-old Vice Premier Liu He, who has led trade negotiations with the US and is a close confidante of Mr Xi, could be a contender.
Executive Vice Premier Han Zheng, 68, could be another pick if he does not retire.
Wang Yang, 67, chairman of political advisory body the Chinese People's Political Consultative Conference (CPPCC) and ranked fourth on the Standing Committee, is also expected to be in the running.
Vice Premier Hu Chunhua, the youngest member of the Politburo at 59, also appears to be a potential candidate, according to analysts. Despite coming from a rival faction – the Communist Party Youth League – the former Guangdong party secretary rose through the ranks and spearheaded Mr Xi's poverty alleviation programme.
"Inside the Communist Party, factions have always been existing, and I don't think they will vanish in a short time," said Dr Chen Gang, an assistant director of the East Asian Institute at the National University of Singapore.
"Because they have organisational support and interest support, they represent different systems, different regions, and different kinds of thinking ideology inside the party."
However, Mr Chen said that as Mr Xi further consolidates his power and enters his third term, no faction is really tied to him anymore and therefore "they will all show their loyalty".
The remaining vacancies on the Standing Committee are likely to go to rising stars who enjoy close ties with Mr Xi.
Frontrunners include Mr Xi's top personal aide Ding Xuexiang, 60, Chongqing party chief Chen Min'er, 62, and Shanghai party secretary Li Qiang, 63.
Both Mr Chen and Mr Li worked closely with Mr Xi when he was party chief in Zhejiang province in the early 2000s, although Mr Li's prospects seem to have faded slightly after his handling of the Shanghai lockdown.
LIKELY NO HEIR NAMED AT THIS CONGRESS
While shake-up in the Politburo is expected, its top line-up remains speculative, with analysts saying that China's elite politics have become even more opaque under Mr Xi.
The consensus is that there will likely be no heir to Mr Xi named at this party congress.
Analysts believe Mr Xi will emerge from the congress retaining his top positions as general secretary of the CCP and chairman of the Central Military Commission.
His post as China's president also likely to be renewed next year at the country's annual legislative meetings.
While it is not known how long Mr Xi intends to hold on to power for, analysts expect that it could be for a long while as the Chinese leader has laid out a roadmap for China to "basically achieve socialist modernisation" by 2035.