CNA Explains: Why chips are an increasingly prominent issue in US-China tensions
"This chips rivalry is part and parcel of a bigger game being played by the US and China - essentially a tit-for-tat game," said an analyst.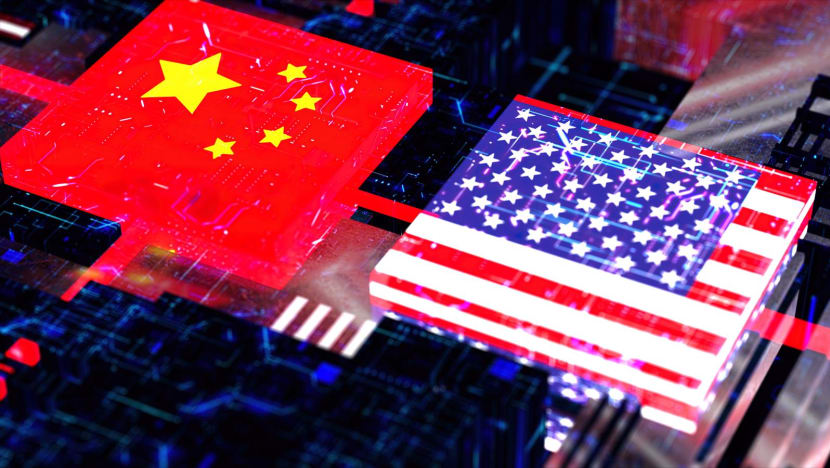 SINGAPORE: When Beijing banned US semiconductor giant Micron from selling chips to its key domestic industries on May 21, it marked yet another escalation to already-tense relations between the United States and China.
As both countries traded barbs over the latest dispute, the world braces for the potential impact of worsening ties between the two powers.
But why are chips an increasingly prominent issue in US-China tensions, and what is at stake?
WHY DID CHINA BAN MICRON FROM SELLING CHIPS?
Micron had failed a national security review, said China's cybersecurity watchdog, adding that "operators of critical information infrastructure in China should stop purchasing Micron products".
"The review found that Micron's products have serious network security risks, which pose significant security risks to China's critical information infrastructure supply chain, affecting China's national security," the Cyberspace Administration of China (CAC) said in a statement.
The ban came after Chinese authorities in March launched a review of the products sold by Micron in the country. But the CAC did not provide details on the risks it found and which products were affected.
The company is the first US chipmaker to be targeted by China after a series of export controls by Washington last October on certain American components and chip-making tools. The reason: To block them from being used to advance China's military capabilities.
WHY ARE CHIPS SO CRITICAL?
Microchips, or semiconductors and integrated circuits, are made from pure elements such as silicon or germanium, or from compounds such as gallium arsenide, according to the Semiconductor Industry Association.
They are the thing that makes electronic devices smart, and are therefore crucial for industries such as communications, healthcare, military and computing.
As they are difficult and expensive to produce, the world relies on just a handful of companies for chips.
When the US placed export controls on chips to China last year, it dented Beijing's technological ambitions. Japan and the Netherlands have also reportedly joined the US in restricting exports of chipmaking gear to China.
"Chips are what drives modern technology, economy and the military and therefore is key to the ongoing US-China rivalry. Whoever controls the chips will have a powerful leverage in this rivalry," said Associate Professor Eduardo Araral at the National University of Singapore's (NUS) Lee Kuan Yew School of Public Policy.
The US also blacklisted some Chinese firms, including Micron rival Yangtze Memory Technologies, citing national security concerns.
US President Joe Biden on May 21 defended his country's actions, a day after the G7 economies warned China over its "militarisation activities".
He said: "It is building its military, and that's why I've made it clear that I am not prepared to trade certain items with China.
"We've now got commitment from all of our allies that they're not going to do that either, provide that kind of material."
The issue of chips, then, has become more prominent now due to their dual use for civilian and military purposes, Assoc Prof Araral told CNA.
"The US wants to slow down the buildup of China's military capacity by slowing down its access to powerful dual-use chips."
Mitigating security risks is also high among China's priorities.
In 2021, China announced rules to protect its critical information infrastructure with stricter data security requirements.
It also amended its anti-espionage law in April by widening the definition of spying and banning the transfer of any data related to what its authorities define as national security.
On the chips front, China, which is the world's largest buyer of semiconductors, has gradually reduced its reliance on foreign-made chips in its efforts to boost self-sufficiency.
But the US export controls are making China's task of catching up even harder, including the need to rapidly fill a shortage of expertise.
According to a white paper jointly published by a Chinese government think tank and a trade group, the country is short of an estimated 200,000 industry workers this year.
Assoc Prof Araral noted it would take time for China to develop its own indigenous chips technology, with estimates suggesting that China is "at least seven years behind" the US in chips capabilities.
WHAT HAPPENED BEFORE THIS, AND IS IT REALLY JUST ABOUT CHIPS?
US-China relations have become increasingly strained in recent years, with a string of high-profile incidents putting the tensions under the spotlight.
In March, TikTok's Singaporean CEO Chew Shou Zi was grilled in a committee hearing in March, after lawmakers became concerned that Beijing can access American user data through the popular Chinese-owned social media app.
Before that, a suspected Chinese spy balloon flew over US airspace and was shot down by the US military, prompting a strong response from Beijing. China described Washington's actions as "clearly overreacting and seriously violating international practice".
Both countries also in recent months charged individuals on grounds of national security.
For example, China sentenced a 78-year-old US citizen to life in prison for espionage, according to a court statement on May 15.
US corporate due diligence firm Mintz was raided by Chinese authorities in March at their Beijing office, where five local staff members were detained. China said the firm was suspected of engaging in unlawful business operations.
"If you put that together with some of the punitive actions that the government here in Beijing has taken against several American companies recently, we're very concerned about this," said US Ambassador to China Nicholas Burns in May.
Chinese police later also visited US management consultancy Bain & Company's office in Shanghai and questioned staff there.
In another incident, US federal agents in April arrested two New York City residents for allegedly operating a Chinese "secret police station". They face charges of conspiring to act as agents of China's government without informing US authorities, and obstruction of justice.
"This chips rivalry is part and parcel of a bigger game being played by the US and China - essentially a tit-for-tat game. The ban on Micron is China's response to the US Chips Act which restricts China's access to US-designed chips and equipment," said Assoc Prof Araral.
WHERE DOES TAIWAN FIT INTO THE PICTURE?
According to a 2021 Boston Consulting Group report, Taiwan is home to 90 per cent of the manufacturing capacity for the world's most advanced semiconductors. 
The island's Taiwan Semiconductor Manufacturing Company (TSMC) is the world's largest contract chip maker and a major supplier to US manufacturers. 
With its industry-leading expertise, matching its scale and skills would take a long time and cost a fortune.
It was reported last year that TSMC was set to more than triple its planned investment in its Arizona plant to US$40 billion, making it one of the largest foreign investments in US history.
Given Taiwan's significance in the chip industry, the island's relationship with the US ups the stakes further.
Over the past three years, China has increased its military presence around Taiwan in a bid to assert its sovereignty claim on the self-governed island. Taiwan rejects the claim and vows to protect its freedom and democracy.
While the threat from China continues to loom over Taiwan, it has sought closer ties with the US.
In April, US House of Representatives Speaker Kevin McCarthy met Taiwan's President Tsai Ing-wen in California despite China's protest. In response, China launched three days of military drills around Taiwan.
"If this is a game of chess, Taiwan would be the Queen because it is a major player in the chips game," said Assoc Prof Araral, adding that it was the reason why the US got Taiwan to move its most advanced chip facilities to Arizona and Japan. 
Should there be a Chinese invasion of Taiwan, it could potentially halt production by TSMC and wipe out almost US$1 trillion each year from the global economy during the first few years, US Director of National Intelligence Avril Haines said recently.
"It will also have an impact on our (US) GDP if there was such an invasion of Taiwan and that (TSMC's production) was blocked," she said.
But she also cautioned: "It would also have an impact, if they stopped making chips, on China's economy."
WHAT LIES AHEAD?
China is trying to play catch-up in the US$580 billion semiconductor industry by boosting its advanced semiconductor capacity.
But according to a report in The Guardian, China's growth has been concentrated in manufacturers who produce chips that are bigger and less advanced.
And that's not the only problem it faces in transforming the industry at home.
The industry has also been plagued by entrepreneurs creating fraudulent operations to get government subsidies. To fix this, the Chinese government has revoked the licences of about 6,000 chip companies – an increase of almost 70 per cent since 2021.
Coupled with ongoing chip bans and the fact that factories cost billions of dollars to build and equip, it will be difficult for companies to recoup their investments. 
The US export controls appear to be hitting China hard. 
Chips imports declined by 23 per cent in the first three months of 2023 compared with the same period last year, according to data published by the General Administration of Customs.
However, China won't be the only one bearing the brunt if the situation worsens. 
On May 27, US Commerce Secretary Gina Raimondo vowed that the country "won't tolerate" China's effective ban on purchases of Micron memory chips, adding that it is working closely with allies to address such "economic coercion".
But American think tank Atlantic Council said that in the event US' semiconductor sales to China drop to zero, US companies would face a loss of US$83 billion per year. Also at stake are 124,000 jobs, as estimated by the American Chamber of Commerce.
In addition to US consumers experiencing inflation and possible supply chain disruptions, "global implications will be dire as well," said the think tank. 
"The chips war is key to the outcomes of US-China rivalry and therefore it matters to the rest of the world. What we will have would be two technological standards - one US-led and the other China-led, which is not necessarily bad," noted Assoc Prof Araral.