CNA Explains: What's behind rising fish prices in Malaysia?
Are there alternatives? Fish farms in Kukup, Johor, have been receiving more orders as the supply of marine fish falls.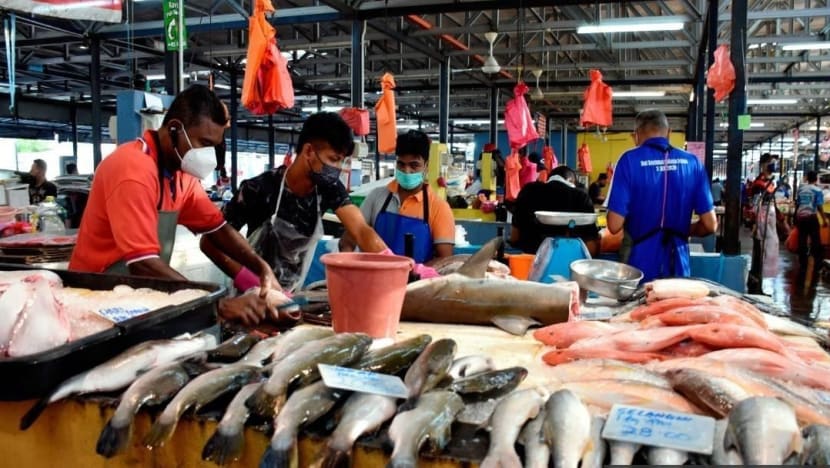 KUALA LUMPUR: Fish prices in Malaysia are going up amid supply problems caused by unfavourable weather and labour shortage. 
Fisheries Development Authority of Malaysia (LKIM) chairman Syed Abu Hussin Hafiz Syed Abu Fasal told CNA that there has been a decrease of about 15 per cent in fish landings in recent months. 
The statutory body under the Ministry of Agriculture and Food Industries has previously recorded fish landings of about 4,000 metric tonnes a day. 
However, in the past seven days, fish landings were only measured at 3,250 metric tonnes, the chairman said. Lower supply has thus resulted in higher market prices, he added.
Fish is a major protein component in Malaysians' diets. Malaysia has been ranked as one of the highest consumers of fish, according to the Food and Agriculture Organization (FAO), at 59kg consumed per capita in 2016.
The Fisheries Department has urged people against panic buying. 
"Do not panic buy as we have enough supplies from fish breeding and catching activities," the department's director-general Mohd Sufian Sulaiman was quoted as saying by Bernama on Mar 28.
WHY IS THERE A SHORTAGE IN SUPPLY? 
While weather has always played a role in determining a successful outing for a fishing boat, its unpredictability over the past months have deterred some fishermen from sailing out. 
Fish Industry General Association president Chia Tian Hee told CNA that some boats have sunk due to large waves in early May. The crews were rescued, he added.   
Fishermen are wary of heading to the sea when the weather is bad because the boats are costly, Mr Chia said.
"They also do not dare to head out anytime soon, due to the accidents from the unpredictable weather," he added. 
Activities in the fisheries industry, from operating the fishing vessels to processing catch for sale, are dependent on foreign labour. 
Malaysia's travel ban over the past two years had caused a labour shortage, said Mr Chia. Nonetheless, this problem has begun to ease with the country's reopening, he added. 
He said that industry had previously requested the government to relax its stance regarding the non-renewal of labour permits, but this was rejected. 
"Suppliers had to deplete their frozen fish stocks in cold storage to fulfil market demand, but these were not being replenished quickly enough because not many people could sail out," Mr Chia said. 
A decline in fishes sighted at sea is another factor contributing to lower supply. 
National Association of Fishermen's (NEKMAT) chairman Abdul Hamid Bahari told CNA there has been a noted decline in fishes sighted at sea, especially in northern Peninsular Malaysia. 
"We are not sure how much the precise shortage is, but we can safely say that it's between 20 and 30 per cent," he told CNA in a phone interview. 
HOW MUCH HAVE PRICES INCREASED?
According to Mr Chia, prices for catch such as mackerel and squid have gone up by 10 to 30 per cent in the fishing village of Sekinchan, Selangor, where he is based. 
A retailer in Johor said the prices of fish have risen by around RM5 (US$1.14) on average in the past fortnight. 
The fishmonger, who only wanted to be known as Mr Lim at Johor Bahru's Pandan Market, explained that torpedo scad, also known as cencaru, had increased from RM8 to RM11 per kg.
"Meanwhile, mackerel had gone up to RM20, from previously RM15 per kg," he told CNA. 
LKIM's Mr Syed Abu Hussin Hafiz added that there is also higher demand for fish recently. 
"Due to the festive season, and the recent public holidays including Hari Raya Aidilfitri, Labour Day and Wesak Day, the demand for fish has been particularly high," he said. 
ARE THERE ALTERNATIVES? 
On May 28, the Fisheries Department launched a campaign to encourage the public to consume freshwater fish.
The government also aimed to increase the production of freshwater fish to complement the supply of marine fish, which fluctuates constantly. 
"When we face extreme weather conditions, the supply decreases.
"We aim to balance this by hitting 40% of freshwater fish production in the supply mix by 2030," Deputy Agriculture and Food Industries Minister Datuk Seri Ahmad Hamzah was quoted as saying by the Star.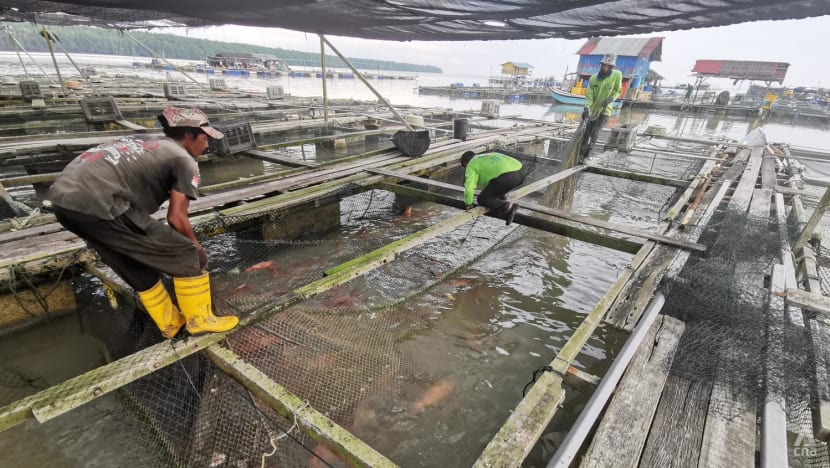 Another possible solution to address the marine fish shortage would be to encourage Malaysian fishermen to engage in fish farming, said a fish farmer. 
Fish farming involves building offshore floating areas with wooden boards, platforms and an open-net cage system. The fishes are then cultivated in nets from hatchlings, fed with fish feed and grown in controlled conditions. 
Although fish farming is not a common practice in many coastal areas across Malaysia, it is the popular way to do business near the town of Kukup in southern Johor. 
Chairman of the Kukup Fish Farmers' Association Ee Long Ching told CNA that fish farms have largely been insulated from the extreme weather changes in recent months. 
"The fishes are confined within the nets and are farmed in a controlled manner, so the weather issue doesn't usually affect us farmers," said Mr Ee. 
He added that recently, Kukup fish farms have been receiving more orders due to the supply gap from fishermen across the country. 
"Our net revenue has risen slightly in the last six months because of the increase in the prices of fish. We are still able to meet the demand because we have some stock available," he added. 
He cited how, for example, the price of seabass sold from his farm has increased from around RM27 per kg to RM33 per kg recently.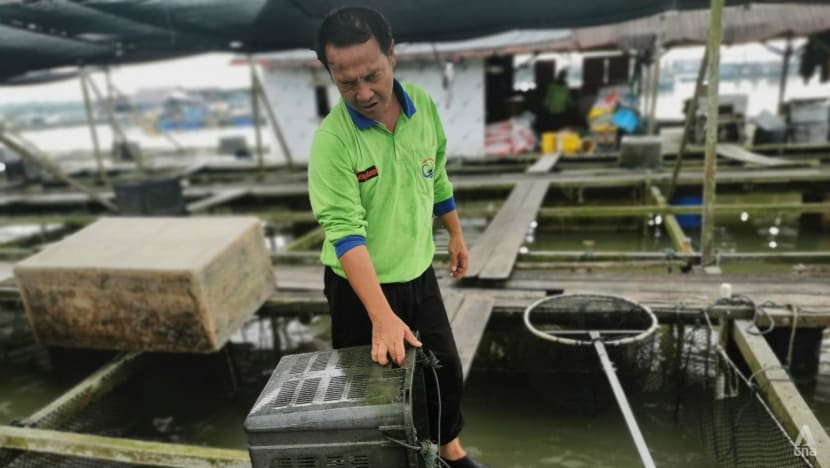 However, Mr Ee said fish farms are not completely insulated from the supply issues in the fishing industry. 
The recent increase in the prices of commodities, which has been ongoing since the Russian invasion of Ukraine, has led to an increase in operational costs for him. 
Prices of fish feed and transportation costs have gone up, he said. 
"All these have increased my cost of production slightly as well, but overall we still make money," he added. 
He also warned that fish farms are susceptible to phenomena like mass fish deaths. In October 2019, owners of fish farms in Kukup suffered losses in thousands of ringgit after fishes died due to pollution.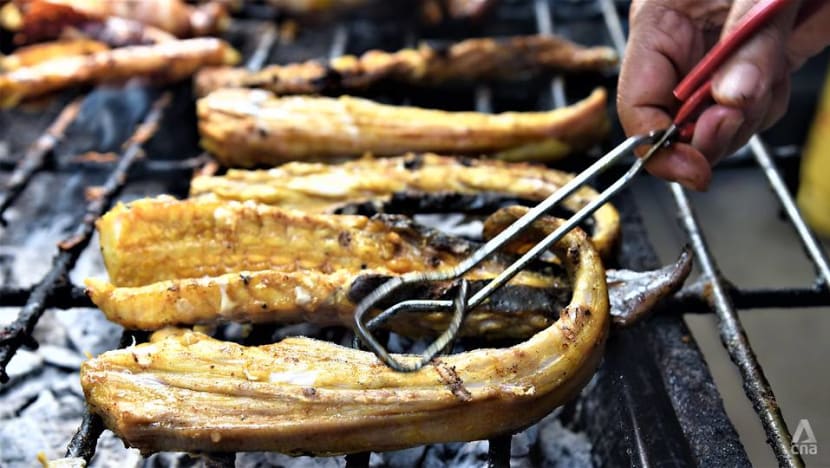 WHEN WILL THE SITUATION IMPROVE? 
Fish Industry General Association's Mr Chia told CNA that as the labour situation improves, more fishing vessels could head out to sea. 
"We should be able to start filling up the cold storages again after the southwest monsoon season passes and the fishing boats can start going out in full force again," Mr Chia told CNA. 
Southwest monsoon typically occurs between May and September. 
Mr Ee, the fish farmer, said the situation would only likely improve for him when the situation in Ukraine abates. 
"I don't know when the prices of fish will stop increasing, perhaps better to ask when will the price of oil stop increasing. Perhaps we have to wait and see the situation between Ukraine and Russia," he said. 
"The price of oil is the major factor. If it falls, everything - fish feed, diesel, manpower - will also likely decrease," added Mr Ee.