CNA Explains: Najib is now in jail after his failed appeal bid. How will this affect UMNO?
The United Malays National Organisation has summoned its grassroots heads this weekend for a briefing on "current issues". 
KUALA LUMPUR: In the aftermath of the Federal Court ruling that upheld the 12-year-jail sentence and RM210 million (US$46.8 million) fine for former prime minister Najib Razak, the United Malays National Organisation (UMNO) has come out to show solidarity with its former president. 
In a statement on Wednesday (Aug 24), party president Ahmad Zahid Hamidi said that the party was disappointed that Najib was supposedly not given the avenue to defend himself. 
The bench had denied a request to allow new evidence to be introduced during the final appeal hearing. It also rejected a request by his new legal team to prepare the defence against his charges, claimed Ahmad Zahid.
"For UMNO, the Federal Court decision does not erase the service of Najib Razak as the prime minister who brought Malaysia to success and put Malaysia on the stage before it was overshadowed by the failure of two governments after the 14th general elections," said Ahmad Zahid.
He told all UMNO members to remain calm and be determined to fix all irregularities in a system that was meant to deliver justice.
The charges against Najib, who served as prime minister from 2009 to 2018, involved the transfer of RM42 million from SRC International, a former subsidiary of 1Malaysia Development Berhad (1MDB) into his personal bank accounts in 2014 and 2015.
He was found guilty on three counts of criminal breach of trust, three counts of money laundering and one count of abuse of power by the High Court in July 2020, and was sentenced to 12 years in jail and fined RM210 million.
Both the Court of Appeal and the Federal Court dismissed Najib's appeals.
Separately, Najib still has at least four other pending court cases.
Here are the possible implications for UMNO: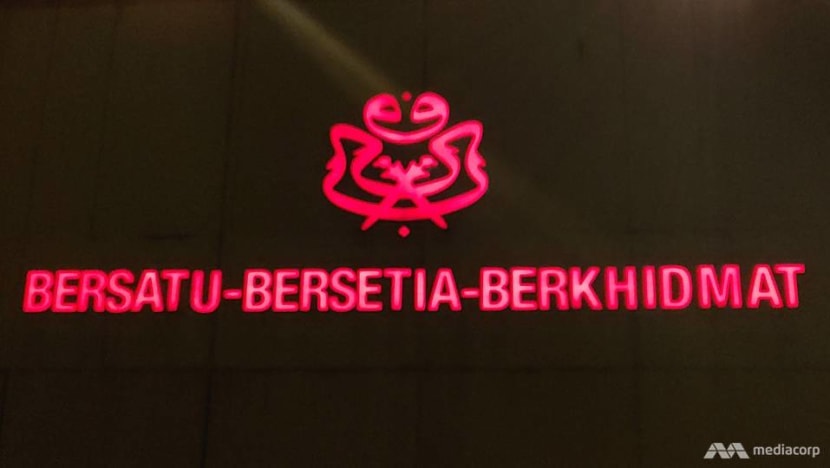 WHAT DOES THIS MEAN FOR AHMAD ZAHID?
The UMNO president is also facing several graft charges in court. 
Following a string of electoral successes at the state level, he has repeatedly urged Prime Minister Ismail Sabri Yaakob to dissolve parliament and hold fresh elections. However, there are signs of differing positions within UMNO on whether parliament should be dissolved soon. 
Political analyst Professor Mohd Azizuddin Sani of Universiti Utara Malaysia (UUM) told CNA: "With UMNO already divided, (Ahmad) Zahid would be feeling lonelier without Najib. Najib used to support him. He and his deputy (Mohamad Hasan) will need to mobilise the party now."
Prof Azizuddin noted that the posturing for elections has been going on intensively and would continue.
"The meeting on Monday was to push the PM to dissolve the parliament," he said in reference to a last-minute meeting of UMNO division heads.
Commenting on the gathering, the prime minister told foreign media including CNA on Monday: "The party (UMNO) can give its opinion (but) whatever happens outside will not disturb my concentration to work for the country. Because I have a job to do here, which is to handle the welfare of the nation and the country."
UMNO secretary-general Ahmad Malan tweeted that there would be another briefing by Ahmad Zahid this Saturday about "current issues". The division committee members and leaders have been asked to attend the session. 
The elections must be called by September next year.
Political scientist Professor Wong Chin Huat of Sunway University also said that Ahmad Zahid's position is clearly weaker after Najib's imprisonment. He added that many local leaders who back Najib are expected to gradually shift their allegiance to Mr Ismail Sabri.
"The same would happen to Zahid if he is convicted in the weeks to come. Najib's and Zahid's supporters are networks of patronage which are hard to sustain without a prospect of returning to power in a short time," he told CNA.
Dr Oh Ei Sun, a political analyst with the Singapore Institute of International Affairs (SIIA), believes that the pressure exerted by UMNO on Mr Ismail Sabri to hold elections as soon as possible will continue relentlessly, with a not-so-secret aim towards removing him as the prime minister after that.
"This is so that a more pliant replacement more to Zahid's liking could be instituted," he said, while not discounting the possibility of Ahmad Zahid becoming the prime minister.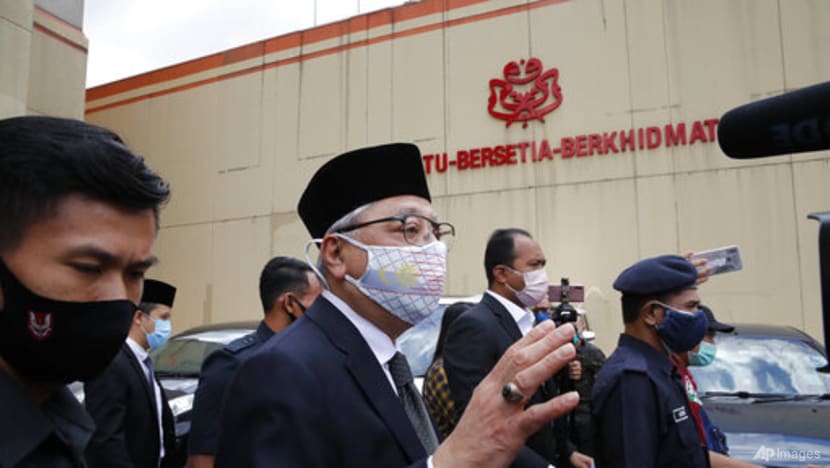 WHAT ARE THE IMPLICATIONS FOR PM ISMAIL SABRI?
While Mr Ismail Sabri is serving as the prime minister, he is only ranked third in UMNO's hierarchy. He is also the first prime minister from UMNO who is not the party president.
Prof Wong believes that Mr Ismail Sabri's position in the party will be affirmed. He also said that an early election will not happen this year after Ahmad Zahid failed to force the issue on Monday.
"The affirmation of Najib's conviction immediately after the celebration of Ismail Sabri's first anniversary (in office) made him look stronger than before - soft-spoken, diplomatic but nevertheless in control," he said.
He added that if Ahmad Zahid is convicted, UMNO deputy president Mohamad Hasan would stand in as acting president. However, Mr Ismail Sabri could then grab the position of Barisan Nasional (BN) chairperson, allowing him to officially control the nomination of candidates.
"This means, despite not having the chance to ascend to (party) presidency before GE15, Ismail Sabri would be able to assume some control on the lineup of UMNO representatives in the next parliament," he said.
Prof Azizuddin of UUM noted that Mr Ismail Sabri himself has said that he is reluctant to call for elections as he doesn't believe that BN is strong enough to win.
He also believes that Mr Ismail Sabri would want to stay in the prime minister position himself. This is because there are no guarantees he would be the next top office holder if BN wins the next election, as the likes of Mr Mohamad are ranked higher than him in the party.
Dr Oh of SIIA said that ultimately, Mr Ismail Sabri needed to win over the UMNO grassroots as much as Ahmad Zahid and Najib did. This is something that he has yet to accomplish as he was viewed as being too close to Perikatan Nasional (PN) and Pakatan Harapan (PH).
"He cannot just somehow profit from Najib's conviction without doing the hard work of winning over the UMNO grassroots," he said.
HOW WILL THIS AFFECT UMNO'S CHANCES IN THE NEXT GE?
Dr Oh said that while all these legal troubles are severe, they may just be temporary impediments to UMNO. 
"For them, the most important thing is the continued support of the conservative and feudalistic Malays who make up the bulk of the Malaysian electorate," he said.
He predicted that UMNO must be in the midst of assessing its political options, including whether to distance itself from Najib or continue to embrace his patronage.
"The former would bring about a refreshed image for UMNO. At least for the moment, it could hopefully win over some fence-sitting voters in the upcoming general election.
"The latter, on the other hand, would buttress support for UMNO from among Najib's ardent supporters who are apparently quite considerable in their numbers as well," Dr Oh said, adding that it remains to be seen which of these two groups of voters would deliver more seats for the party.
Prof Azizuddin added that UMNO will be affected in terms of campaigning, as Najib proved to be a main figure during the Melaka and Johor state elections.
Barisan won both states with two-thirds majority in the polls. 
"The Bossku effect was prevalent during the two elections and boosted the UMNO campaign. They will need to find other ways to mobilise their supporters as their main figure is not there," he said.
It is believed that the moniker of Bossku, which means "my boss" in Malay slang, made Najib appear more accessible to voters.
Commenting on whether attempts to garner sympathy for Najib would have a significant impact on the ground, Prof Azizuddin said he was not convinced. This is because only Najib's supporters appeared to be affected by his imprisonment. In contrast, there was a public outpouring of sympathy when opposition leader Anwar Ibrahim was imprisoned previously.  
Parti Keadilan Rakyat (PKR) secretary-general Saifuddin Nasution cautioned that Najib's conviction did not mean that Pakatan Harapan (PH) became stronger. He said PH also needed to strengthen itself.
"That is why I never chose Najib as a target because it was only a matter of time before he went to jail," he was quoted as saying by Free Malaysia Today.
Dr Oh said that despite Najib's failure to overturn his guilty verdict, the opposition would still struggle to mobile its supporters to come out and vote.
"As a result, UMNO is likely to be swept to victory again, at least becoming an indispensable part of any ruling coalition," he said.