Analysis: Proposed SFZ in Johor's Forest City requires political will and support from Malaysia, Singapore governments to take off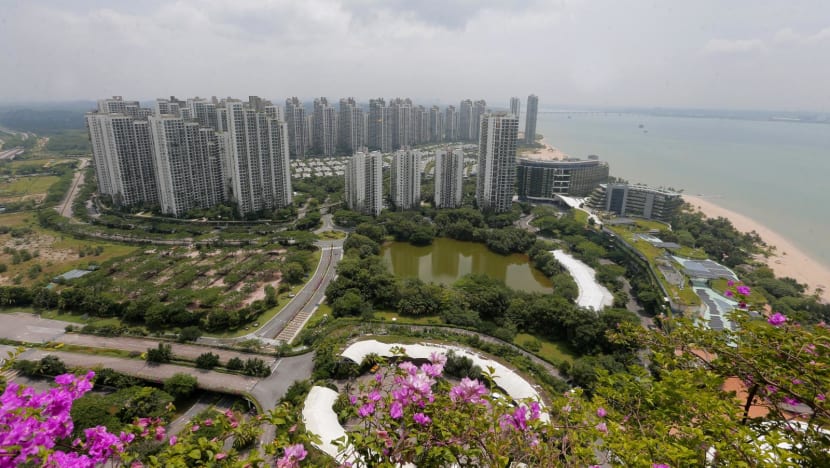 Malaysia PM Anwar Ibrahim recently announced that Forest City would be redesignated as a special financial zone, offering tax incentives and fast entry of workers from Singapore

Industry leaders say the SFZ could trigger a positive multiplier effect but remain circumspect given that similar international economic zones have waned over time

Businesses are also concerned that about the developer's financial issues and its ability to pivot the project from a residential development to an economic zone 

Forest City's developer - Country Garden - maintains that the company is in a strong financial position for all its Malaysia projects 
ISKANDAR PUTERI, Johor: Prime Minister Anwar Ibrahim's plan to designate Johor's beleaguered Forest City development as a special financial zone could be a boost for Singapore-Malaysia business cooperation - if it can overcome multiple obstacles and take off as envisaged, say industry leaders.
They say such a zone will attract Singapore firms seeking lower labour and land costs and also benefit Malaysia businesses through partnerships and knowledge sharing, even as they cite challenges such as the political will and support from both governments.
Another hurdle stems from the Forest City developer's poor financial status that could in turn determine whether it can provide the right infrastructure to attract workers and businesses, despite latest assurances from Country Garden Malaysia that it was in a strong financial position and that the development was "safe and stable". 
Mr Low Kueck Shin, the president of Johor Bahru Chinese Chamber of Commerce and Industry (JBCCI), told CNA that the prospect of a financial zone in Forest City would be "a big step in the right direction" for Iskandar Malaysia and southern Johor economic corridor to realise its potential as an international metropolis. 
However, he said he and other industry players are also concerned that the proposal will not take off given that it takes a lot of political will from the federal government and backing from the developer Country Garden to see it through. 
"Unfortunately there have been economic projects across the country and even in Johor that have not materialised as planned. It remains to be seen whether this one will eventually be fruitful for the long term," he added. 
Last Friday, Malaysian Prime Minister Anwar Ibrahim announced during a visit to Johor that the Forest City project will be designated as a special financial zone to spur the economy in the Iskandar Malaysia region. 
He outlined that the zone would offer businesses incentives to set up operations, such as a flat income tax rate of 15 per cent for skilled foreign workers compared to 30 per cent elsewhere, multiple entry visas as well as fast track entry for those who are based in Singapore, without giving details.
"I am confident this will attract many companies which are experiencing high operating costs in Singapore," said Mr Anwar during the event which is part of a nationwide tour to gather feedback for the 2024 Budget. 
Mr Anwar's comments came amid various media reports labelling the project a "ghost town" in reference to the development's slow pace of construction and low occupancy rates for its residential properties. 
According to the project's developer Country Garden Malaysia, as of August, the Forest City development was 15 per cent completed overall after eight years of construction work. 
Moreover, only 9,000 people are living in Forest City despite having 28,000 residential units completed thus far. 
Some residents have also expressed concerns that the project developer's parent company Country Garden in China is edging towards financial default, and that this could impact the completion of the project as well as future property value
LIFELINE TO FIRMS IN SINGAPORE AND MALAYSIA
However, in spite of the negative press, business leaders from both sides of the Causeway have lauded the move to open an SFZ in Forest City as potentially beneficial for all sides. 
Mr Melvin Tan, vice president and honorary secretary chairman of the Singapore Manufacturing Federation (SMF), told CNA that the move would benefit Singapore companies that are facing challenges such as rising cost of land space and power supply.  
"Singapore is facing a space crunch for a lot of the traditional or smaller businesses … a lot of manufacturers cannot sustain operations in Singapore due to the cost of land, labour and infrastructure," said Mr Tan, who is managing director of engineering firm Cyclect Group.
He added that opening an economic zone with cheaper land costs in Johor and lower costs for utilities such as electricity and water, which is in close proximity to Singapore, could hand a lifeline to some of these companies.
"Because if they can't afford to lease land in Singapore, these companies are left with two options: find alternative sites outside Singapore or shut down," said Mr Tan. 
As for Malaysian firms, JBCCI's Mr Low said the SFZ would encourage more partnerships between them and Singapore companies. He suggests that it would also benefit retail, food and beverage as well as the hospitality industries in the southern state. 
"The SFZ could trigger a multiplier effect - more Singaporean companies set up base in Forest City, and Johor companies will also enjoy more business cooperation with them and enjoy transfer of technological knowledge and expertise," added Mr Low. 
"This will also set up more employment opportunities for local Malaysians. Finally Johor can be like what it was once envisioned - just like how Shenzhen is an economic hub to mainland China."  
The Iskandar Malaysia project conceptualised in 2006 was aimed at transforming the Southern Johor region. 
Media reports referred to the region as potentially the next Shenzhen of Malaysia and former prime minister Najib Razak once touted it as a possible New Jersey to Singapore's Manhattan.
Economics professor Dr Yeah Kim Leng of Malaysia's Sunway University said Forest City's redesignation as an SFZ, which comes with fiscal and financial incentives to attract international firms, would also encourage Johoreans currently working in Singapore to consider finding employment closer to home instead. 
"It is an innovative policy initiative not only to invigorate Forest City development but also to boost the state economy given the large number of Malaysians commuting to work in Singapore," said Dr Yeah.
He added that given the rising costs of land and labour in Singapore, some companies especially in the manufacturing and tertiary sectors would see the new SFZ at Forest City as a viable option to shift operations to. 
"The SFZ could absorb the spillovers of Singapore's industrial development, especially the relocation of global business services and other knowledge-based industries that are no longer competitive in the city state," said the economist.
WILL FOREST SFZ FIZZLE OUT LIKE PREVIOUS ECONOMIC ZONES?
But industry players are also unsure if this vision of an SFZ in Forest City would come to fruition, given that similar types of projects proposed in the past have either underperformed or not materialised.
The project would also need the support of the governments of both Malaysia and Singapore, as well as the developer of Forest City, Country Garden Malaysia, they added.  
In July, following the 16th meeting of the Malaysia-Singapore Joint Ministerial Committee for Iskandar Malaysia (JMCIM), both countries announced that a task force will be set up to study the setting up of a special economic zone in Johor, with no further details given. 
Singapore's National Development Minister Desmond Lee told reporters then that the idea of a special economic zone would bring "a lot of benefits" to people in Singapore, Malaysia and Johor.
The task force studying the zone is scheduled to give a progress update at the 10th Singapore-Malaysia Leaders' Retreat to be held in Singapore later this year.
In his announcement last Friday, Mr Anwar did not specify if the SFZ at Forest City refers to this economic zone being discussed between Singapore and Malaysia. 
CNA has reached out to Singapore's Ministry of National Development as well as Malaysia's Ministry of Economy on whether the special zone raised during the JMCIM will be located at the Forest City project, and if so, whether there is a timeline for when the zone will be developed and completed. 
JBCCI's Mr Low said the project will be pulled off only if it is backed by both federal governments. 
"The SFZ promises things like fast track entry for workers - this will only be feasible if both countries are willing to play ball," said Mr Low. 
"The Malaysia government must also help the developer make the zone business friendly - set up the right amenities and infrastructure for companies to move in, open their plants and make money." 
He noted that a similar special economic zone was set up in 2009 by then prime minister Najib Razak in Terengganu and Pahang to draw China investment into the east coast of peninsular Malaysia. The area is called the Eastern Corridor Economic Region Special Economic Zone (ECER SEZ).
Mr Najib had said then that the 140 kilometres by 25 kilometres area would create 220,000 jobs by 2020. The zone had special incentives such as a 10-year tax exemption as well as exemptions from import and export duties.  
Media reports have cited how the zone has industrial parks for automotive manufacturing as well as the halal product industry.
However, there has been no confirmation from the Malaysia government on whether the zone has indeed met its employment target by 2020. 
Mr Low claimed that the zone has not sustained the test of time. 
"From what I hear from my business colleagues in the east coast, this zone has not brought benefits to the local business community, and many foreign firms have also moved out," he said.
Economist Walter Theseira from the Singapore University of Social Sciences (SUSS) noted that this concept of a special financial or development zone in Malaysia to take advantage of Singapore's proximity, as proposed by PM Anwar, is not new.
He cited how the Sijori growth triangle, consisting of economic cooperation between Singapore, Johor and the Riau islands, was first announced from 1989, and that the benefits have been uneven. 
Assoc Prof Theseira added that while there is some evidence that these cross-border efforts have led to complementary growth, he stresses that there are concerns that the growth has not been enough in "high value-added sectors" for the regional economies of Indonesia and Malaysia. 
"Generally speaking, Singapore continues to be preferred for the high quality business environment here and the availability of specialised business, legal, and financial services, whereas the region has advantages in natural resources, land and labour costs," he said.
"What the regional economies outside Singapore naturally hope for is to acquire a larger slice of the high value added pie over time, but it is unclear if these special zones have helped achieve those objectives."
BUSINESSES CONCERNED WITH FOREST CITY'S VIABILITY
Additionally, industry players are still uncertain that the SFZ would truly materialise and be a practical move for them to set up operations, especially given the slow pace of construction over the last eight years as well as the developer's Country Garden holdings parent company debt woes. 
The debt crisis at Country Garden in China has made global headlines as the firm had been the country's largest developer by sales value before 2023. 
Earlier this month, Country Garden Holdings suspended trading in nearly a dozen onshore bonds, paving the way for debt negotiations and a possible restructuring, as its share price plummeted.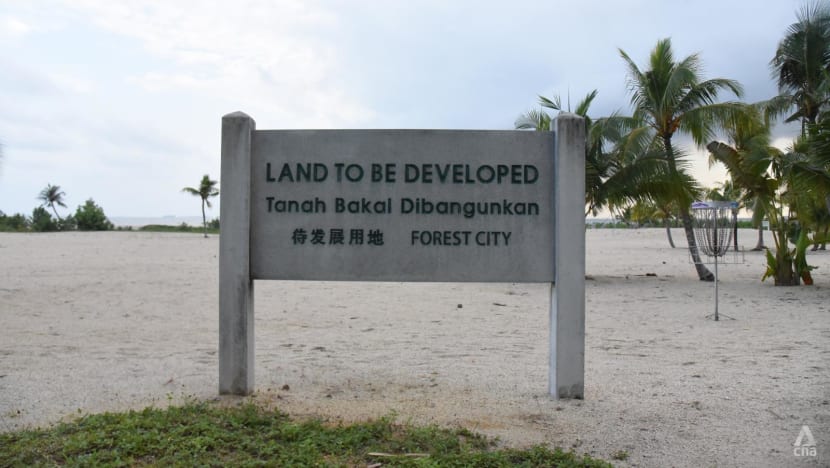 The company now has a 30-day grace period reportedly till early September to pay up its debts before it is considered to be in default.
On Tuesday (Aug 29), Reuters reported that Country Garden was seeking to add a 40-day grace period for the repayment of a 3.9 billion yuan ($535.3 million) private onshore bond due on Saturday. 
In response to queries from CNA, a spokesperson from Country Garden Malaysia issued a statement saying it welcomes Mr Anwar's announcement that SFZ will be created in Forest City as it will "stimulate investment and economic growth in Johor", particularly in the sectors of healthcare, education and tourism. 
Country Garden also said its subsidiary companies in Malaysia are in a strong financial position: "To date, the overall operation of the region is safe and stable. Our company's projects in Malaysia are operating normally and the sales performance is strong."
Yet, SUSS' Assoc Prof Theseira said it is impossible to conclusively assess whether the financial woes of Country Garden Holdings in China has any spillover effects on its subsidiary companies in Singapore as there is no publicly available information on the finances of Country Garden's development arm in Malaysia".
"How the financial challenges of the parent organisation affect any particular development would depend on how the finances are organised for that particular project (e.g. if there are funds committed, earmarked, or protected for Forest City, or specific debts linked to the project)," he added.
"There are really many factors. But I think it is reasonable for investors to be concerned based on public information."
JBCCI's Mr Low, who is also deputy managing director for palm oil firm Harn Len Corporation, said the "negative clout" surrounding Forest City and that the issues faced by Country Garden would not inspire confidence for potential investors.
"I sincerely hope that the federal government will come in and shake things up (in terms of construction), because I don't think Country Garden can do it alone," he added.
SMF's Mr Tan echoed similar sentiments, as he acknowledges that Singapore firms will be wary of investing in areas with poor infrastructural amenities and a questionable financial track record. 
He added that Country Garden has a portfolio in developing residential developments but less so in developing industrial parks for manufacturing companies.
Mr Tan suggested that the Malaysian government should work with reputable infrastructure developers - like Singapore-headquartered corporation CapitaLand Ascendas - to ensure that the needs of companies are addressed. 
"I mean, if you're counting on your developer to do a decent job. I think you do need to watch out for the company's financial capability and track record." said Mr Tan.
He added that for himself, he would prefer to set up a plant and invest in industrial parks that are matured rather than a new financial zone where there are uncertainties.
"There are some industrial parks in Johor, such as the Empire Industrial Park - which are suitable. They have things ready - the power supply, roads, sanitation, water supply," said Mr Tan. 
"For a new SFZ which is converted from a residential project, it may not be effective and it remains to be seen if it will be a right investment."
SUSS' Assoc Prof Theseira added that it may be difficult for Forest City to pivot from a residential project meant largely for China investors to a financial zone for Singapore firms. 
"The Forest City development has its own challenges which are widely reported elsewhere," he said. "It appears to be reliant on investment and residents drawn from mainland China, and as such, may or may not suit the housing needs of workers in the SFZ."