With Hong Kong running out of space for its trash, residents are doing more to reduce food waste
Food waste makes up 30 per cent of Hong Kong's total municipal solid waste and cannot break down well in landfills.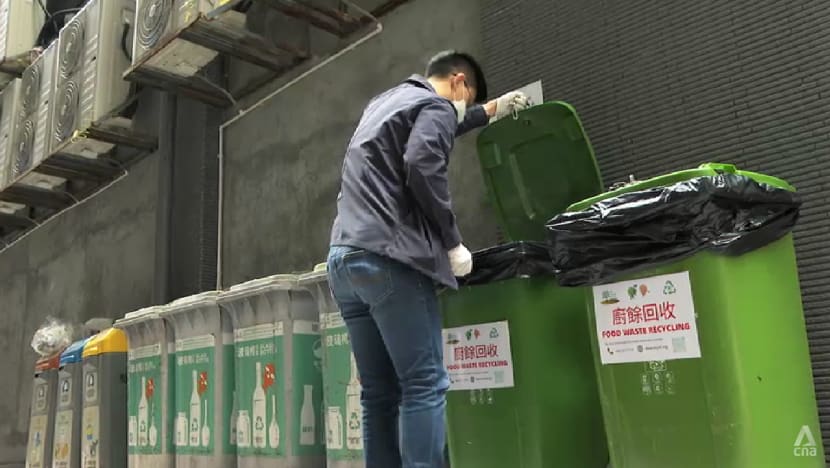 HONG KONG: Every evening, just after dinner time, residents at a public estate in Aberdeen dispose of their food waste at smart recycling bins.
They do so as part of an 18-month trial by the government to encourage recycling as a habit.
Hong Kong's landfills are fast running out of space, and food waste makes up 30 per cent of the city's total municipal solid waste.
"Some people might find it annoying to come down and recycle food waste every day, but we should maintain this environment-friendly mentality as a citizen," said one resident.
"It is better to keep this food waste scheme forever. It is more convenient for us and everyone can cultivate a good habit."
Since kicking off in October last year, the initiative has collected about 43 tonnes of food waste across five estates. That is on top of about 200 tonnes from an earlier trial.
ENCOURAGING RESIDENTS TO RECYCLE
Residents can earn up to 50 points a day when they recycle. One hundred and fifty points earns them a packet of noodles, while 1,000 points comes with a 1kg bag of rice as a reward.
The incentives are drawing a crowd, with residents understanding the urgent need to better deal with waste.
"I have reduced a third of my garbage, instead of throwing it in landfills," said one resident.
"Moreover, the food waste can be used as fertiliser for crops or livestock feed, so that they won't be wasted. We hope that we can do this for the sake of the next generation."
Another resident said: "As long as the scheme continues, I am keen to keep recycling all my food waste. I have seen some people who are older than me, after they have learnt how to operate the bin, they are also willing to participate."
Despite the relative success, it is still too early to tell if the trials are here to stay, as the government will need to further study their cost-effectiveness.
Under its Waste Blueprint for Hong Kong 2035, the government has laid out plans to reduce pressure on its landfills and tackle the waste management challenge in the city, which produces about 3,400 tonnes of food waste a day.
FOOD WASTE CANNOT BREAK DOWN WELL IN LANDFILLS
Some of the city's food waste comes from places like restaurants, hotels, markets and even food processing industries. But 68 per cent comes straight from homes.
For years, this waste has been tossed into the city's landfills.
Food waste, however, cannot break down well in landfills. It produces methane, a potent greenhouse gas that contributes to global warming.
Since 2018, Hong Kong has been turning food waste into compost and biogas at a facility known as the Organic Resources Recovery Centre Phase 1 (O Park 1).
In 2021 alone, the city recycled 66,100 tonnes of food waste, a 21 per cent increase from the previous year.
A second plant will be up by next year. It will be able to convert about 300 tonnes of waste per day into electricity, and generate enough in a year to power around 5,000 households.
BUILDING A GREEN COMMUNITY
One non-profit food waste collector is hoping to build a greener community in Hong Kong.
"We want to convey a message that producing waste is associated with costs," said Mr Ivan Tai, founder of Eco Community Promotion Association Limited. "It's our responsibility to reduce and recycle food waste."
Mr Tai charges residents US$14 a month for food waste collection. Currently, he has 150 household subscribers, mostly residing on Hong Kong Island.
He aims to expand his services to homes in Kowloon and the New Territories, but it has not been easy.
"There are many difficulties in setting up our bins in an estate. First, we need to get around 20 household subscribers before putting a bin there. We also need to convince the management that it's for a good cause," said Mr Tai.
It takes a lot to convince them to get on board, as residents believe the bins are unsightly, and will smell. 
Mr Tai explained that they are usually padlocked and tucked away from the front entrance. 
Once the bins are full, his team picks them up for recycling every night after dinner time.
"I think Hong Kongers don't take food waste recycling and environmental protection seriously. In Hong Kong, we chase speed and convenience. Many people feel that it's troublesome to do more steps for the environment," said Mr Tai.
"If we do not do more green education or some promotion on food waste recycling, I think the environment in Hong Kong will get worse."