BANDUNG, Indonesia: As Rahmat Sutrisno descended the slope of the Citarum riverbank, he could not help but grin. 
For decades, the 71-year-old had been patrolling the river which was once dubbed as one of the most polluted watercourses in the world.
Along with other activists from the River Quality Preservation People's Network, Sutrisno used to collect evidence against the many textile factories dotting his village, located in the outskirts of Indonesia's third largest city, Bandung.
These factories, some of which supply clothes to world renowned fashion brands, would often discharge untreated wastewater into the Citarum and its tributaries, contaminating the vital water source for the 18 million people living along its course with toxic chemicals and heavy metals.
"During the dry season, the river would turn black from the industrial waste," Sutrisno told CNA, adding that the water would emit a caustic stench so pungent it could be detected from 2km away.
"During the wet season, the river would be completely covered in trash," he continued.
A 2013 study by Green Cross Switzerland and Blacksmith Institute named Citarum as one of the top 10 worst polluted sites in the world.
But things started to change gradually since the Indonesian government began to clean up the Citarum in 2018 by clamping down on factories which violated environmental laws and relocating illegal settlements which disposed of solid waste, detergents and faeces into the river and its tributaries.
Today, there are spots where the water is safe enough to swim. Scavengers who once hunted for plastic cups and bottles became fishermen instead.
Sutrisno had also given up patrolling the river looking for incriminating evidence of the pollution and gone back to farming.
"Rice plants would die before they had a chance to grow. Even if they did, the plants would produce no grain," Sutrisno said of what it was like in his village before efforts to tackle pollution in the Citarum began. 
Things have now improved. "For the past two years, we have had six harvest seasons," he said.
But there is still much work to be done.
Although not as massive and blatant as before, there are still textile factories which dump their untreated wastewater in the Citarum and its tributaries in secret at night or whenever authorities are not looking, according to officials and activists interviewed by CNA.
Meanwhile, the amount of domestic waste produced by those living along its watershed areas is not slowing down.
Heavy machinery has to constantly pick up mountains of trash on the surface of the river and dredge the contaminated sediment accumulating on the riverbed. The military has also deployed thousands of soldiers to monitor and clean the 297km river which meanders through Indonesia's West Java province.
Activists and experts worry about Citarum's future. They have seen various administrations trying to clean the river only to see their respective programmes lose steam or struggle with funding.
The government estimated that the Citarum Harum (Fragrant Citarum) programme, which will end in 2025, would require 34.8 trillion rupiah (US$2.34 billion). This includes numerous infrastructure projects and the day-to-day dredging, cleaning and patrolling.
Activists and experts also noted that so far, much of Fragrant Citarum's success rests on efforts to continuously monitor and search for evidence on environmental law violations as well as the constant work to pick up the rubbish polluting the Citarum.
This leaves them questioning what will happen once the programme ends in 2025.
INDUSTRIAL POLLUTION
Sofyan Tsauri, who lives close to one of Citarum's tributaries, said the level of pollution caused by the many textile factories near his home has dramatically decreased since the programme began.
"Before, the smell was so pungent you could smell it indoors. The river used to be black and thick. But it hasn't been like that for the last two years," Tsauri told CNA.
But the 51-year-old said the illegal discharge of untreated industrial waste is still happening, albeit not as frequent and serious as it used to be.
"I still feel that there is discharge (of untreated waste) going on. Whenever I get close to a river or discharge outlet, the smell is still there," he said.
Asep, a food vendor who lives on another part of Citarum, said he sometimes sees factories dumping its untreated wastewater into the river.
"I can still see black and foamy water coming from their discharge outlets but the factories have been careful not to do this in broad daylight. Sometimes, they would send workers to clean the blackened outlet because officials regularly patrol the river," said Asep, who like many Indonesians goes by one name.
"But nowadays, the amount of waste they discharge is small. Before there were any patrols, they would dump all of their waste non stop without fear of repercussion."
In an interview with CNA, West Java vice governor Uu Ruzhanul Ulum admitted that some factories are still defiant.
"But there are not as many as before. I would say around 20 per cent (are still defiant). We will keep monitoring them. There are companies which are on our watchlist and we are giving them time to fix themselves. If they continue, we will revoke their licence," he said.
There are more than 4,000 factories operating along the Citarum and its tributaries and the West Java Environmental Agency has so far been able to build a case against 451 of them.
"There are still many industry players which are 'naughty'. But it is hard to build a strong case against them. We need to take samples of the water and have them tested in a lab … to prove that they really did it (pollute the river)," West Java Environmental Agency chief Prima Mayaningtyas told CNA.
"These factories sometimes dump their waste at night and we only find out about it later when the waste is already mixed with the main body of water and impossible to trace back to its original source," she continued.
"That's why we need locals to take pictures and collect evidence on our behalf. They need to file a formal complaint. Then we can conduct a surprise inspection."
But Deni Riswandani, chairman of the not-for-profit organisation Elingan, said it is easier said than done.
"People are afraid to file a complaint or collect evidence. Some of these companies employ thugs to stop people from taking pictures of their discharge outlets. Meanwhile, some locals might have family members who work in the factories and they stand to lose their jobs and livelihoods if they turn in their companies," he said.
Dwina Roosmini, an environmental engineering lecturer from the Bandung Institute of Technology, said wastewater produced by textile factories can be harmful to the environment.
"Companies use different chemicals to produce different colours to dye their fabric. They also use heavy metals to make the colours more vibrant, not to mention the metals used to make zippers and buttons," she said.
By law, companies must treat their wastes chemically using binding agents or biologically using bacteria, Roosmini explained. 
These processes will make the hazardous pollutants settle into a sludge, which must then be disposed of safely at a licenced disposal company. The resulting water must meet certain standards before they can be dumped into bodies of water like the Citarum.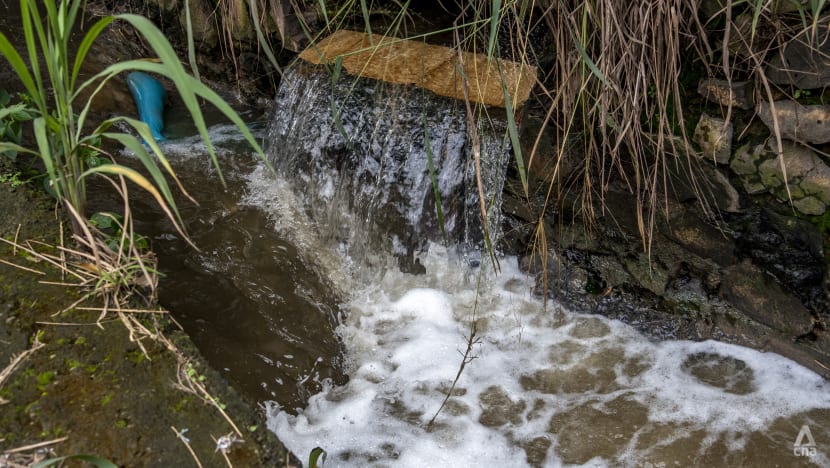 "In theory, we should be able to audit how much chemical agents these factories purchase and how much sludge they transport to these disposal companies and compare them with their production capacity. But companies rarely grant access to such audits," she said.
"Because the government has limited manpower, it is left to the industry players to report how much waste water they are discharging and what the water's characteristics are. We don't know if these industry players are being truthful or not. That is the problem."
DOMESTIC WASTE
The government has installed nets along the watercourse manned by hundreds of officials who pick up tonnes of trash each day. 
Trash also gets tangled on the water hyacinths floating on the river surface or washed ashore to the riverbanks.   
But at the start of the rainy season, heavy rains wash away piles of domestic waste accumulated in Citarum's tributaries into the main river. The amount of trash can be so overwhelming that the entire surface of the watercourse is covered, forcing officials and labourers to work for hours just to clear the waste.
The reason, activists and experts say, is that the 13 regencies and cities straddling along the Citarum have inadequate waste management systems.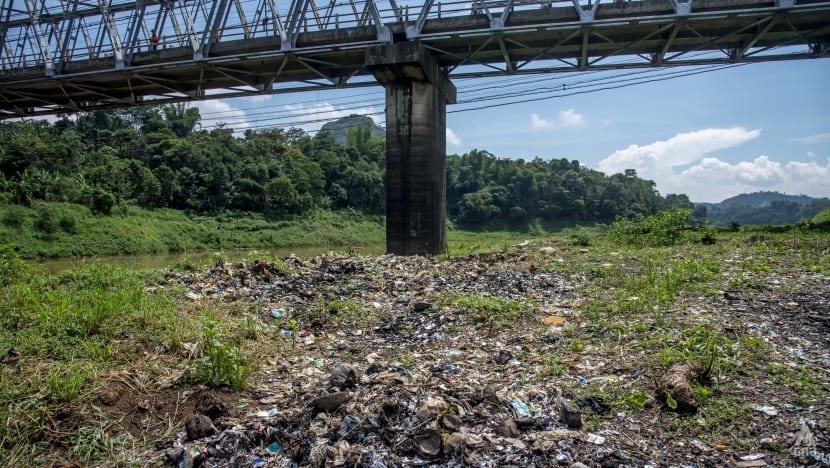 Bandung and its four surrounding regencies, for example, only has one landfill with a capacity of 2,000 tonnes per day. The Bandung metropolitan area has a population of 8.5 million people. Meanwhile, the Ministry of Environment and Forestry estimated that on average each person produces 0.7kg of trash per day.
As a result, all across the Greater Bandung area there are piles of rubbish left by the roadside next to packed trash bins waiting to be picked up by sanitation workers who come once every few days.
Another common sight are empty plots of land being used as impromptu landfills or sites for open burning, which creates suffocating smoke. The rest of the trash can be found littering open sewers, creeks and streams which flow into major rivers like the Citarum.
Last month, during the United Nations Climate Change Conference in Glasgow, West Java Governor Ridwan Kamil presented how the province is home to a trash-for-cash scheme to collect and recycle plastic bottles and cups as part of the efforts to keep the Citarum clean.
West Java, the governor continued, also hosts several small businesses which turn multi-layer food and detergent packaging into floor mats and bags as well as maggot farms which eat away organic wastes.
But environmental agency chief Mayaningtyas admitted that these ventures are only creating a small dent on the province's domestic waste problem.
"We have a regional strategic policy that every regency and city must implement, which is a 30 per cent reduction in waste through recycling and upcycling," she said.
"That has not been achieved. We will push all regencies to start sorting wastes and create a circular economy. Because today, the amount of waste which ends up in our landfills and incinerators is not decreasing."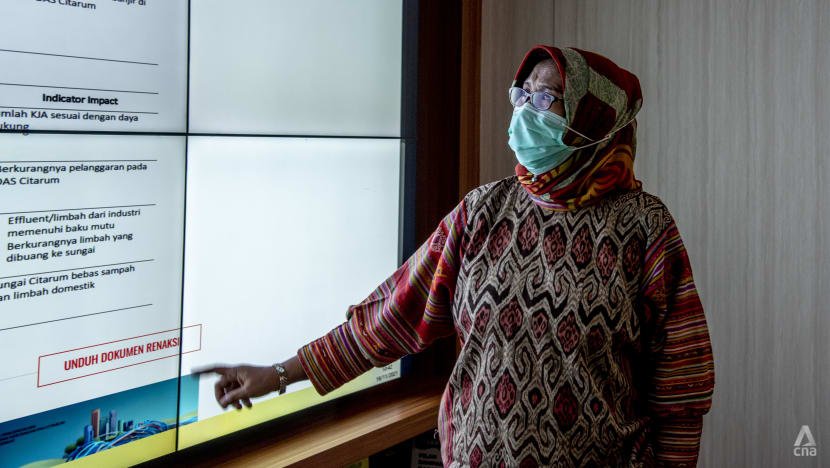 Riswandani, the activist, agreed that getting people to recycle their wastes is the way to go, but he also called for more government intervention.
"There have been efforts to create a circular economy by upcycling plastics into bags and floor mats but the government didn't create a market for them. The same goes for waste banks. Without a market, they will become nothing more than waste collectors," he said.
Erri Megantara, an environmental science professor from Bandung's Padjadjaran University concurred.
"The government tried to establish waste banks or trash-for-cash schemes. But they are not supported by banks and financing firms. They could not find a market for the plastic collected because there are not that many recycling plants around," Megantara told CNA.
CAN CITARUM STAY CLEAN?
For now, the government appeared to be serious about cleaning the Citarum, a vital source of water for millions of people and thousands of hectares of farmland.
In 2018, President Joko Widodo signed a decree on the Acceleration of Citarum River Pollution and Damage Mitigation, earmarking billions of dollars for the programme and assigning Cabinet members to oversee the programme.
According to data from the Fragrant Citarum task force, the government has so far poured in US$700 million into the programme. Most of the money has been spent on building retention ponds, reforesting the hilly upstream areas and other construction projects to regulate Citarum's flow. 
Meanwhile, to keep pollution from industrial and domestic wastes at bay, the government mostly relies on the military's day-to-day patrolling and cleaning work.
"Citarum has 20 tributaries which host thousands of factories and millions of inhabitants. They can't monitor everything all the time. The environmental agency has limited manpower at both the provincial and regency levels. Today, the agency is assisted by the military but we can't involve them forever. There needs to be systemic changes," Megantara from Padjadjaran University said.
Roosmini, the environmental engineering lecturer, echoed the same sentiment.
"For now, the government is relying too much on monitoring. There needs to be prevention strategies. We need to control the source of the pollution," she said. 
Ulum, West Java's vice governor, said there are plans to move some factories away from the Citarum to industrial complexes which are currently under construction in other parts of the province where they can easily be monitored.
"These industrial areas will have facilities which will minimise some of the problems we are seeing now," he said.
As for domestic waste, Ulum said the government is engaging religious and community leaders to educate the public.
"People are still not aware about the importance of preserving Citarum as a whole. 
"They don't litter not out of good will but because they are afraid of punishment and because the military is involved. There are people who litter in secret but not as massive as before. To change paradigm and behavior takes time. That's why educating the public is so important," he said.  
Mayaningtyas, the environmental agency chief, said the government is also opening up new landfills as well as establishing new recycling plants to expand its trash-for-cash scheme.
Megantara is sceptical, saying that the government needs to make sure that these changes stay in place long after the programme ends in 2025.
"The reason why previous attempts (to clean Citarum) had failed was (the lack of) consistency. They also did what they do now. They shut down a number of factories, they patrolled the river, they launched infrastructure projects and campaigns," he said. 
"But after a while the (previous) programmes started to lose steam. The patrols were conducted less frequently, inspections were relaxed, companies went back to business as usual and infrastructure projects didn't get maintained and were left in decay. We need the government to stay committed to keeping the Citarum clean."