BEKASI, Indonesia: Resting on a mound of dirt on one side of an 11ha landfill in the outskirts of Jakarta, sitting side by side with discarded food packaging, broken toys and other domestic waste, were plastic bags filled white and blue medical face masks.
Metres away, dozens of test cartridges with the word "COVID-19" printed on them littered the ground. They were strewn at the side of a road where a long queue of garbage trucks had formed, waiting to unload foul smelling waste collected from across the Bekasi regency which borders the Indonesian capital.
"This is only the tip of the iceberg. There is much more medical waste inside, hidden beneath layers of ordinary trash," activist Mr Bagong Suyoto told CNA. 
He was referring to a nearby mountain of trash standing over 20m tall. It was teeming with scavengers and workers manning the half-a-dozen excavators.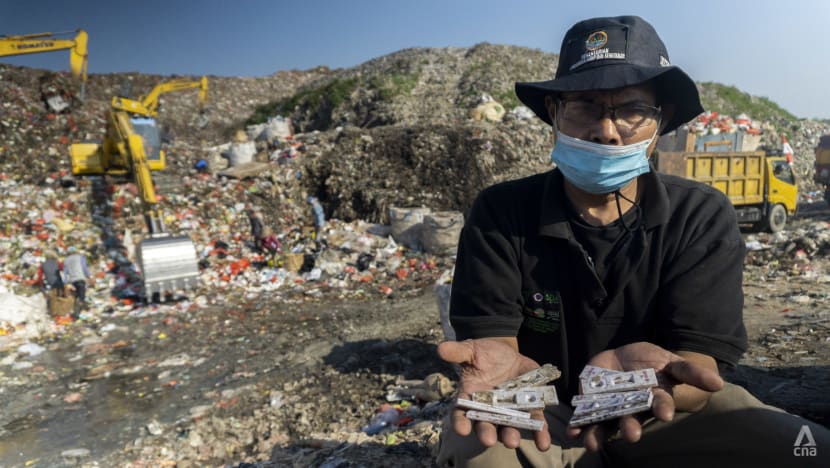 By law, medical waste is classified as hazardous and toxic waste and is supposed to be incinerated to stop the spread of diseases and prevent contamination.
But weak supervision and enforcement of the rules as well as the lack of certified incinerators across the country meant that some medical waste occasionally ended up in landfills which are only meant for household waste.
The situation has been exacerbated by the COVID-19 pandemic.
According to the Indonesian Hospital Association, hospitals across the country produced around 290 tonnes of medical waste per day prior to the pandemic. This figure has since ballooned to 493 tonnes per day.
As COVID-19 rages, infectious waste is not only produced by hospitals and clinics. They are also produced by isolation facilities which have remained largely unsupervised, as well as households that rarely separate infectious waste from ordinary rubbish.
The actual amount of medical waste produced by isolation facilities and households is unknown. However, the Ministry for Forestry and the Environment estimated that each COVID-19 patient can produce up to 1.7kg of infectious waste per day.
Around 4 million people in Indonesia have contracted COVID-19 since the pandemic began.
INCINERATOR SHORTAGE
There are 3,000 hospitals, 8,000 community health centres and 9,000 private clinics across Indonesia. Out of this, only 120 hospitals operate their own incinerators to dispose of their medical waste.
"It is difficult for a hospital to operate their own incinerator. Buying one is easy. The hard part is obtaining a license from the Ministry for Forestry and the Environment to operate one. There are so many requirements which need to be met," Dr Lia Partakusuma, secretary general of the Indonesian Hospital Association, told CNA.
The rest rely on private companies that hold the necessary licence to transport and dispose of hazardous waste. As of December last year, there are only 17 such companies nationwide. Together, they are capable of disposing 252 tonnes of medical waste per day.
However, these companies are located in only seven out of 34 Indonesian provinces. Most of these companies operate on the country's most populous and most developed island, Java.
"Not all provinces have their own incinerators," Dr Partakusuma said.
Hospitals in the remote and underdeveloped province of Papua, for example, have to pay disposal companies up to 110,000 rupiah (US$7.50) just to dispose of 1kg of medical waste because they have to be shipped 3,000km away to Java.
During the pandemic, hospitals can produce between 50kg to two tonnes of medical waste per day depending on the size of the healthcare facility.
"The amount of medical waste has increased due to COVID-19, On average, a hospital's medical waste output can balloon two to five times, particularly if a hospital is turned into a dedicated COVID-19 hospital," Dr Partakusuma said.
"Because of the pandemic, the government has expanded the definition of infectious waste into everything which has come into contact with a COVID-19 patient. So not only medical equipment like intravenous fluid bottles and syringes but also napkins, diapers and leftover food."
He added: "Meanwhile, the use of personal protective equipment has also risen. That is why the amount (of medical waste) ballooned."
Dr Partakusuma said that incinerators are so full that occasionally medical waste does not get picked up on time, putting workers and patients at risk due to the highly infectious nature of the waste.
"Imagine a house with no working toilets," she said. "That is what hospitals are like these days."
Mdm Rosa Viven Ratnawati, the Environment Ministry's director general on waste and hazardous material management, said the government has taken a number of steps to mitigate the problem.
"We are asking healthcare facilities to incinerate their own medical waste in an incinerator with a minimum temperature of 800 degree Celsius. Normally, they would need a permit to use these incinerators but we are relaxing these requirements and issued temporary permits to around 200 hospitals," she said.
"We have also asked for help from cement factories. Their kilns can reach a temperature of 1,500 Celsius and so far 13 companies have agreed to help. We will soon issue a decree to allow these factories to incinerate medical waste."
The ministry is also looking to purchase small sized incinerators and distribute them to remote areas across Indonesia. "We are mapping areas which don't have medical waste disposal services or cement factories. We are still discussing how many are needed, how much they would cost and how much budget we should set aside," she said.
Although hospitals are now given temporary permits to operate their own incinerators, not many are jumping at the chance to procure one, Dr Partakusuma said.
"Not all areas want to have incinerators around. Not everyone wants their area to become a dumping site for hazardous waste," she said.
"Incinerators produce ash and this ash can only be disposed of at certain places. That is why many hospitals tend to work with a third party. Many hospitals don't want to be bothered with these issues because they have a bigger thing to worry about, which is providing healthcare to patients."
FACE MASKS A GROWING PROBLEM
As the use of face masks become more prevalent, they are now an environmental problem.
A research conducted by the Indonesian Institute of Science at the beginning of the pandemic last year showed that face masks account for 16 per cent of the waste found in landfills, rivers, streets and beaches across Indonesia.
"Before the pandemic, it was zero," Mr Reza Cordova, one of the scientists involved in the research, told CNA. Mr Cordova estimated that today, with the arrival of the more virulent Delta variant, the amount of used face masks polluting the environment could have doubled.
"Compared to the beginning of the pandemic, people have become more aware of the importance of wearing face masks and face masks have become more readily available," he said.
"People can wear two or three masks a day if they spend the whole day out of their houses. However, the government is not providing people with a safe way to dispose them."
Public health expert Hermawan Saputra said face masks pose greater health risks than other types of medical waste.
"With so many people self isolating at home, face masks are becoming a big problem. When face masks come into contact with a COVID-19 patient, you can be sure that they are contaminated with the coronavirus. If people encounter these masks they are at risk of becoming infected," said the advisor at the Indonesian Public Health Expert Association.
"These masks must be destroyed properly. If not, the virus can survive for three to four hours in an open air environment. In an indoor environment, the virus can survive for eight hours. If it is a humid and tight space, piled up against other infectious material like inside a trash bin or inside a landfill, the virus can survive for two to three days."
DIFFICULT TO TRACK MEDICAL WASTE
As the medical waste problem grows, keeping track of where they land up has also become an issue.
Mdm Ratnawati, the environment ministry's director general, said issuing temporary permits to hospitals and allowing cement factories to incinerate medical waste should be enough to cope with the rise of infectious waste.
"At the very least, they are enough to manage the medical waste produced by healthcare facilities," she said. "Medical waste should not end up in landfills."
But the reality is, medical waste – including those produced by healthcare facilities – do make their way to landfills.
During a visit to the Burangkeng landfill in Bekasi regency, CNA found a bright yellow plastic bag with a biohazard symbol and the words "infectious waste" resting at the foot of the mountain of trash. The plastic bag was empty.
Not far from the yellow bag were empty bottles of intravenous fluid, some with their tubes and catheters attached. Stashed among the same pile of garbage were medicines and an x-ray scan of someone's pelvis. There were also empty 5L jars meant to contain hemodialysis fluid.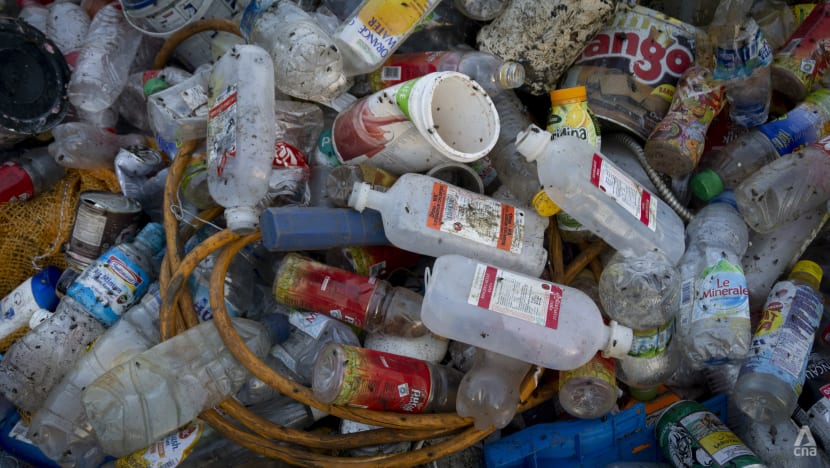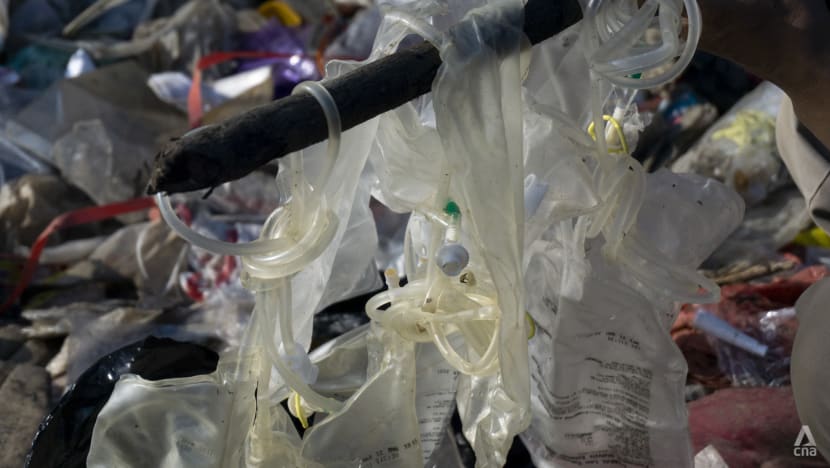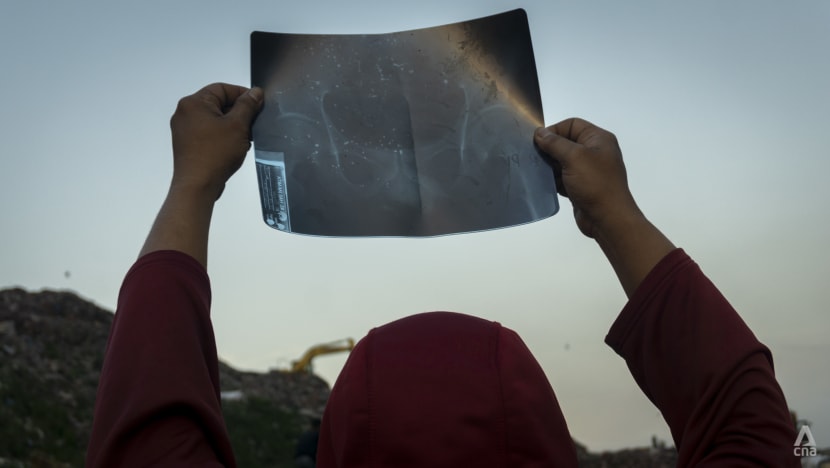 Dr Partakusuma noted that even before the pandemic, there was a discrepancy between the waste produced by healthcare providers and the amount actually disposed of by incinerators.
"This (discrepancy) can amount to between 70 tonnes and 90 tonnes per day. They are unaccounted for," she said.
"This is not a new problem. This is an old problem becoming worse because of COVID-19."
Mdm Ratnawati of the environment ministry has pledged to investigate the issue. "It is supposed to be the regional government's job (to monitor this). The central government alone cannot keep track of all the waste in 550 regencies and cities across Indonesia," she said.
Mr Suyoto, a senior activist who has been researching the waste issues in Indonesia for more than 20 years, noted that investigating how medical waste ends up in landfills is hard. 
"This practice involves a network of collectors and transporters so it is very hard to track it down to a particular hospital or waste transportation company," he said.
Mr Suyoto, the chairman of the National Coalition on Waste, said there is money to be made by ensuring certain medical waste never made it to the incinerators.
"Some of this medical waste is made from top quality medical grade plastics. Intravenous fluid bottles for example, can command between 6,000 rupiah to 7,000 rupiah per kilogram. That's twice the price of drinking bottles and cups," he said.
WORKING TOWARDS A COMPREHENSIVE SOLUTION
Experts said that the government needs to do more than just monitoring waste from healthcare facilities. 
Dr Saputra, the public health expert, said: "The government's attention is only given to healthcare facilities while the waste produced by ordinary households and public facilities are ignored."
"We also have hotels which have been converted into (COVID-19) isolation facilities. Meanwhile, we have facilities like airports and train stations which offer COVID-19 tests. It is no surprise that masks and cartridges are making their way into landfills."
Dr Partakusuma of the Indonesian Hospital Association said the government also needs to pay attention to public places like shopping malls and offices.
"There needs to be a collection point where people can drop their used masks," she said.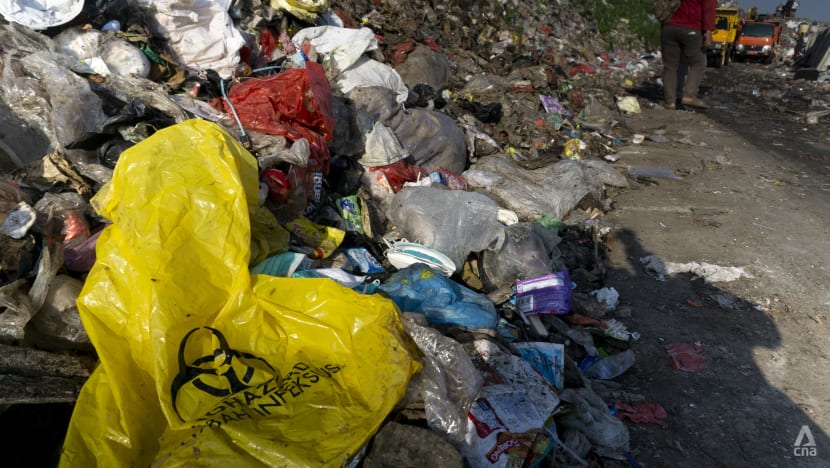 Mdm Ratnawati of the environment ministry admitted that something needs to be done with the growing amount of waste produced outside of the healthcare facilities.
"I agree that they are a major contributor to the problem (of untreated medical waste), particularly when it involves self-isolating (COVID-19) patients," she said.
Mdm Ratnawati said ideally, every regional government should establish their own medical waste collection centres as well as distribute special bags for self-isolating patients to put their waste in.
"These bags are then collected by trained officials in protective gear so the waste can be safely disposed of at incinerators," she said.
"We are working hard towards this goal. We are in talks with regional governments about this. But different governments have different capabilities."
She added: "There are those which don't have the budget to build their own collection centres. We are trying to allocate funds to help regional governments to implement this. Hopefully, in one or two months we can start implementing these plans."
Mr Suyoto hoped that the pandemic could serve as a wake up call for the government to pay attention to Indonesia's waste problem.
"This pandemic highlights the need for households to separate their waste, the need for more incinerators, the need to have strong supervision and enforcement and the need to have a good waste management system," he said.
"I hope whatever improvements made can last long after the pandemic is over."