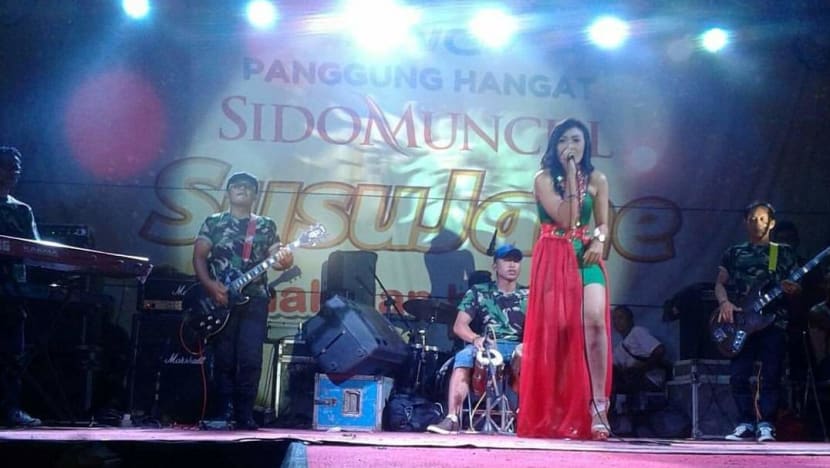 JAKARTA: With full makeup and glitzy outfit, Netha Salsabila used to mesmerise the audience when she performed dangdut, Indonesia's folk pop music famous for its upbeat melodies.
The 32-year-old, who goes by the moniker Ranesa Queen, is a dangdut singer in the Indonesian city of Madiun, East Java.
Like many other dangdut performers, she was forced to switch jobs and change her lifestyle because of COVID-19.    
When the pandemic broke out last year, her world turned upside down from performing shows at night to cooking food for her customers in the early hours of the morning.
"The reason I changed my job is that many events were cancelled due to the difficulty of obtaining a permit for holding celebratory events such as weddings and birthdays," she told CNA.
"So I switched to culinary and now I sell food online such as fried catfish."
Dangdut performances usually involve singing, live music and dancing.
In a normal situation, they are not difficult to host. However, putting all the elements together during the pandemic is not an easy task, particularly when live events open to a large audience are not allowed.
With the many movement and gathering restrictions imposed in public places, dangdut artistes and musicians have found it difficult to make a living as there are no opportunities for any public performances.
Singers and musicians interviewed by CNA admitted they now earn significantly less than before as dangdut artistes. Many said they could not wait to get back on stage again when all the restrictions are lifted so they could continue with their performances.  
Often touted as the national music of Indonesia, dangdut as a genre arrived in Southeast Asia (namely Indonesia and Malaya) in the late 1950s, said music experts.  
Originally developed by infusing Malay music with Hindi and Arabic influences, dangdut in its contemporary version also includes many Indonesian folk elements.
Dangdut's popularity reached its peak in the 1990s especially in Indonesia when it was both a medium of mass entertainment as well as a platform to promote national messages and popular narratives.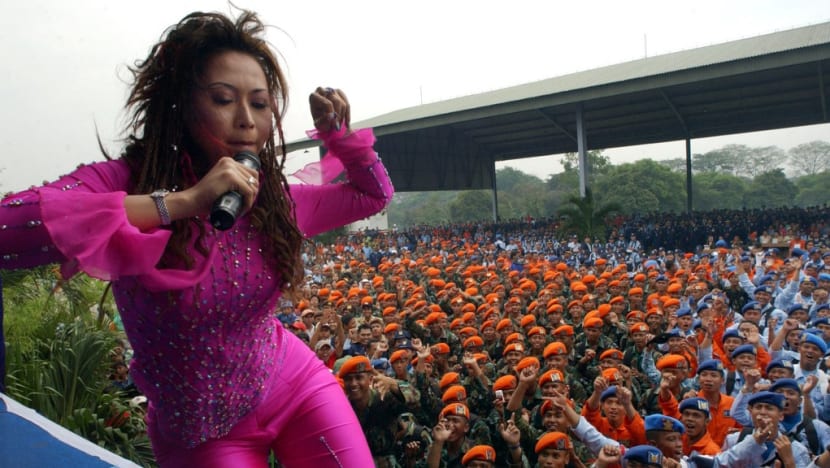 As folk music of sorts, dangdut remains popular to many segments of the Indonesian society today, especially the general public.
Its massive popularity helped to entice many young people including Salsabila to become full-time dangdut singers, musicians or dancers.
But as the COVID-19 situation worsened, many in the dangdut music industry had to bear the brunt of the pandemic with few or no opportunities to perform.
STRUGGLING TO FIND JOB
Salsabila became a dangdut singer 17 years ago by accident when a friend asked her to replace a dangdut singer who abruptly cancelled a gig.
"Coincidentally, singing has been my hobby since I was little. So I then joined a group called Sentana. 
"I learned a lot from the musicians whom I regard as my own siblings," said Salsabila. 
As a dangdut singer, she could earn about 5 million rupiah (US$350) per month from various performances. 
If she had offers to perform in other cities such as in Malang or Tuban, she could even earn up to 7.5 million rupiah in a month.
Currently, she only earns about half of her previous income.   
"I miss performing on stage and eating during festivities. Now I only sit at home and cannot gather with fellow artistes."  
Besides, running her own food business is a difficult task where extra patience and tenacity are required, she said.  
"Early in the morning I have to be ready and take pictures of the food and upload them to my social media accounts," she noted, adding that most of her customers approach her on social media.  
Another former dangdut singer Novi Listiana, 23, has turned to farming to make ends meet since the pandemic.
Based in Boyolali, Central Java, Listiana previously performed in several villages in her hometown. 
"I was a singer not because my voice is good but because I was the only breadwinner in my small family.
"So I had to do it for my family and I had been singing since I was in junior high school in 2013," she said.
When she got married in 2018, she thought about changing her career and appearance too.
She was concerned that there are people in Muslim-majority Indonesia who disapprove of the way some dangdut female artistes dress and deem it too revealing and "unIslamic".  
As she decided to leave the dangdut music scene, Listiana also found it hard to find a different job especially when the pandemic situation worsened in Indonesia.
"When COVID-19 struck, there were also no requests to perform. I looked for other jobs and couldn't find any," she said.
Her musician husband, who played a two-headed drum called kendang, also decided to leave behind his music career.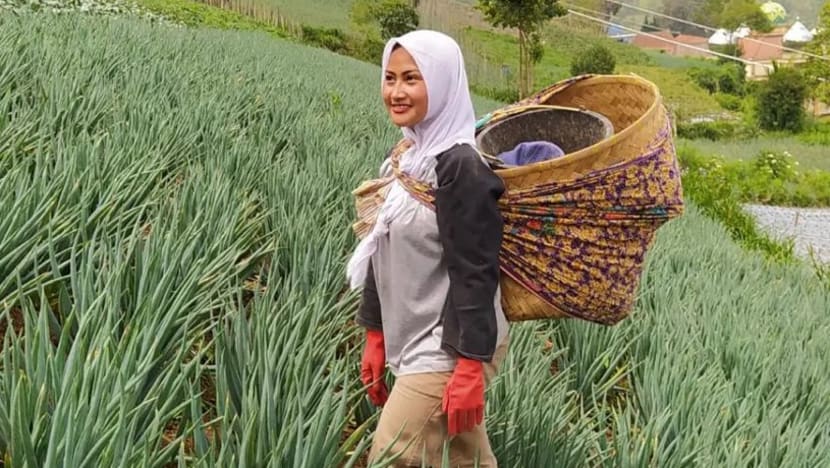 He taught Listiana some farming skills and since then both husband and wife have been working as smallholder farmers.
"At first I felt uncomfortable and embarrassed. But over time I actually feel happy and now I feel comfortable being a farmer," she told CNA.
Listiana said that income wise, there was no drop in her earning as she still makes about two million rupiah per month, the same amount she earned as dangdut singer.
Less fortunate though are dangdut musicians such as Agus Suprapto and Listyo Pramono.
Suprapto, who was a dangdut keyboardist for almost two decades, is now an electrical handyman.
He also runs a small food stall and a Playstation 3 (PS3) video game rental service.  
"In mid-2020, around July or August, I even had to sell my Yamaha keyboard to buy electronic service tools, a second-hand TV for my PS3 rental service and to set up my stall," said the 46-year-old. 
As a keyboardist, Suprapto used to perform every day during festive seasons and earn about 200,000 to 300,000 rupiah for every show.
Nowadays, he fixes faulty electronic equipment, a skill he taught himself from watching Youtube clips. He gets such requests twice or thrice a week.
"Maybe because of the pandemic, there are fewer requests for repair. At the moment what is important is to survive," said the father of a preschooler. 
He admits that there is both joy and sorrow in being a small-time technician. For instance, he does get upset whenever a client in a village cannot afford to pay him for his service.
But then he also gets to feel their joy when he sees his client's happiness after their faulty equipment has been fixed again.
"From one client I can get a maximum of 100,000 rupiah. Well, I live in a village," said the East Java native who lives in Joho village. 
"And then there are some who cannot afford to pay for my service because they don't have money. That's okay because I know how it feels (not to have money)." 
For former dangdut guitarist Listyo Pramono, being unemployed has been a major blow since he lost his job.
The 40-year-old who spent 15 years as a dangdut musician had to work as a labourer in a sugar factory when the pandemic struck.
Even then he would find himself unemployed every now and then since work at the factory is on a seasonal basis only.
DANGDUT CAN STILL THRIVE: ANALYST
Music analyst Bens Leo acknowledged that many dangdut artistes and musicians have changed jobs because of the pandemic.
But he noted that this was also the case with artistes of other genres as well. 
Nonetheless, he believed that dangdut performers as a whole face bigger challenges since there are more of them in Indonesia compared to the rest in the entertainment industry. 
With limited opportunities because of the pandemic restrictions, competition for jobs or offers to participate in events was much stiffer among them.  
As the COVID-19 situation began to show signs of improvement in Indonesia, many regions have started to open up and small events under strict health protocols were permitted. 
Observers like Leo were confident that the dangdut scene would make a strong comeback as many of those involved in the industry felt "dangdut is their DNA"
He believed that dangdut artistes would likely return to the scene as soon as more opportunities for them to perform were available.
Salsabila, the dangdut singer-turned-cook, readily admitted that if there were opportunities, she would go back to singing again.
However, she insisted that her culinary business would come first as her main job, with singing and performing dangdut as a sideline.
"In the entertainment industry, there are newcomers every year, so I'll focus on my culinary business. But I would be happy if I could do both," said Salsabila.
Keyboardist Suprapto and guitarist Pramono were also hopeful that the pandemic would be over soon, so they could return to their dangdut music again.  
For some like Listiana who have moved on to other things, going back to the dangdut life is not an option anymore.
"I have forgotten the glamorous life because I feel that to be happy, I don't need to live a sumptuous life." 
Read this story in Bahasa Indonesia here.