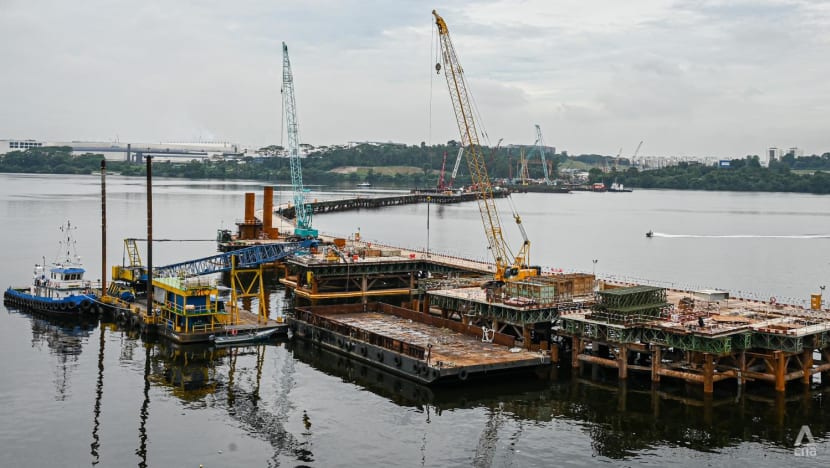 KUALA LUMPUR: The Johor Bahru-Singapore Rapid Transit System (RTS) Link is on track to be operational by end-2026, with the foreign ministers for both Singapore and Malaysia noting the progress made in construction of the cross-border rail project.
In a statement released on Monday (Jan 16) following a meeting between Singapore's Foreign Affairs Minister Dr Vivian Balakrishnan and his Malaysian counterpart Zambry Abdul Kadir, Singapore's Ministry of Foreign Affairs (MFA) said: "Minister Balakrishnan and Minister Zambry took stock of the Singapore-Malaysia bilateral relationship. They noted the good progress on the Johor Bahru-Singapore Rapid Transit System Link project and looked forward to the commencement of passenger services by end-2026." 
Dr Balakrishnan is on a four-day visit to Malaysia - his first official visit to the country since Mr Anwar Ibrahim was made Malaysia's 10th Prime Minister in November last year.
The RTS Link aims to connect the Bukit Chagar in Johor Bahru city to Woodlands in Singapore, serving about 10,000 passengers per hour each way to help ease traffic congestion on the Causeway. 
RTS Link tunnels will connect to a viaduct running 25m above the Straits of Johor, bridging the Woodlands North station in Singapore to the Bukit Chagar station in Johor Bahru.
Last December, Malaysia's Mass Rapid Transit Corp chief executive Mohd Zarif Hashim told local media the project was not affected by the change in government after the 2022 general election, and that construction was progressing on schedule. 
"This project is a commitment from the government, as a country, we have to do it. The project is also halfway through with all the land already purchased," he was quoted in The Star newspaper. 
MRT Corp is the developer and owner of the civil infrastructure for the Malaysian section of the rail project.
The JB-Singapore RTS project had originally been scheduled for completion in 2024, with Malaysia and Singapore governments signing a bilateral agreement to build the link in 2018. 
But the project was suspended a number of times after the Pakatan Harapan coalition government came to power in Malaysia in 2018. 
The project officially resumed in July 2020, with a bilateral ceremony held on the Causeway to mark the occasion. Singapore Prime Minister Lee Hsien Loong and his then-Malaysian counterpart Muhyiddin Yassin were both in attendance. 
The project is estimated to cost RM10 billion (S$3.25 billion), with Singapore bearing 61 per cent of the cost. 
MINISTER BALAKRISHNAN HAD AUDIENCE WITH MALAYSIA'S KING 
Meanwhile, on his visit to Malaysia, Dr Balakrishnan also had an audience with Malaysia's King Al-Sultan Abdullah Sultan Ahmad Shah on Monday. 
King Abdullah and Dr Balakrishnan "reaffirmed the excellent ties" between Singapore and Malaysia, and their commitment to strengthen bilateral cooperation, MFA said.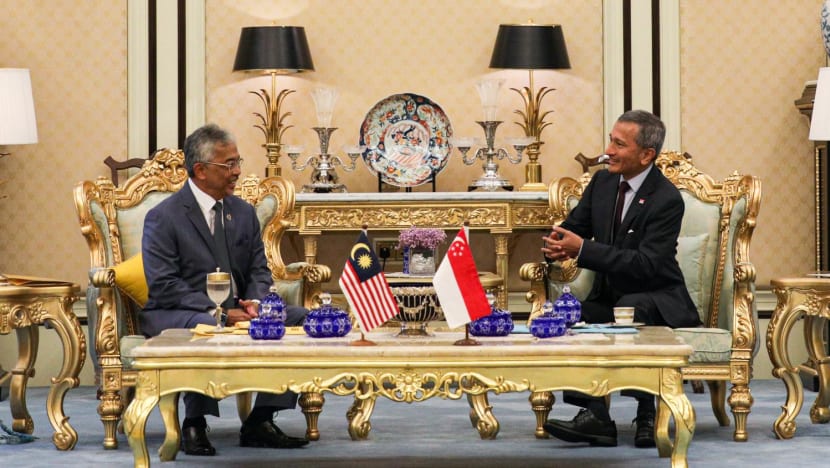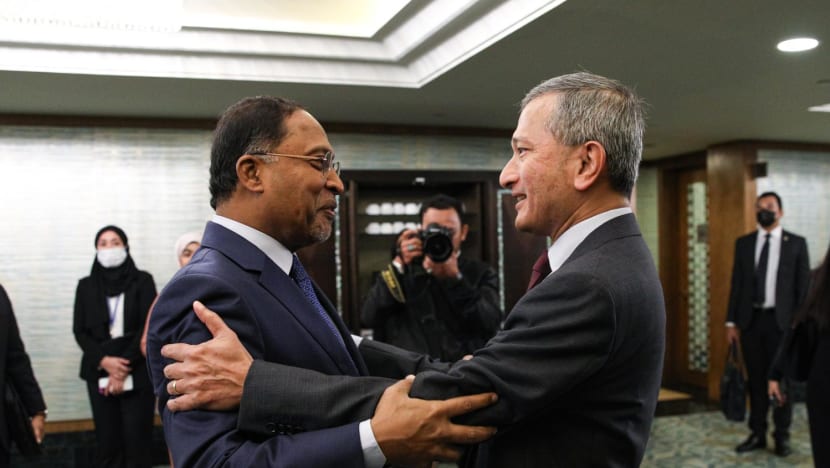 MFA added that Dr Balakrishnan and his counterpart Dr Zambry also discussed how both countries could expand bilateral collaboration, including into new areas such as the digital and green economies.
"Minister Balakrishnan invited Minister Zambry to make an official visit to Singapore soon," MFA added. 
Dr Balakrishnan is expected to call on Malaysian Prime Minister Anwar Ibrahim on Tuesday.