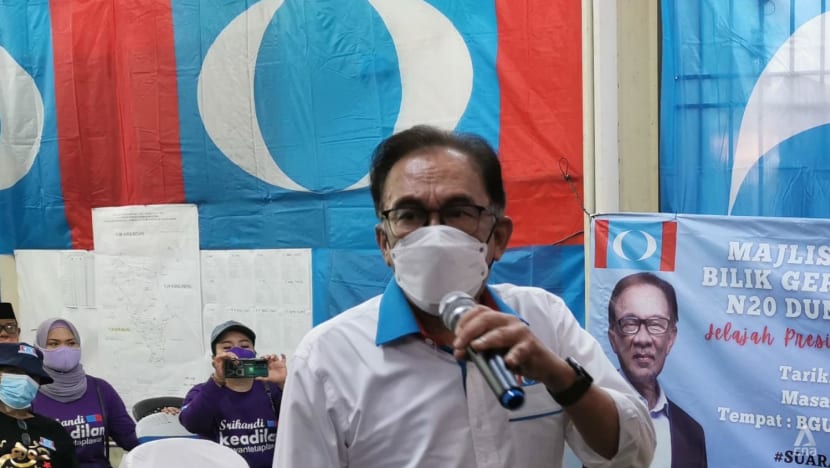 JOHOR BAHRU: Pakatan Harapan (PH) chairman Anwar Ibrahim on Saturday (Mar 5) denied that the opposition coalition is in disarray, adding that its focus is on defeating Barisan Nasional (BN) in the Johor state election.
"Now people are saying that Parti Keadilan Rakyat (PKR) is different, (separate from) Pakatan Harapan. I want to remind (you). I am the president of PKR. I am also the chairman of Pakatan Harapan.
"In all election campaigns, I have never abandoned my friends … I help garner support for the Democratic Action Party (DAP) and Parti Amanah Negara (Amanah) candidates in areas they are contesting," he said during a campaign speech in Johor Bahru.  
Mr Anwar was addressing perceptions that PH has been plagued by disunity in the state polls.
PKR decided to use its own logo for the Johor state polls while Amanah and DAP are contesting under the PH umbrella.
Previously, PKR chief organising secretary Nik Nazmi Nik Ahmad said the party decided to use its own logo for the Johor polls as the PH logo "had too much baggage" due to its association with the coalition's 22-month stint as the federal government.
"It had its achievements, but also many shortcomings. This included the empowerment of a faction in Keadilan that eventually took part in the Sheraton Move, which led to the downfall of the elected PH government. Fairly or unfairly, the PH logo has become a symbol of that era," he said in a series of tweets on Jan 26.
Mr Nik Nazmi added that the PKR logo is more recognisable than the PH logo in the semi-rural seats, where PKR often contests.
PKR is contesting in 20 seats, while Amanah and DAP are contesting in 16 and 14 seats respectively.
The Malaysian United Democratic Alliance (MUDA), which is allied to PH, is contesting in seven seats. MUDA and PKR, however, have both decided to contest in Larkin, potentially splitting the votes.
DAP and Amanah had earlier made way for MUDA to contest in six seats, namely Puteri Wangsa, Tenang, Bukit Kepong, Parit Raja, Machap and Bukit Permai.
Local media had reported that the decision to allow MUDA to contest the Puteri Wangsa seat had irked PKR with some party leaders questioning the move. They claimed that the "easy-to-win" seats should not be given to parties whose loyalty to the opposition was untested.
"LARKIN IS OUR FORT"
Mr Anwar, who was drumming up support for his party's Larkin candidate on Saturday, said that the parties in PH had an understanding and that their main rivals were the United Malays National Organisation (UMNO) and BN.
"The small ones (political parties) can contest. It is democratic. Our focus should be ensuring PKR wins in Larkin. Larkin is our fort," he stated.
There is a six-cornered fight in Larkin.
Mr Anwar noted that the Larkin area was under the Johor Bahru parliamentary seat, which was represented by PKR Youth chief Akmal Nasir.
Mr Anwar said they had considered fielding Mr Akmal in the seat but decided against it as he had a role at the national level.
PKR then decided to field Dr Zamil Najwah Arbain, a medical doctor who has a clinic in the area, said the opposition leader.
Dr Zamil is up against MUDA's Rasid Abu Bakar, BN's Hairi Mad Shah, Perikatan Nasional's (PN) Zulkifli Bujang, Parti Pejuang Tanah Air's (Pejuang) Mohamad Riadz Mohamad Hashim and independent candidate Norramadan Buan. 
In the May 2018 elections, the Larkin seat was won by a Parti Pribumi Bersatu Malaysia (Bersatu) candidate. Bersatu was part of PH then.
On Saturday, Mr Anwar also questioned the "stability" justification given by BN for the polls to be called now.
"Because of their arrogance for power. They feel that they have the power and want to show it. Politics has no meaning if it is not used to improve the lives of the people," he said.
Back in 2018, PH won 30 of the 56 state seats in Johor. It was the first time in Malaysia's history that Johor, considered a BN stronghold and bastion of the UMNO, fell to the opposition.
However, political manoeuvrings at the federal level, which saw Bersatu leaving PH in February 2020, eventually returned Johor to BN.
Before the dissolution of the state assembly in January, BN was governing Johor alongside PN, which comprises Bersatu and Parti Islam Se-Malaysia (PAS).
At that time. caretaker chief minister Hasni Mohammad argued that the state government needed a fresh mandate as it only held a slim majority following the death of former chief minister Osman Sapian in December last year.
Mr Hasni argued that the election was necessary as the stability of the Johor state government was a prerequisite for investors and businesses to expand their operations in the state.
More than 2.59 million voters are eligible to cast their ballot in this state election, with the Election Commission (EC) targeting a 70 per cent voter turnout.
Early voting will take place on Mar 8, while polling has been set for Mar 12.
There are 239 candidates contesting in all 56 state seats.
There will be seven three-cornered fights, 35 four-cornered fights, eight five-cornered fights, four six-cornered fights, and two seven-cornered fights.