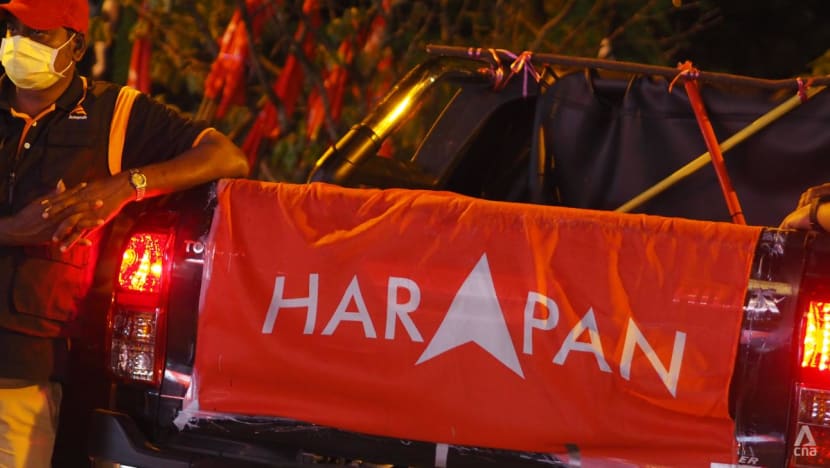 JOHOR BAHRU: It was the first big Pakatan Harapan (PH) rally for the Johor polls and predictably, the campaign speeches touched on 1Malaysia Development Berhad (1MDB) and former prime minister Najib Razak.   
The star speaker of Tuesday (Mar 1) night was Parti Amanah Negara (Amanah) president Mohamed Sabu, who employed his usual light-hearted speaking style to simplify the complex scandal, describing the questionable channelling of funds under Najib's watch for the crowd. 
Also present were candidates contesting in the election, such as Mr Liew Chin Tong from Democratic Action Party (DAP), Mr Dzulkefly Ahmad from Amanah and Ms Amira Aisya Abd Aziz of Malaysian United Democratic Alliance (MUDA). 
The bulk of the rally content was very reminiscent of the 2018 general election, where PH used the issue, among others, to bring electoral success.    
But unlike then, the crowd only numbered about one hundred because of COVID-19 protocols.
The Johor snap polls were engineered by United Malays National Organisation (UMNO) of the incumbent ruling coalition Barisan Nasional (BN) on the reason that it needed fresh and strong mandate to continue governing the state. 
PH had originally won 30 of the 56 state seats in Johor during the 14th general election in May 2018, when Dr Mahathir Mohamad-led Parti Pribumi Bersatu Malaysia (Bersatu) was part of the coalition. 
It was the first time in Malaysia's history that Johor, considered a BN stronghold and bastion of UMNO, fell to the opposition.
However, political manoeuvrings at the federal level, which saw Bersatu leaving PH in February 2020, eventually returned Johor to BN. 
Before the dissolution of the state assembly, BN was governing Johor alongside Perikatan Nasional (PN), which comprises Bersatu and Parti Islam Se-Malaysia (PAS). 
The ongoing state election is important for all political parties, as it is widely seen as a prelude to a general election that is expected to be called soon. 
However, analysts and politicians have noted that the winds of change that caused the downfall of BN in the last general election are no longer blowing as hard these days. 
Unlike 2018, the odds are against the opposition and PH as people are now disillusioned with the political situation that has seen three prime ministers installed since the general election.       
"It's different. In 2018, we had a big wave, but we don't have that now. It's not as huge as 2018," Johor Amanah deputy chairman Dzulkefly Ahmad, who is defending his Kota Iskandar seat in a five-way contest, told CNA. 
PERCEPTION OF A FRAGMENTED OPPOSITION 
The opposition parties are facing a big challenge in terms of a perception of disunity in this state polls. 
Parti Keadilan Rakyat (PKR), a main component of PH, has decided to use its own logo while Amanah and DAP are contesting under the PH umbrella. PKR is standing in 20 seats, while Amanah and DAP are contesting 16 and 14 seats respectively. 
PKR chief organising secretary Nik Nazmi Nik Ahmad said the party decided to use its own logo for the Johor polls as the PH logo "had too much baggage" due to its association with PH's 22-month stint as the federal government.
"It had its achievements, but also many shortcomings. This included the empowerment of a faction in Keadilan that eventually took part in the Sheraton Move, which led to the downfall of the elected PH government. Fairly or unfairly, the PH logo has become a symbol of that era," he said in a series of tweets on Jan 26. 
Mr Nik Nazmi added that the PKR logo is more recognisable than the PH logo in the semi-rural seats, where PKR often contests. 
DAP secretary-general Lim Guan Eng told CNA that it would have been better for a common logo to be used among all PH parties in the polls, but more importantly, they were still able to retain the coalition.
"No single party has been able to win and rule Malaysia. They are always in concert with other parties.  So even though there are different logos, we are all part of a big tent," he said in an interview.
Asked on the same matter, Mr Dzulkefly of Amanah said that it was a small issue, compared to the others plaguing the country such as corruption.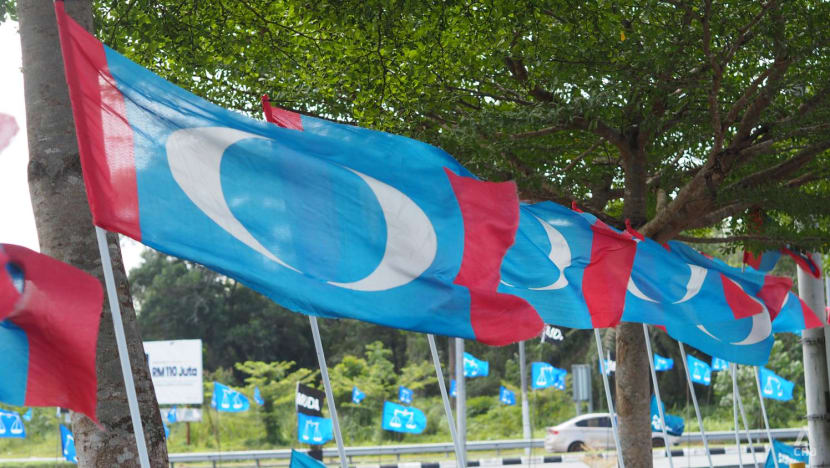 Adding to the perception of a fragmented opposition is MUDA, an ally of PH, clashing with PKR in the seat of Larkin.
DAP and Amanah had earlier made way for MUDA to contest in six seats, namely Puteri Wangsa, Tenang, Bukit Kepong, Parit Raja, Machap and Bukit Permai.
Local media had reported that the decision to allow MUDA to contest the Puteri Wangsa seat had irked PKR with some party leaders questioning the move.
They claimed that the "easy-to-win" seats should not be given to parties whose loyalty to the opposition was untested.
MUDA president Syed Saddiq Syed Abdul Rahman told CNA that the relationship between PH and MUDA was still strong and respected PKR's decision to field a candidate in Larkin. 
He stressed that an election was the avenue where they needed to talk about people's issues and make it about how their lives could be improved.
"Even if we were to lose and be in the opposition, make sure we are a good opposition that can fight for the people's cause," the former youth and sports minister said.
On Mar 4, PH launched its election manifesto, pledging to attract investments and build a clean government. It also said that it will push for a full reopening of the Johor-Singapore borders.
Polling for the state election has been set for Mar 12. 
WARISAN AND PEJUANG JOIN THE FRAY 
Also joining the fray in this Johor state election are Parti Pejuang Tanah Air (Pejuang) led by Dr Mahathir and Parti Warisan (Warisan) led by Mr Mohd Shafie Apdal. 
Pejuang, formed after Dr Mahathir was sacked from Bersatu, is contesting 42 seats while Sabah-based Warisan is contesting six seats. 
With a total of 239 candidates standing in this Johor state election, including 16 independents, Mr Lim of DAP admitted that there was a concern that the crowded field would split the opposition votes and benefit the incumbent.
There are seven three-cornered fights, 35 four-cornered fights, eight five-cornered fights, four six-cornered fights and two seven-cornered fights.
However, as a democratic country, any party is entitled to contest, Mr Lim said during a press conference in Johor Bahru on Feb 25 to address racial issues surrounding the candidacy of a DAP candidate. 
"We leave it to the people of Johor to decide if this party is worth their support and if it has been consistently fighting for their rights. And if it only comes in during the election, and not before. Let the public decide," he said.
Mr Mohd Shafie was quoted as saying that the party decided to field candidates in Johor after PH suffered heavy losses in both the Melaka and Sarawak state elections held in November and December last year respectively. 
In the Melaka polls, BN won 21 of the 28 seats contested while PH won five seats - DAP four and Amanah one, while PKR ended up with zero.
Mr Mohd Shafie dismissed claims that they would split opposition's votes, saying that voters did not belong to any party. 
"Malaysians have a right to vote for whoever they want," Mr Mohd Shafie said, according to Free Malaysia Today.
Johor Pejuang chairman Shahruddin Salleh welcomed the multicornered fights, saying that more candidates meant more people wanted to offer their services to the people.
He also dismissed suggestions that the multicornered fights would be an advantage to BN.
"It depends on the voters. A vote is very important and should not be wasted as it is to choose the government for the next five years," the Sri Gading MP told reporters on Mar 3.
When asked why the party did not work with PH, Mr Shahruddin said that it was difficult as it would mean four parties having to come to a consensus.
He added that voters in Johor knew Pejuang because of its chairman, Dr Mahathir.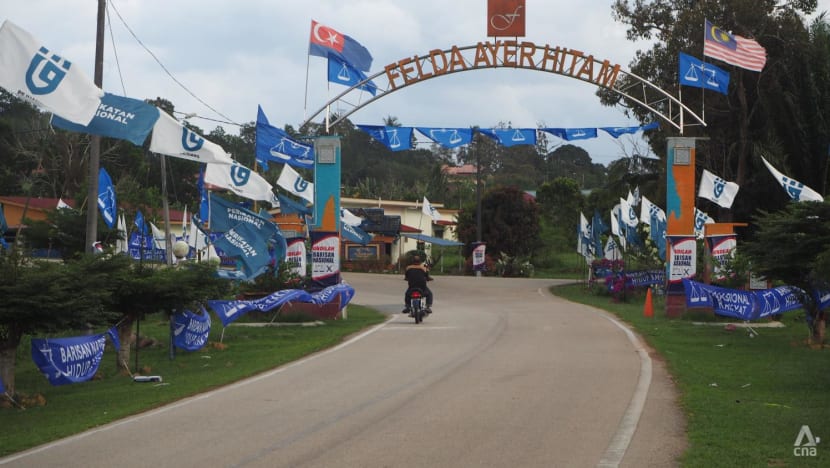 CROWDED ELECTION MAY FAVOUR BN: ANALYSTS
The polls are crucial for PH because it wants to reclaim the mandate entrusted to them in the previous election, said political analyst Professor Dr Azizuddin Mohd Sani of Universiti Sains Malaysia. 
However, the opposition parties standing in the same seats might work in BN's favour instead, he said.  
"Bersatu, Warisan and Pejuang used to be in one group, but now they are contesting one another. This is definitely an advantage to BN," said Prof Azizuddin, adding that a low voter turnout rate would also favour BN.
DAP's Mr Lim had said in the press conference in Johor Bahru on Feb 25 that there was an effort to unite all the opposition parties, but it did not come to fruition.  
Prof Azizuddin pointed out that the results of the Johor polls would very likely mirror that of the Melaka polls. 
"Considering what's happening right now, they (PH) would be lucky to get 20 seats," he said. 
As for Pejuang and Warisan, Prof Azizuddin said he believed Pejuang may have funding but they did not have the machinery to campaign. 
"Many Johoreans know Dr M, but they are not familiar with Pejuang and the party struggle," he said. 
Prof Azizuddin also believed that Warisan's participation in the polls was just to test the waters, given that it is new to politics of Peninsular Malaysia.
Similarly, Universiti Malaya Centre for Democracy and Elections research fellow Associate Professor Dr Awang Azman Awang Pawi was also not very optimistic of the opposition's chances in Johor because of the potential split vote.
He also believed that voters on the fence who voted for the opposition last time were unlikely to come out to vote because of their disappointment in the coalition.     
"If DAP and PKR can retain their seats, it would be good for them. BN looks as if it is in the lead at the moment but it will depend on what happens during the last leg of campaigning," said Prof Awang Azman.