Johor state polls: Candidates hit the ground running amid COVID-19 health protocols
Many are turning to social media to connect with voters in their respective constituencies. 
JOHOR BAHRU: Perikatan Nasional candidate Zulkifli Bujang maintained that campaigning for the Johor state elections amid COVID-19 is a good test of adaptability.
The former journalist, who is campaigning in the keenly contested Larkin state constituency, told CNA that he feels positive about his chances because his team is accustomed to the "hybrid method" of campaigning. 
He explained that this involves combining physical campaigning, by hitting the ground to speak to voters while maintaining a strong social media presence to connect with them. 
"We walk around to distribute flyers, we talk to them, we connect with them and explain why we offer the best choice," said Mr Zulkifli.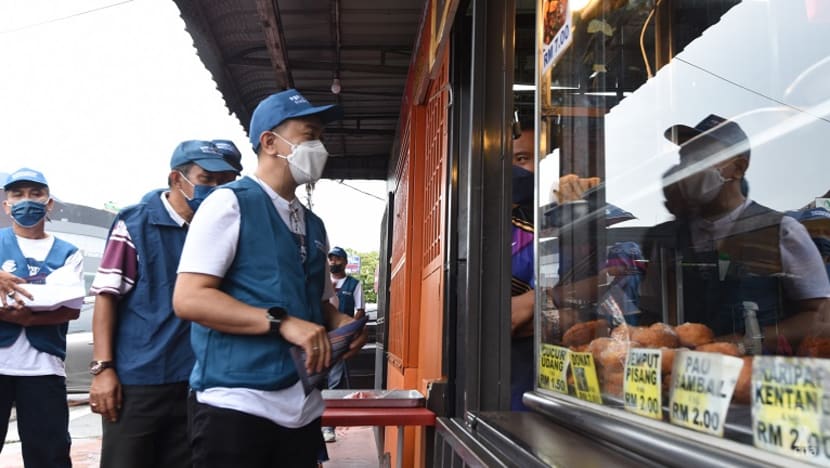 "And we are familiar as well with campaigning online via social media. We are very comfortable," he added. 
Mr Zulkifli will be contesting in a six-cornered clash in Larkin, against Barisan Nasional's (BN) Hairi Md Shah, Parti Keadilan Rakyat's (PKR) Zamil Najwah Arbain, Rasid Abu Bakar of Malaysian United Democratic Alliance (MUDA), Parti Pejuang Tanah Air (Pejuang)'s Mohamad Riadz Mohamad Hashim as well as Independent candidate Norramadan Buan. 
Campaigning for the Johor state elections have kicked off in full swing after nomination day on Saturday (Feb 26).
In line with health protocols set by the Election Commission, party candidates CNA spoke to have been striving to engage voters physically and via social media, while adapting to regulations to curb the spread of COVID-19.
Earlier this month, the Election Commission announced a new set of COVID-19 health protocols for the Johor state elections. 
Local media reports have stated that the protocols for the Johor polls are slightly more flexible as compared to protocols for the Melaka and Sarawak state elections held recently. 
For instance, physical campaigning is now allowed. Candidates are permitted to visit homes and organise rallies during the 14-day period of campaigning between Feb 26 and Mar 11.
However, the rallies may only be organised at the party's headquarters or official offices and not more than 100 people may be present. 
For house-to-house visits, not more than five people are allowed to move at one time, and candidates are not allowed to enter the homes. 
This has triggered some concern among party leaders. 
For instance, PN chairman Muhyiddin Yassin was recently quoted as saying that the Election Commission should reconsider loosening the restrictions on campaigning protocols, which he claimed were strict and not very practical. 
"It's quite strict because we can only hold rallies in one place, such as party headquarters, so how can we expect all Johoreans to head there? 
"It's not practical if you ask me as social gatherings are already allowed, like weddings, so what's the difference," he reportedly said.
CANDIDATES KEEN TO WORK AROUND RESTRICTIONS 
However, PN candidate Mr Zulkifli maintained that he is keen on working around these issues.
"I welcome the protocols which have been outlined. It's good because they are to curb the spread of the COVID-19 pandemic which is still ongoing," he added. 
Johor's caretaker chief minister Hasni Mohammad, who will be leading Barisan Nasional coalition's charge for the Johor polls, told reporters on nomination day on Saturday that all parties should contest without any complaints against the health protocols outlined by the EC. 
"From what I've seen, all political parties have welcomed the protocols, and after all, each candidate is given the opportunity to meet physically with voters," said Mr Hasni. 
Mr Lim Wei Jiet, who is the Muda candidate for the Tenang seat said that the standard operating procedures (SOPs) set by EC were "generally acceptable and not burdensome".   
Muda is a new youth-led political party and is making its political debut in the Johor polls. 
"I think (the SOPs) are generally fine only because most people are not willing to go out because of COVID-19. Of course, I can't speak for other constituencies where there are a larger number of voters," he told CNA.    
Mr Lim said that for his campaign, the face-to-face approach was more important because the population there consisted of a high number of older folks.
"Social media plays less of a role. Pamphlets and flyers are given to each house, that's how we try to reach them," said Mr Lim who will be involved in a four-cornered fight against BN's Haslinda Salleh, PN's Ahmad Humaizi, and Pejuang's Fauzi Bachok. 
On top of physical campaigning, Mr Lim still uses social media to reach out. For instance, he has participated in making a TikTok video with Muda president Syed Saddiq Syed Abdul Rahman.
"Most people here have access to Facebook or the fact that videos can be transferred through WhatsApp, which most people have access to. The message gets across. I don't underplay the role of social media in the election," said Mr Lim who is contesting in his first election.     
He said that he was learning new things along the way and is trying to gain experience from those who have been on the ground longer than him such as the more established opposition parties.
"We try to work together with them but we also try to be more creative and not use the conventional way of campaigning because you will never out-resource the established political parties. As a new party, Muda is trying to experiment and do things differently to attract attention," he said.  
Mr Lim said that residents in Tenang were generally receptive and knew that he was the candidate standing there.
"They know about Muda, they know about Syed Saddiq. From what I can see, they are ready to give their support, but it remains to be seen whether they will come out and vote and whether it will tip the ballot," he said.
Similarly, PN candidate for the Perling seat Khoo Shiaw Lee told CNA that he will likely lean on social media to campaign. 
The member of Parti Gerakan Rakyat Malaysia (Gerakan) will be contesting in polls for the second time, having contested the Pemanis seat during the 2018 General Elections. 
At the time, Gerakan was under the BN coalition.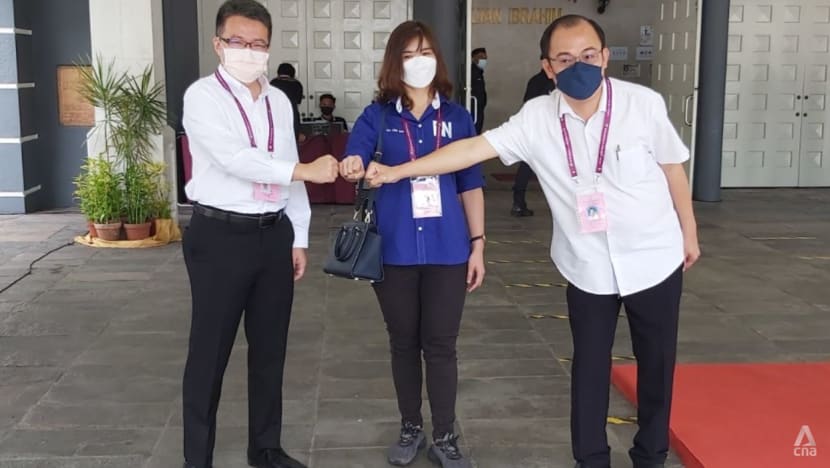 "It is very different compared to before. We have to adapt to the new norms such as using social media. We want to try and reduce the contact with voters. We want to take care of ourselves and the voters at the same time. This is for the safety of all," he told CNA. 
Mr Khoo added that he would also use leaflets and place them in the mailboxes. 
He said that as the threat of COVID-19 was still lingering, it was dangerous for candidates as they would meet many voters.
Malaysia is still consistently recording more than 20,000 COVID-19 infections daily amid the spread of the Omicron variant. 
On Saturday, Malaysia had 27,299 COVID-19 cases, taking the cumulative national tally to almost 3.4 million since the pandemic began. 
However, in spite of all the obstacles, Mr Khoo maintained that he would give his all to win. 
In the last election, Pakatan Harapan's Democratic Action Party (DAP) won the Perling seat with a convincing majority of almost 20,000 votes. 
For the upcoming polls, Mr Khoo will be going up against BN's Tan Hiang Kee and DAP's Liew Chin Tong. 
"I will try my best. I am confident because of my track record of serving in Johor Bahru for about 20 years," he said.