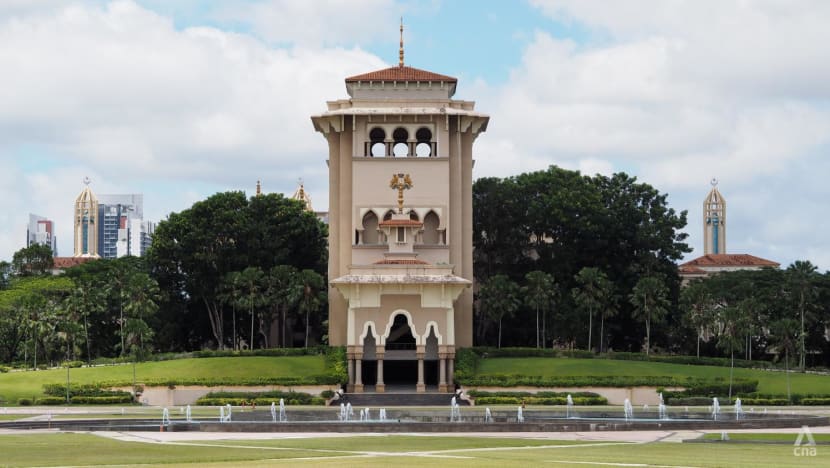 JOHOR BAHRU: A total of 239 candidates will contest 56 seats in the 15th Johor state election, said the Election Commission (EC) on Saturday (Feb 26).
There will be no straight fights in this election. 
EC chairman Abdul Ghani Salleh told a press conference after nomination closed at 10am that both Barisan Nasional (BN) and Perikatan Nasional (PN) will be contesting all 56 seats.  
BN is made up of the United Malays National Organisation (UMNO), Malaysian Chinese Association (MCA) and Malaysian Indian Congress (MIC). They will contest 37, 15 and four seats respectively. 
There 50 candidates from the Pakatan Harapan (PH) component parties, 42 from Parti Pejuang Tanah Air (Pejuang), seven from Malaysian United Democratic Alliance (MUDA), six from Warisan and 16 independent candidates, among others.
"Campaigning will take place until 11.59pm on Mar 11," said Mr Abdul Ghani.
Early voting will take place on Mar 8, while polling has been set for Mar 12.
There will be seven three-cornered fights, 35 four-cornered fights, eight five-cornered fights, four six-cornered fights, and two seven-cornered fights. 
Mr Abdul Ghani said there are 202 male candidates and 37 female candidates. 
The oldest candidate is 71 years old, while the youngest is 26 years old. 
Johor's state assembly, which has 56 seats, was dissolved by Sultan Ibrahim Iskandar on Jan 22.
Prior to the dissolution, Johor Chief Minister Hasni Mohammad justified that his state government needed a fresh mandate as it only held a slim majority following the death of former chief minister Osman Sapian in December last year.
Mr Hasni said that the election was necessary as the stability of the Johor state government was a prerequisite for investors and businesses to expand their operations in the state.
More than 2.59 million voters are eligible to cast their ballot in this state election, with EC targeting a 70 per cent voter turnout.
This will be the first election in which the Undi18, the constitutional amendment which lowers voting age from 21 to 18, is being implemented.
Mr Hasni will be defending his Benut seat against Haniff Ghazali Osman of PKR, Isa Abdul Hamid of PN and Iskandar Noor Ibrahim of Pejuang. 
Speaking to reporters after his nomination was confirmed, Mr Hasni said that this was the first time in his experience contesting in Benut that there were as many as four candidates contesting. 
"It's a situation where we see the process of democracy in action, the process was smooth and there was good spirit between the candidates," he added. 
Mr Hasni also stressed that he will ensure that BN adheres to the health protocols outlined by the EC for the campaigning period over the next two weeks.
The Perling constituency that is located in Johor Bahru will see a three-way contest between DAP's Liew Chin Tong, BN's Tan Hiang Kee, and PN's Khoo Siaw Lee. 
Mr Liew told reporters that he was not expecting an easy contest, although DAP are incumbents. 
"Every campaign is difficult and we start with the assumption that we have to work very hard," he said.  
Former Johor chief minister Dr Sahruddin Jamal of PN will defend the Bukit Kepong seat in a four-cornered fight against BN's Ismail Mohamed, Pejuang's Taib Md Suhut and MUDA's Murafiqah M Zulkifli. 
As the Omicron COVID-19 variant causes a spike in cases in the country, the EC has said that there will be strict enforcement of health protocols outlined throughout the election period.
This week, Malaysia's daily caseload again crossed the 30,000 mark.
Health Minister Khairy Jamaluddin had said the Omicron wave was expected to peak in the second half of March.