Barisan Nasional bullish on Johor polls victory, Perikatan Nasional counters with anti-graft promises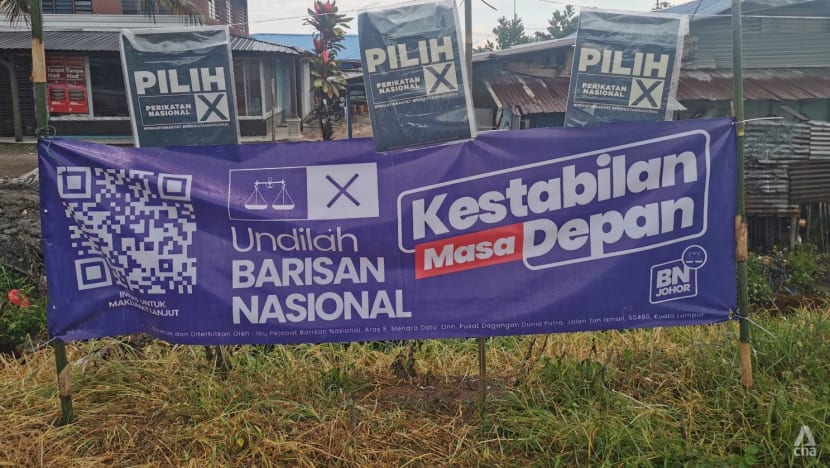 JOHOR BAHRU: Barisan Nasional (BN) veteran leader Nur Jazlan Mohamed vividly recalled how he was snubbed in a coffee shop while campaigning during the 2018 general election. 
Residents, many of whom he had served for 14 years as a federal member of parliament, did not even extend the courtesy of shaking his hand. 
"We could sense at the time that things were bad," said Mr Nur Jazlan, who eventually lost his Pulai federal seat after only garnering 30 per cent of the votes. The state eventually fell to the Pakatan Harapan (PH) coalition. 
However, fast forward to the 2022 Johor state election, the voter sentiment towards BN and its biggest component party United Malays National Organisation (UMNO) has flipped 180 degrees, he claimed.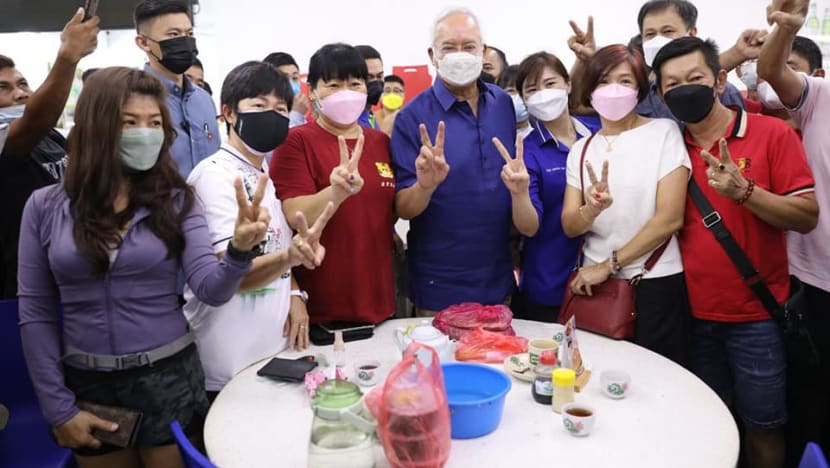 "In 2018, I was turned down in that same kopitiam. But yesterday, they were so welcoming," said Mr Nur Jazlan, who is deputy chief of Johor UMNO, in an interview with CNA. 
"I did not expect this. They were bumping fists, taking photos and chanting 'Bossku! Bossku!'" he added, referencing the nickname for BN leader and former prime minister Najib Razak, which means "my boss". 
Although neither Mr Nur Jazlan nor Najib are election candidates for the Johor state elections, both were campaigning alongside BN's candidate for the Perling state seat Nicole Tan on Sunday (Feb 28). 
"And it's not just in Perling, the (shift in sentiment) is everywhere - Pulai, Pasir Gudang, Johor Bahru, Pagoh," said Mr Nur Jazlan. 
"And the people who are (cheering) are from across all races - Malays, Chinese and Indians. BN and Najib seem to have that pull again," he claimed. 
Najib also recently visited a residential flat in Taman Cendana, Pasir Gudang. Videos on social media showed him being greeted by lines of residents gathered on the ground floor and along the corridors of upper floors, waving navy blue BN flags and chanting "Bossku".
It is still early days for the 2022 Johor state election campaigning period, but BN is already bullish on its chances to be victorious. 
During the 2018 general election, BN suffered an embarrassing defeat, losing power at federal level and also the Johor state government after six decades of dominance. 
Johor had been a key stronghold for BN. The southern state is the birthplace and bastion for UMNO and the 2022 state election is now seen as an opportunity for redemption.
One of BN's main contenders in the polls is Perikatan Nasional (PN). 
The two coalitions are partners at the federal level and had governed the Johor state government together prior to the dissolution of the state assembly. 
However, both coalitions are entering the Johor polls as rivals, fielding a candidate each in all 56 seats. 
PN, which includes mainly Parti Pribumi Bersatu Malaysia (Bersatu), Parti Islam Se-Malaysia (PAS) as well as Parti Gerakan Rakyat Malaysia (Gerakan), has focused its campaign efforts on convincing voters that PN would be the better choice because it rejects corruption. 
MOMENTUM FROM MELAKA VICTORY, CROWDED CONTESTS COULD BENEFIT BN: POLITICAL STRATEGIST
In a speech on Sunday, BN chairman Ahmad Zahid Hamidi said the coalition is eyeing to win at least a two-thirds majority for the Johor state election by clinching at least 38 of the 56 seats that are being contested. In 2018, BN only won half this number.  
The optimism for a BN win in Johor on Mar 12 also stems from positive momentum arising from the coalition's resounding victory in the Melaka state election last November where it clinched 21 out of 28 constituencies. 
BN political strategist Isham Jalil told CNA that this upswing in pro-BN sentiment has boosted voter support for the coalition, even among the minority population. 
"Look at the results from Melaka. The BN support among non-Malays rose from 5 per cent to 30 per cent," said Mr Isham. 
"We are hoping this upward trend will continue in Johor. It will be a huge morale boost ahead of the UMNO general assembly in March," added the BN Selangor information chief.  
Mr Isham told CNA that based on the coalition's research, the change in voter sentiment can be attributed to how a large portion of Malaysians have grown tired over PH's failure to fulfil election promises after it won in 2018. 
He noted how in the current campaign, both PH and PN have leaned again on negative campaigning by attacking BN, and he claimed this is unlikely to sway the voters.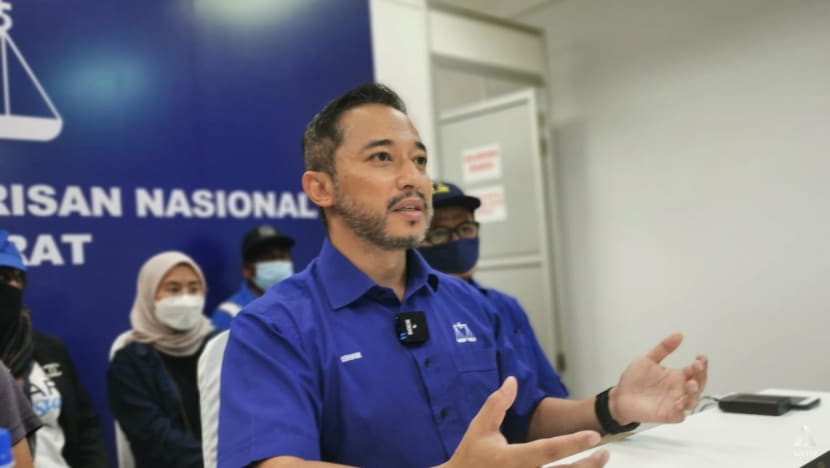 "We focus on positive campaigning, while PH and PN do negative campaigning. In GE14 they banked on this and poured scorn on BN but it worked because then they didn't have a track record in government," said Mr Isham. 
"But now they do, and people saw that they failed," he added.  
BN's key campaign message for the Johor polls is "Stability for the Future" and Mr Isham said he is confident that Johoreans will remember how BN's six decades of dominance prior to 2018 brought "a sense of support and strength" to the state. 
Mr Isham, who was a special officer to Najib when he was prime minister, added that the crowded nature of the contest for the seats in Johor could benefit BN. 
A total of 239 candidates are standing in this election, with no straight fights in any of the 56 seats. 
There are seven three-cornered fights, 35 four-cornered fights, eight five-cornered fights, four six-cornered fights, and two seven-cornered fights. 
Mr Isham claimed that BN has the largest voter support base and grassroots as compared to other coalitions. Additionally, the opposition is also fragmented, he said. 
While many of the candidates contested under the PH banner in 2018, those from Bersatu and Parti Pejuang Tanah Air (Pejuang) are now contesting against PH in Johor, and this could potentially split the opposition vote. 
"I think the base voters that we have, those who also supported us during the 2018 general election when support for BN was at its lowest in the history of Malaysia, these supporters will vote for us again," said Mr Isham. 
"Meanwhile, on the other side, the votes are now split, split into three, four, five. If you look at this scenario, it's a bit of an advantage to us," he added. 
PN CALLING ON VOTERS TO REJECT CORRUPTION 
Former Malaysian prime minister Muhyiddin Yassin, who is also PN chairman and president of Bersatu, has been hitting the campaign trail hard on behalf of the PN candidates. 
Mr Muhyiddin, who held the state assembly seat of Gambir, is not standing in the state election this time, citing his preference to focus on federal matters. 
During his fiery speeches at rallies over the last week, Mr Muhyiddin utilised the chance to lambast BN leaders Najib and Ahmad Zahid for their involvement in corruption cases. 
According to a report by the Star, Mr Muhyiddin claimed that Ahmad Zahid had visited him when he was prime minister, bringing along files relating to his corruption cases and seeking help from him. 
Ahmad Zahid has denied this and served a letter of demand for Mr Muhyiddin to apologise over the allegations. 
Mr Muhyiddin, who is MP for the northern Johor federal seat of Pagoh, also warned that BN may have forgotten their defeat in 2018. 
"Johor is known as UMNO's bastion but …  I would like to remind them that they lost the state in GE14," he said at a rally in Felda Tenggaroh, according to a live recording of the event on KiniTV.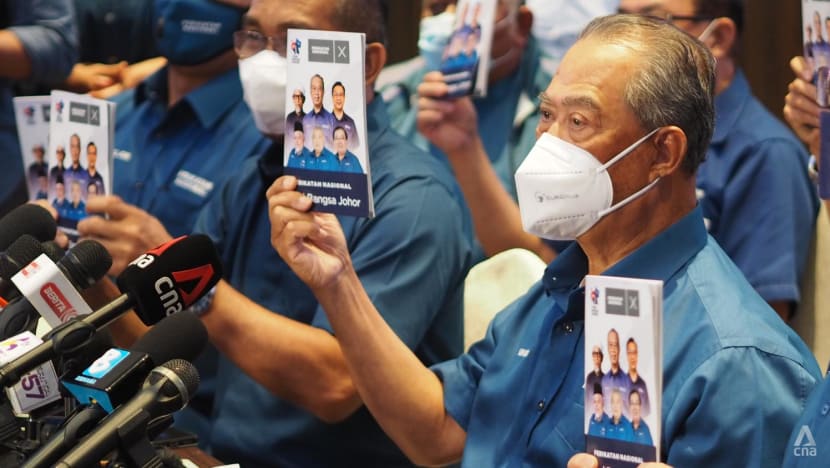 Observers have said that PH's historic win in Johor in 2018 could be partly attributed to Mr Muhyiddin's clout and influence as a veteran leader in the southern state. 
Mr Muhyiddin was formerly an UMNO politician who held the Johor chief minister post for a decade from 1986 to 1995, before he was made federal minister. 
He was UMNO's deputy president when he was dropped as deputy prime minister in 2015 following his criticisms over Najib's handling of the 1Malaysia Development Berhad scandal. 
Mr Muhyiddin teamed up with Dr Mahathir Mohamad to form Bersatu, which worked with PH to claim federal power in the previous general election. 
The two politicians eventually fell out when Mr Muhyiddin led Bersatu out of PH in 2020, triggering the fall of the PH federal administration. 
Mr Muhyiddin replaced Dr Mahathir as prime minister, ruling alongside BN and defectors from PH, but his stint only lasted 17 months after UMNO withdrew support for him. 
For the Johor state election, Mr Muhyiddin's photos are plastered on PN's flyers and leaflets. A key tagline for PN's campaign in Johor is "Abah Prihatin Demi Bangsa Johor", referring to Mr Muhyiddin's fatherly care towards the state. 
Mr Zulkifli Bujang, who is PN candidate for Larkin, told CNA that the leaflets were to remind voters of the financial aid packages which Mr Muhyiddin had offered to Malaysians when he was prime minister during the COVID-19 pandemic.
Mr Zulkifli, who is also a press officer to Home Affairs Minister Hamzah Zainudin, told CNA that what PN could offer to voters were candidates who valued a stable government and those who could lead corruption-free. 
"Look at the integrity and care that was shown by PN when it was in government," said Mr Zulkifli. 
He added that Mr Muhyiddin had placed special care to ensure that PN candidates for the Johor polls were vetted to ensure that they were honest and could lead with integrity. 
PN also promised to strengthen Johor's economy with a comprehensive and holistic decade-long plan, if given the chance to govern the state. 
"The plan will prioritise the involvement of people from all walks of life and focuses on strategic and high-impact industries, including digital infrastructure, modern public transport, green energy generation and smart agriculture," Mr Muhyiddin said at the launch of the coalition's manifesto on Wednesday. 
DIFFICULT FOR BERSATU WITHOUT SUPPORT FROM PH VOTERS: ANALYST 
Dr Oh Ei Sun, political analyst with the Singapore Institute of International Affairs, posited that it would be "rather difficult" for Bersatu and PN to gain much ground in Johor in the polls. 
He said that Bersatu, which won eight seats in 2018, rode on the reformist tide when it was part of the PH coalition then. 
"Now that Bersatu has left PH, the erstwhile PH supporters are not likely to vote for Bersatu anymore. Also, Bersatu cannot bank on PAS' assistance in Johor as the latter does not yield as heavy an influence there," said Dr Oh. In 2018, PAS won a single seat in Johor. 
However, Dr Oh acknowledged that the present fragmented nature of the Malaysian political landscape meant that "anything is simultaneously likely and unlikely". 
"I can only say with some degree of certainty that UMNO will win the most number of seats and will be an indispensable component in any future ruling coalition, " he added. 
UMNO's Johor deputy chief Nur Jazlan told CNA that if BN and UMNO were to win big in Johor, holding a general election soon could be on the cards. 
"It all depends on the margin of victory in Johor. If we are successful as we were in Melaka, or if we get two-thirds, it's already overwhelming," said Mr Nur Jazlan. 
"It's logical for us to go for GE because this so-called coalition federal government is not organic," he added. 
"It's time to reboot, because the government is like a computer glitch. Time to kick out PH and PN, the coalitions that have failed, and bring back a BN which has a strong track record. Why wait another 15 months? It's time to return the mandate to the people," said Mr Nur Jazlan.