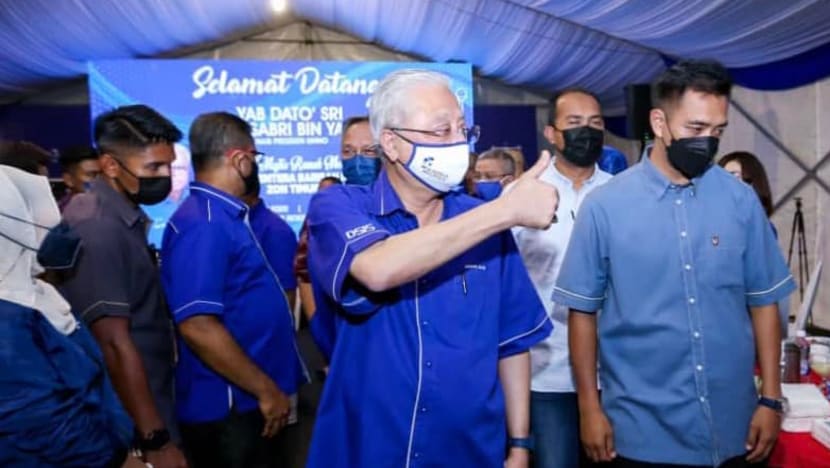 JOHOR BAHRU: The Barisan Nasional (BN) coalition must achieve a "big win" in the upcoming Johor state elections to ensure stability in the state government, Prime Minister Ismail Sabri Yaakob said on Saturday (Mar 5). 
Mr Ismail Sabri made the comments in a Facebook statement on the sidelines of campaigning for BN in Johor.  
"Johor has to be led by a stable state government which controls two-thirds of the state assembly at the Mar 12 polls," wrote the Member of Parliament for Bera. 
"God willing, based on the hard work and strong willpower from the Barisan Nasional grassroots, the coalition will win the Johor state elections. We only have one choice, to win big! The word defeat is not in our battle dictionary," he added. 
Besides being on the campaign trail for BN, Mr Ismail Sabri also attended key government events during his visit to Johor. 
On Saturday afternoon, the prime minister gave a speech at a programme to commemorate the "Malaysian Family Aspirations Tour", an event for government agencies to engage and resolve issues at the state level across the country.
The event on Saturday was the first time the programme was held outside of Kuala Lumpur. 
GOVERNMENT HAS HELPED JOHOREANS IMPACTED BY COVID-19, FLOODS 
In his speech, Mr Ismail Sabri outlined several initiatives which the federal government has put in place for Johoreans. 
He stressed that the federal government's efforts to implement the land and air vaccinated travel lane (VTL) scheme with Singapore was to reunite family members who had been separated as a result of border closures due to the COVID-19 pandemic.
The VTL was also implemented to boost Johor's economy and tourism activity, he added. 
"I understand that 200,000 members of the Malaysian family travel to and from between Singapore and Johor, and now they no longer have to undergo compulsory quarantine in their homes … they just undergo swab tests twice, pre-departure and on-arrival," said Mr Ismail Sabri. 
He added that besides Singapore and Indonesia, the federal government is in the process of announcing further land VTL arrangements with Brunei and Thailand. 
"And with the reopening of the borders, members of the Malaysian family who have not seen one another are able to return home, especially for the upcoming Hari Raya celebrations in May," he added. 
In November, Singapore and Malaysia launched air and land vaccinated travel lanes (VTLs).
But in December, both countries froze all new ticket sales for VTL flights and buses between Dec 23 and Jan 20 amid fears of a spread of the Omicron variant.
Ticket sales from Jan 21 on air and land VTLs had been capped at 50 per cent of the allocated quota, but have since resumed to 100 per cent following an announcement in mid-February.
The quota would be progressively increased, the authorities had said.
Mr Ismail Sabri also highlighted that the federal government extended financial help to residents who were impacted by floods from prolonged heavy rain in December and January, including residents in Johor. 
He said that the government set aside RM1.4 billion (US$340 million) for flood victims, and gave each affected household RM10,000. 
Mr Ismail Sabri added that the federal government will boost Foreign Direct Investments in Johor by implementing programmes to ease business activity in the state. 
He explained this included providing translation services and sending relevant officers for training to enhance their skillset in various fields, including digitisation. 
Earlier on Saturday, Mr Ismail Sabri attended an event in Johor Bahru's Taman Ekoflora commemorating National Landscape Day 2022.
Speaking at the event, Mr Ismail Sabri said the government is keen to ensure that each state has a public garden with a "national park" concept. 
He added that these parks will allow Malaysians access to landscaped areas and greener spaces amid urban environments. 
On Friday, Mr Ismail Sabri visited Residensi Larkin Indah, where he announced that self-employed Malaysians, including those in the gig economy, may now apply for housing loans under the government Perbadanan Pr1ma Malaysia Berhad (PR1MA) scheme, via the Housing Credit Guarantee Scheme (SJKP).
The prime minister said this will allow greater flexibility for young people keen on purchasing their first home, as the scheme does not impose stringent requirements for home financing. 
At the same event, Johor's caretaker chief minister Hasni Mohammad announced that 3,200 plots of land had been allocated for the construction of housing for second-generation Federal Land Development Authority (Felda) settlers in the state. 
BN's Mr Hasni served as chief minister before the state assembly was dissolved on Jan 22.
Prior to the dissolution, Mr Hasni justified that his state government needed a fresh mandate as it only held a slim majority following the death of former chief minister Osman Sapian last December.
Mr Hasni said that the election was necessary as the stability of the Johor state government was a prerequisite for investors and businesses to expand their operations in the state.
Early voting for the state polls will take place on Mar 8, while polling day has been set for Mar 12.
BN chairman Ahmad Zahid Hamidi said the coalition is looking to win at least a two-thirds majority, or at least 38 of the 56 seats that are being contested in the polls.