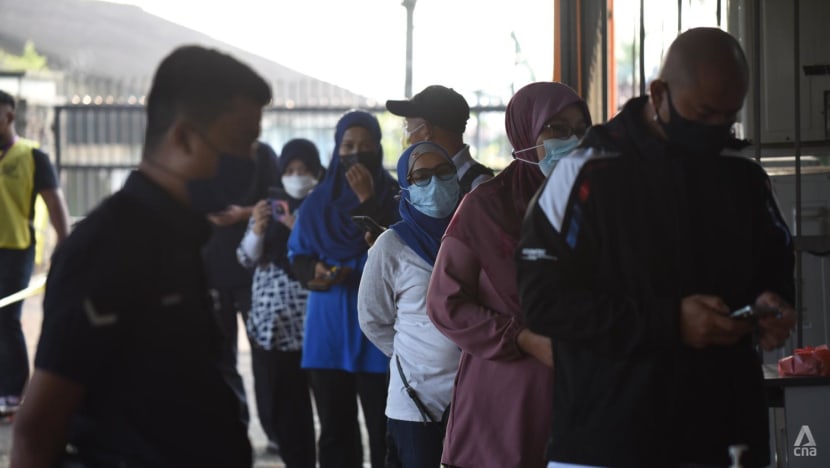 JOHOR BAHRU: They have been standing in lines, spaced apart before they slowly made their way to the polling centres.  
With face masks on and sanitisers pumped on their hands, they soon entered the centres to exercise their constitutional duty of electing Johor's new state government. 
All across the state on Saturday (Mar 12), voters for the Johor state election cast their ballots amid tight health protocols to curb the spread of the COVID-19 pandemic. 
The polls are being held amid a high daily caseload in the country due to the spread of the Omicron variant. Malaysia's health ministry reported 32,800 new COVID-19 cases on Friday,  taking the cumulative total to 3,774,786. 
Among the protocols put in place by the Election Commission (EC) is the online facility that enables voters to check their polling time via the MySPR Semak application. 
Besides wearing masks and applying hand sanitisers, voters were encouraged to come down at their allocated time slots to avoid overcrowding at peak hours.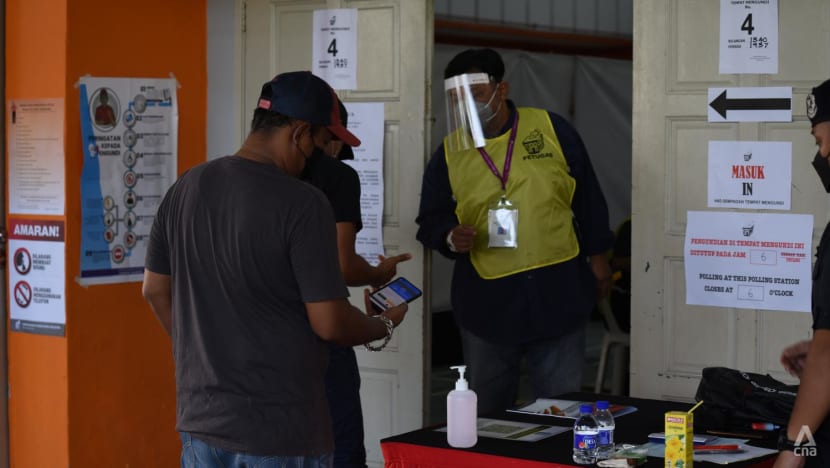 Voters with respiratory symptoms were still allowed to cast their ballots at designated areas within their polling stations, monitored by health officers. 
Despite the strict health measures, many voters were determined to cast their ballot papers. 
Among them were Mdm Hameedah Mohd Zin, a 68-year-old who cast her vote at Dewan Kampung Melayu, polling district for the state seat of Larkin. 
She told CNA that the whole process was smooth and it took her less than 20 minutes to clear all the procedures and leave. 
"I decided to head down early to avoid the large crowds. It's a good decision I think, the queues to enter were short," said Mdm Hameedah. 
Larkin is one of the tightly contested seats, where there is a six-cornered fight between all major parties. 
Besides Perikatan Nasional's Zulkifli Bujang and Barisan Nasional's (BN) Hairi Md Shah, the seat is also contested by Parti Keadilan Rakyat's (PKR) Zamil Najwah Arbain, Rasid Abu Bakar of Malaysian United Democratic Alliance (MUDA), Parti Pejuang Tanah Air (Pejuang)'s Mohamad Riadz Mohamad Hashim and independent candidate Norramadan Buan.
Over at Dato Jaafar Secondary School, polling centre for the Stulang constituency, voter Mr Benjamin Ho told CNA that it was exciting as it was his first time casting a vote. 
The 19-year-old student said he felt "excited" that he could participate in selecting a candidate to represent his community. 
"I think the risk of COVID-19 is always there but it is important for us to do our duty as citizens," Mr Ho added. 
Stulang constituency is a five-cornered fight between incumbent PH's  Andrew Chen, BN's Ang Boon Heng, PN's Yap Chiang Youis, Parti Bangsa Malaysia's Saiful Bahari Sahari and independent candidate Moharam Baharom.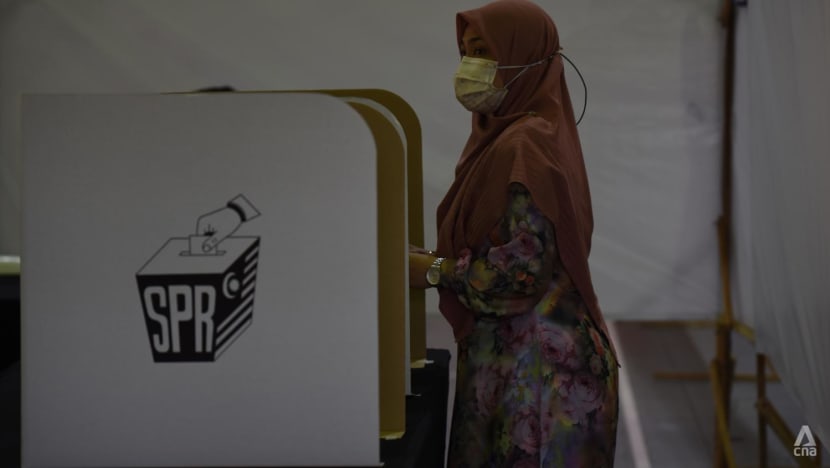 The EC had earlier said that it expected about 70 per cent turnout among more than 2.59 million voters who were eligible to cast their ballots in this state election.
Johor's state assembly was dissolved by Sultan Ibrahim Iskandar on Jan 22.
Prior to the dissolution, Johor's chief minister Hasni Mohammad, who is from BN,  justified that his state government needed a fresh mandate as it only held a slim majority following the death of former chief minister Osman Sapian in December last year.
Mr Hasni said that the election was necessary as the stability of the Johor state government was a prerequisite for investors and businesses to expand their operations in the state.
This was the first time that Johor's election was not held concurrently with the federal election.