Johor youths decide: As parties target first-time voters, election outcome an indicator of national trends
JOHOR BAHRU: Nur Ain Syakira Ghazali, 20, had never taken an interest in politics, thinking that it was only for older people. 
However, that changed when the accounting student at a local university was given the right to vote in elections. She will cast her first ever ballot on Saturday (Mar 12) for the Johor state polls.
"I am a bit excited as this is the first time I will be voting. When I was in secondary school I wasn't interested in politics because I thought that it was for older people.
"But I now realise that as citizens of the country, we should know about what is happening in our country. Our vote counts and will impact our future," the voter from Johor Jaya told CNA.
She is among the roughly 173,000 voters aged between 18 and 20 who will be allowed to vote in the Johor state election following the "Undi 18" Bill that lowered the minimum voting age from 21 to 18.
More than 2.59 million voters are eligible to cast their ballot in this state election, with voters below the age of 40 making up about half of the electorate in Johor.
The 18 to 20-year-old segment represents about 6.7 per cent of the votes that are up for grabs.
Last September, Prime Minister Ismail Sabri Yaakob included "Undi 18", a constitutional amendment allowing 18-year-olds to vote and stand for elections, as part of his offer to implement a number of parliamentary and government administration transformations after he came to power.
It later became a component of the Memorandum of Understanding (MOU) signed between the federal government and main opposition bloc Pakatan Harapan (PH) to establish bipartisan cooperation for the sake of political stability. 
The lowering of the voting age to 18 and automatic voter registration was implemented on Dec 15 last year.
In the lead up to the Johor state election this weekend, candidates have been targeting these young voters. At the same time, political parties are cognisant that the lessons learnt during this campaign will help formulate strategies for a general election that is expected to be called this year.
TESTING GROUND FOR POLITICAL PARTIES
Democratic Action Party's (DAP) assistant political education director Ong Kian Ming has noted that an important struggle is currently taking place to win over the younger voters aged below 40.
He said they form the majority of new voters that were recently added to the electoral roll because of the automatic voter registration.
Dr Ong who is the Bangi member of parliament, said that most of these new voters are not aligned to any political party or coalition. This means that their votes can be swung during the campaign by appeals to their hearts, minds and imagination, he added.
He said that whether through walkabouts and other face-to-face programmess, or through social media, there are many more channels and strategies which are being used by different candidates to reach out to these first-time and mostly younger voters.
"The extent to which different parties and candidates are able to reach out to different groups of younger first-time voters will not only influence the electoral outcome in Johor but also set the stage for a much bigger and more sophisticated electoral battle in GE15," he said in a statement on Mar 4.
Echoing Dr Ong, United Malays National Organisation's (UMNO) youth chief Asyraf Wajdi Dusuki said that the Johor polls would be a testing ground for all parties to observe the trends on the young and first-time voters.
He said that within the young voters segment, even those aged between 18 and 20 is a diverse group with different inclinations, interests and level of exposure.  
"In the rural areas, they are more inclined towards who their parents would want them to vote for, while in the semi-urban and urban areas they would be different," he told CNA.
He said that UMNO's 1,451 branches in Johor have engaged youths based on various interests such as sports and motorbikes.
Dr Asyraf noted that there is more interest and excitement among the young voters in rural and semi-urban areas to participate in the programmes organised by the party.
"It is much easier to know their interests compared to those living in urban areas in southern Johor such as Pulai and Johor Bahru. For this segment, we tackle them using a different approach including using social media platforms," he said, adding that face-to-face engagement remains important.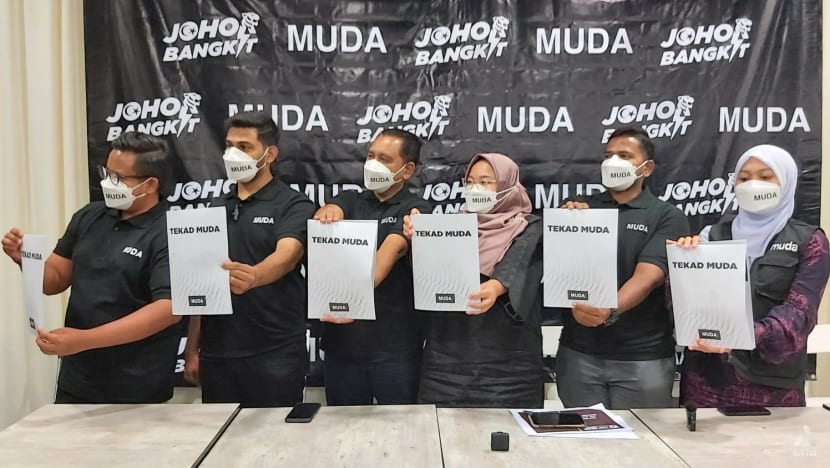 YOUNGER VOTERS, YOUNGER CANDIDATES
Political parties have also picked their candidates bearing in mind the potential demographic dividends.
Malaysian United Democratic Alliance (MUDA) president Syed Saddiq Syed Abdul Rahman believes that the Johor election will be a game-changer as the number of new voters, especially in the youth segment, is huge.
He told CNA: "We cannot take their votes lightly. They are not loyal to any political party."
Mr Syed Saddiq, 29, said this would force political parties and politicians to fight and represent young people a lot more.
"You can see all political parties competing with one another to nominate more young candidates and talk about more youth-centred issues such as jobs, the gig economy, wages, and affordable housing.
"I think this is great because it creates a competition … Politics now becomes about issues and no longer just about personalities," he said.
MUDA is making its electoral debut in the Johor polls, contesting in seven seats.
The party, which was officially registered in December last year, aims to champion key issues that cut across age, from corruption to institutional reforms.
They have an understanding with Pakatan Harapan (PH) although they will be clashing with Parti Keadilan Rakyat (PKR) in the Larkin seat.
DAP and Parti Amanah Negara (Amanah) had earlier made way for MUDA to contest in six seats, namely Puteri Wangsa, Tenang, Bukit Kepong, Parit Raja, Machap and Bukit Permai.
Of the 239 candidates contesting in the 56 seats, 60 of them are aged 40 and below, with eight of them aged 30 and below. 
The youngest candidates are aged 26 - Barisan Nasional's (BN) Kelly Chye Pei Yee who is standing in Mengkibol and Parti Pejuang Tanahair's (Pejuang) Muhammad Airel Zabridin who is standing in Tangkak.
Singapore Institute of International Affairs (SIIA) senior fellow Oh Ei Sun believes that the youth voters would feel more connected to candidates in their age group.
"They (young voters) are important primarily because they are untested. Therefore, their willingness to come out to vote is yet to be determined. Their voting preferences are of interest to most parties," he told CNA.
MUDA secretary-general Amira Aisya, 27, told CNA that even though the Undi18 initiative was necessary, many voters in this age bracket are not aware that they are able to vote, especially those in the rural areas.
"Most of the 18 or 19-year-olds are aware of issues that impact them, but they are not aware that they can go out to vote. We are imploring them to go out and vote.
"As any political party for the new generation, it is not just trying to get them to join your party and vote for you but giving them awareness," said Ms Amira who is contesting the Puteri Wangsa seat. 
BREAD AND BUTTER ISSUES
What are the issues that matter to young voters in the southern state?
These include jobs creation, more sports and recreational facilities, subsidies for entrepreneurship and educational opportunities, said Dr Oh of SIIA.
Ms Marina Ibrahim, 34, who is DAP's candidate for the Skudai seat, said many young voters are concerned about cost of living and affordable housing. 
The former councillor of the Kulai Municipal Council observed that many youths had the feeling that they could not make ends meet, as their wages could not keep up with living costs. 
Ms Marina, who is contesting in her first election, said that some who earned about RM3,000 (US$717) monthly were finding it difficult to even pay for their housing rent.
"We can't blame many of them for leaving the country. There are some who did good courses but feel that it was better to work in Singapore, although the work has nothing to do with what they might have studied," she told CNA in an interview.
She said that it is very important that youths are allowed to vote as this means that they have a stronger voice and could fight for their rights.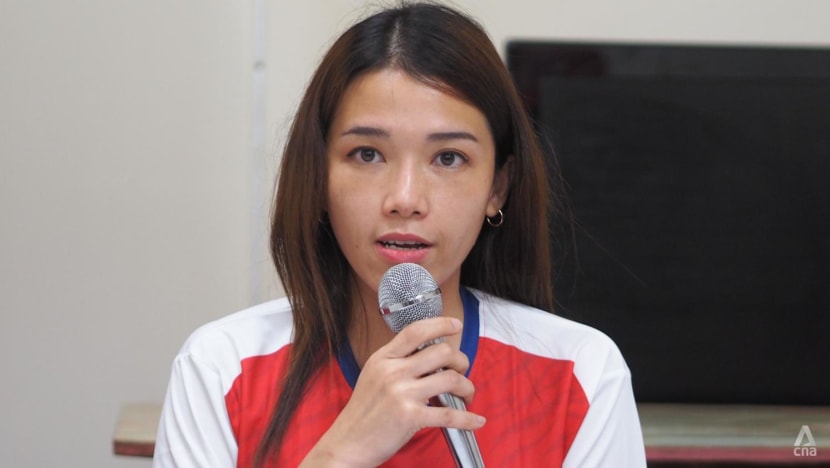 Ms Amira of MUDA pointed out that political parties must fight on issues close to the hearts of young voters, as the median age in Malaysia is 29.
She too said that wages and jobs are important issues for Johor's youths.
"The state government has the responsibility to develop new industries that can attract the younger generation to stay in Johor and work here with dignified wages. They will be less inclined to go to Singapore, which is sort of the easy way for them to get higher pay," she said.
She also said that younger voters who are fresh out of school are concerned about education and the digital gap between social classes.
Ms Nur Ain Syakira, the accounting student, is worried about the high prices of houses in the state, pointing out that there are many properties that have not found buyers.
"What's the point of building these houses, if no one buys them?," she said, adding that she is also worried about prospective jobs in the future. 
Ms Bridget Welsh, an honorary research fellow of the University of Nottingham Malaysia's Asia Research Institute believes that the rise in the number of young voters will shape the outcome of the Johor polls, provided they come out to vote. 
She said that MUDA's presence is important as it connects to the aspirations of young people and channels their concerns.
"Yet, it is not clear whether the youths will extend their support to Harapan and how much support will move to MUDA.
"While BN has its loyalties, MUDA is the clear favourite among younger voters. If trends from Melaka continue, then Perikatan Nasional may also gain some support from younger voters as well," she wrote in an opinion piece published on her website on Mar 5.