Johor state election: Who is in the running to be the next chief minister?
With campaigning for the Johor polls entering the second week, only Barisan Nasional has announced its choice for the chief minister's post. CNA takes a look at the potential frontrunners.
JOHOR BAHRU: Since the 2018 general election, Johor has seen three different politicians taking the mantle as chief minister.
The title is a key position in Malaysian politics, with the individual leading the government for one of the economic powerhouses in the country. 
After the Pakatan Harapan (PH) coalition's historic victory in May 2018, which ended Barisan Nasional's (BN) control over the state for the first time in six decades, Mr Osman Sapian was appointed as Johor chief minister. 
However, the then-Kempas assemblyman from Parti Pribumi Bersatu Malaysia (Bersatu) resigned after being in office for just 11 months. Johor Crown Prince Tunku Ismail Sultan Ibrahim reportedly said on Twitter that his father Sultan Ibrahim Sultan Iskandar had decreed for Mr Osman to be replaced. 
Mr Osman's Bersatu colleague Dr Sahruddin Jamal was then appointed.
In February 2020, a political manoeuvre known as Sheraton Move led to Bersatu pulling out of PH and working with BN as well as Parti Islam Se-Malaysia (PAS) to form the new federal government.
Johor's PH government also fell, and Bersatu formed part of the Johor state government made up also of BN and PAS.
The chief minister's post went from Bersatu to BN following the Sheraton Move, and Benut assemblyman Hasni Mohammad was sworn in on Feb 28, 2020. 
With Mr Osman's demise in December last year, the partners ruling the Johor state government only held a one-seat majority. Snap polls were called as a fresh mandate was necessary for a "strong government" to develop the state, Mr Hasni had said. 
Polling has been set for Mar 12, following two weeks of campaigning. 
After the results are announced this Saturday, Sultan Ibrahim will appoint the next chief minister who commands the confidence of the majority of members of the state assembly.
Names of several heavyweights have been touted as the preferred politicians of their respective coalitions or parties to take over the coveted post, but so far only BN has publicly named Mr Hasni as its chief ministerial candidate.
Here's what they told CNA: 
BARISAN NASIONAL: HASNI MOHAMMAD 
During an event on Feb 24 to introduce the line-up of candidates for the Johor polls, BN chairman Ahmad Zahid Hamidi said that Mr Hasni is the coalition's "poster boy" for the election campaign, and expressed optimism that he would be reappointed chief minister after the polls. 
When asked by CNA what he thought of the "poster boy" title, Mr Hasni of United Malays National Organisation (UMNO) played down the notion that he was the only key BN leader able to rally support from the masses. 
"That's just a title," Mr Hasni said on the sidelines of an event in Pontian. 
"But what has been agreed by Barisan Nasional is that I will lead the team of candidates who are nominated for the state election," he added. 
Mr Hasni stressed that if given the opportunity to be reappointed chief minister, he would do so to the best of his ability. 
"If a mandate is given to BN, I will be given the responsibility to lead the state of Johor. And that's what I will do," he added.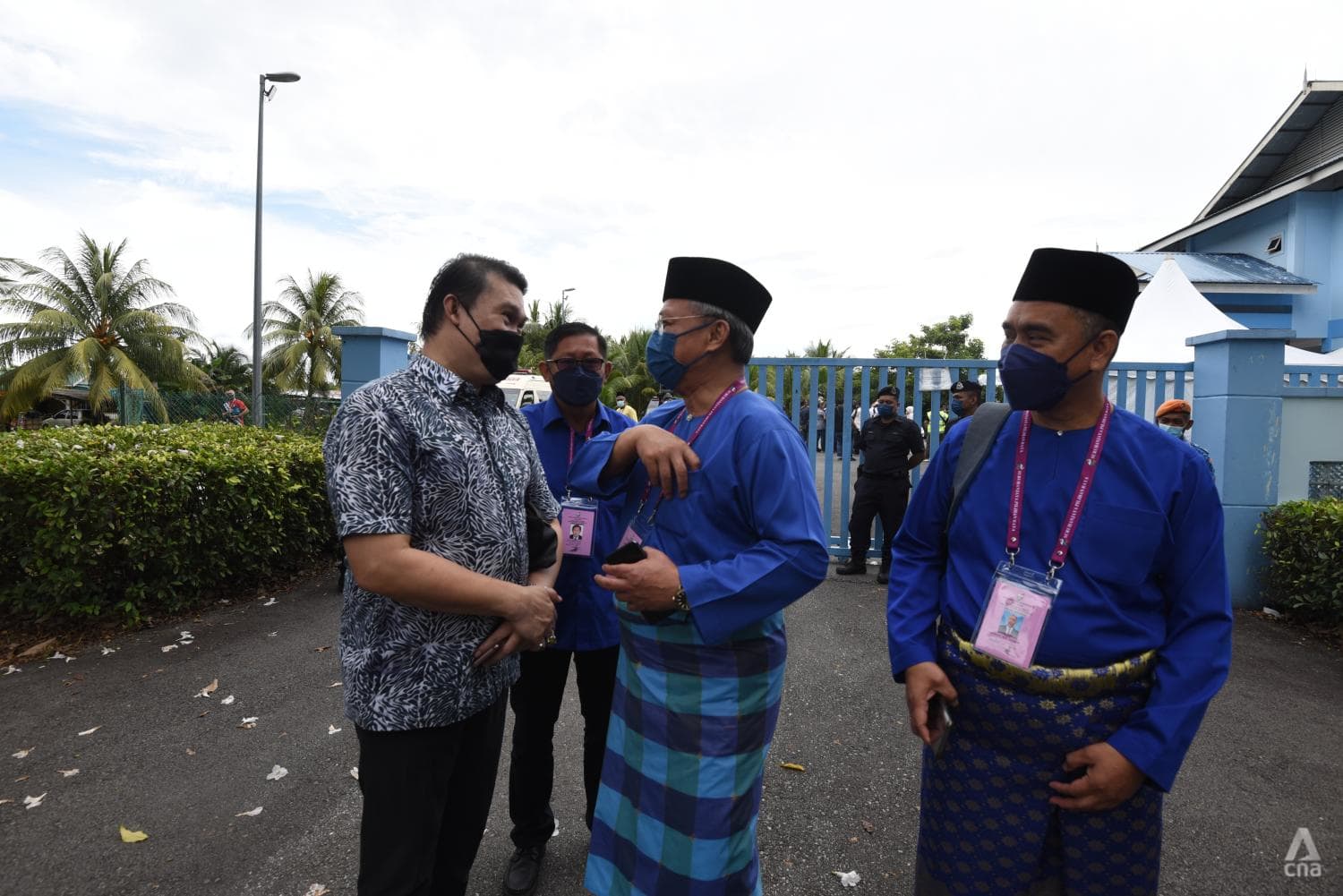 BN leaders are bullish that they will win the Johor polls. Ahmad Zahid said on Feb 27 that BN is eyeing at least two-thirds majority in the state assembly. 
For this election, Mr Hasni is defending his Benut seat against Mr Haniff Ghazali Osman of Parti Keadilan Rakyat (PKR), Mr Isa Abdul Hamid of Perikatan Nasional (PN) and Mr Iskandar Noor Ibrahim of Parti Pejuang Tanah Air (Pejuang). 
During his tenure as chief minister from February 2020 until January 2022, Mr Hasni was at the helm during a challenging period for the southern state. 
The COVID-19 pandemic has heavily impacted Johor's economy, with businesses affected mainly due to prolonged border closures with Singapore. 
For the thousands of Johoreans who work in Singapore, the pandemic has disrupted their commuting plans to be with their family in Johor while earning livelihoods in the city state. 
As Johor's chief minister, Mr Hasni has been vocal on the importance of the reopening of borders with Singapore. 
His government implemented the ImmuPlan Johor initiative, which prioritised COVID-19 vaccination for Johor residents who qualified as "economic frontliners" who work in Singapore and were keen to resume commuting between Singapore and Johor. 
Mr Hasni was also part of Malaysian Prime Minister Ismail Sabri Yaakob's delegation which visited Singapore on Nov 29 to launch the vaccinated travel lane (VTL) arrangements between Singapore and Malaysia. 
During Mr Hasni's tenure, he kept the Johor state government functioning amid a razor-thin majority. State budgets for 2020 and 2021 were passed with support from politicians across both sides of the political aisle. 
When asked to comment on Mr Hasni's leadership credentials, UMNO deputy chief Nur Jazlan Mohamed said: "We have a good leader. I think everybody is (comfortable) with him - the Malays, the Chinese, the Indians. He has got no baggage." 
"His character, being humble and approachable, has enabled him to lead a shaky government over the last two years, something the previous two chief ministers have failed to do," he added. 
PARTI KEADILAN RAKYAT: MASZLEE MALIK 
Dr Maszlee Malik, former education minister, is contesting the Layang-Layang seat under the PKR banner in the Johor state polls. 
Formerly with Bersatu, the 47-year-old is also the Simpang Renggam MP, the parliamentary constituency which houses the Layang-Layang state seat. He joined PKR last year.
He is contesting the seat against BN's Mr Abd Mutalip Abd Rahim, PN's Mr K Alagathiran and Pejuang's Mr Ahmad Shafiq Othaman.
When Dr Maszlee was campaigning for the Simpang Renggam parliament seat as a Bersatu candidate back in GE14, he was an unknown but thanks to his stint as minister, everybody now recognises him.
"It's not about the party but about the experience and exposure. When I first came here, I was not known then. I think the mood of the people and the tsunami catapulted me to be known among the people.
"It has been more than three years of serving the constituents during their sunny and rainy days. I hope they remember that I represented them," he told CNA, adding that he has solved long-standing water issues caused by pollution in the constituency.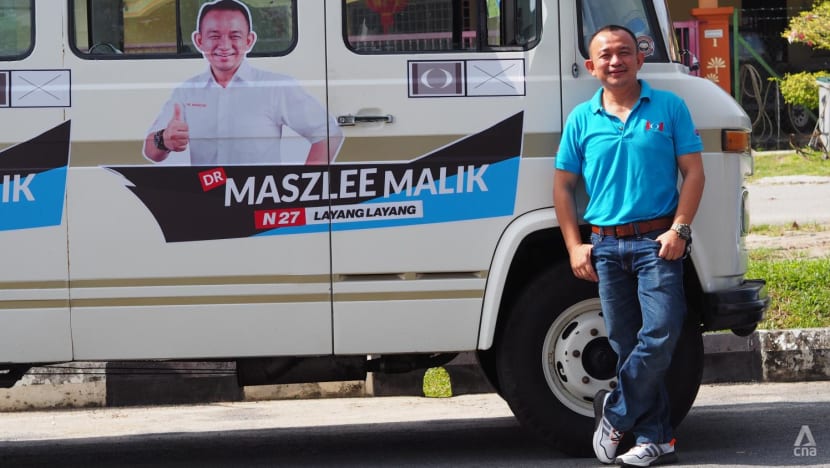 He was also confident that teachers remember him as someone who helped to lessen their burden of unnecessary clerical work, while parents remember him as someone who abolished exams for lower primary students.
During his stint as education minister, Dr Maszlee was at times in the news for the wrong reasons, such as the debate over his decision to allow students to wear black shoes instead of white shoes. But he said some issues have been politicised.
"Pakatan Harapan and PKR are not perfect and we might have made some mistakes during our 22-month administration, but we didn't have ample time to correct our wrongs," he said.
Moving forward, Dr Maszlee wants to see an educated Johor that is known globally and becomes an international player in the economy.
"Johor has all the resources and potential to shape a better future for Malaysia. We are at an advantage as we are located next to the most developed country in the region.
"But rather than just being a recipient from the spillover effect from Singapore, we should become a strategic partner when it comes to industry, technology and education," he said, claiming that a lack of political will, lack of good governance and lack of vision is holding Johor back.
For Layang-Layang, he hopes to see it becoming a book town like the remote town of Wigton in Scotland. 
"Book lovers all over the world go there and Layang-Layang has the potential to do the same," said Dr Maszlee, who has authored a number of books. 
Dr Maszlee has been touted as a potential chief ministerial candidate if PH wins the election, but he said the coalition needs to win by a landslide victory first before a name can be proposed. 
He believes that the multi-cornered fights mean votes are split on all sides and that the polls are open game.
"The only thing on my mind now is to win Layang-Layang and Johor, and to give my best for the people. 
"We should put the interest of the people first before anything else because this is an unwanted election. It is sheer proof that the current government has no interests in the people's well-being," he said.
PERIKATAN NASIONAL: SAHRUDDIN JAMAL
When Dr Sahruddin entered a coffee shop at Kampung Teratai, a rural area in northern Johor, there were only five or six patrons. 
The Bersatu politician, who replaced Mr Osman as chief minister in April 2019, was hoping to speak to as many locals as he could on his campaign trail to retain his Bukit Kepong state seat. 
As word got around that he was in the area, dozens of folks from across the town came. 
Some shook hands, others asked for photographs. A few just wanted to wish him well. 
Dr Sahruddin, the former chief minister, greeted them warmly. 
The Bersatu man was relatively new to the political scene, having clinched the state seat for the first time during the 2018 general election, but the medical doctor has become a household name in the state after his short stint as chief minister. 
"I'm thankful and I feel lucky because many Johoreans recognise me. People from all races would greet and call me Doc," Dr Sahruddin told CNA in an interview.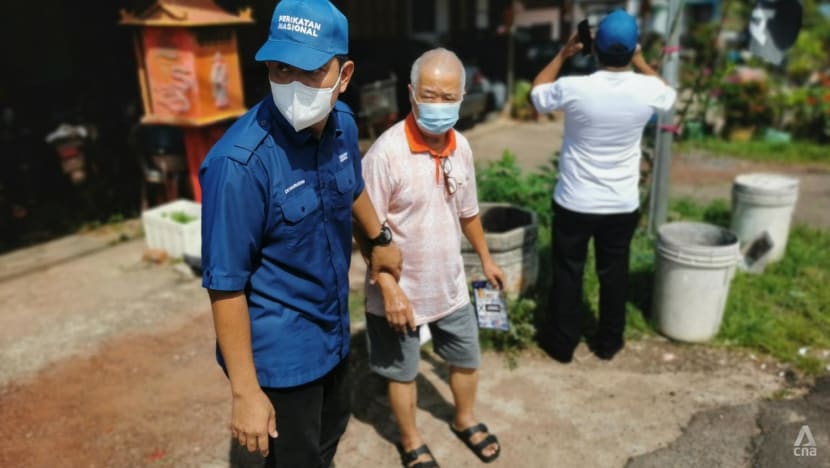 "Many of them remember me from when I was chief minister. Back then, I was regularly in the news," he added. 
Prior to his appointment as chief minister, Dr Sahruddin was the executive councillor in-charge of health, environment and agriculture under the PH government. 
He was reported by local media as playing an instrumental role in tackling the toxic waste pollution of Sungai Kim Kim in Pasir Gudang. 
Yet, four months into his tenure as chief minister, a spate of incidents connected to air pollution in Pasir Gudang forced him to apologise to residents and pledged that the government would work on overcoming its weaknesses. 
Despite the challenges he faced, Dr Sahruddin's popularity has put him at the forefront of PN's campaign in 2022. 
Prior to nomination day, he was working the ground in Malay heartlands alongside PN chairman Muhyiddin Yassin and leading campaigning efforts in the Felda (Federal Land Development Authority) territories in eastern and northern Johor. 
The battle for Malay votes in Felda zones could be key in deciding who wins the Johor state election. 
These areas, which encompass eastern and central Johor, are historically a stronghold for the BN coalition. However, Dr Sahruddin said that based on what he has seen on the ground, the response from Felda folks towards PN have been "largely positive". 
"When we held rallies in the east coast between Kota Tinggi and Mersing, many attended. Some of them remember me but more importantly they recall what Muhyiddin Yassin did for them when he was prime minister," said Dr Sahruddin. 
"We are both Johoreans at heart, we grew up in Johor and they know we can lead them," he added.  
PN has not officially stated it's candidate for chief minister and Dr Sahruddin told CNA that he was not concerned if he would ultimately be offered the post. 
"I am a party member, so I will adhere to whatever the party decides. We just follow and adhere to whatever the council says," he said. 
"But whatever happens, regardless of whether I am chief minister or just a state assemblyman or just a normal citizen, I will continue to strive for the residents here," he added. 
PARTI PEJUANG TANAH AIR: SHAHRUDDIN MD SALLEH 
When Dr Shahruddin Md Salleh was a member of UMNO and then Bersatu, he did not have to worry much about political strategies.
But as the head of Pejuang in Johor, he is now responsible for the strategy and planning of the political party in the state.
"Everything is on my shoulder in terms of planning and strategy. The last role I had as Bersatu secretary-general was very minor. Today I must plan everything. I have to strategise the areas we can win and where to place our candidates," he told CNA in an interview.
Dr Shahruddin, 66, had previously contested and won in the Jorak state seat under the BN ticket during the general elections in 2008 and 2013.

He was elected as Sri Gading MP in the May 2018 election, contesting under the Bersatu ticket.
He quit Bersatu and his post as deputy works minister in June 2020, a few months after the Sheraton Move. He joined Pejuang, which was founded by Dr Mahathir Mohamad after he was sacked by Bersatu, in July 2020. 
Apologising then, Dr Shahruddin had said that he had made a mistake by supporting PN and said that the voters in Sri Gading had voted for PH.
Even though he has switched political parties, Dr Shahruddin said that he is still the same person.
"I am a man of principles. I uphold integrity and efficiency. That's why I left UMNO, and then Bersatu. The people are my focus," said Dr Shahruddin who was a former deputy minister in the Federal Territories Ministry and the Works Ministry.
Dr Shahruddin, who is a civil engineer by profession and lecturer by profession, joined politics in 1995, becoming the political secretary of Mr Muhyiddin.
"He has his way and I have my way," he said when asked about the feeling of going against his former boss.
Dr Sharuddin however considers Mr Muhyiddin to be a brother and Dr Mahathir his father.
He acknowledged that Pejuang is too reliant on Dr Mahathir, but that everyone else in the party has his or her own strengths.
Dr Sharuddin wants to see Johor be developed to be on par with neighbour Singapore.
"We can prosper together. We can learn a lot from Singapore. It is a country with integrity and principles," he said, adding that Pejuang has a big agenda for the state as the economy was very weak.  
He also hopes to develop the rural areas in Johor and push for modernisation in the agricultural sector.
"Some are still using old methods such as the cangkul (hoe) and pails of water. But nowadays there is a lot of technology including drones that can be used in agriculture.
"In Holland, they grow crops in air-conditioned buildings. Why is it not happening here? It can give good returns," he said, adding that the youths viewed agriculture as a sunset industry. 
Asked if he could handle a bigger and more challenging job in the future, Dr Shaharuddin believes that he has the experience to do so.
"Precision is very important. In civil engineering, everything must be precise and correct. If there is hanky-panky, buildings and bridges will collapse … It's the same with the government. If it's not trustworthy, it will collapse," he said.