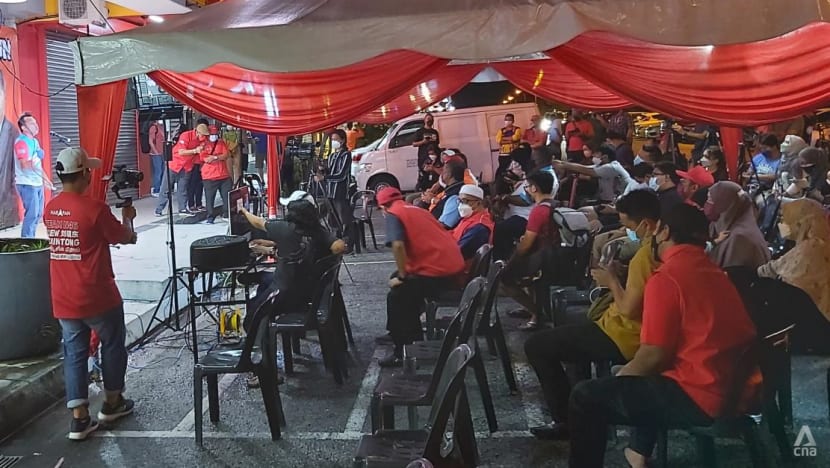 JOHOR BAHRU: The Election Commission (EC) has given the green light for speakers at campaign talks in the Johor state polls to be unmasked while on stage.
"The speakers who are giving speeches during campaigning are allowed to remove their face masks when speaking. After they are done, they must put their masks back on immediately" said the EC in a statement on Monday (Mar 7).
Those who are present at the events have to always put their masks on and social distancing of at least one metre between individuals must also be practised, it said.
It also stressed that shaking of hands is also strictly prohibited.
According to the EC, the amended procedures which take effect immediately, are based on recommendations from the Ministry of Health and the National Security Council. 
While campaigning on Saturday, opposition leader and Parti Keadilan Rakyat (PKR) president Anwar Ibrahim was interrupted half-way through his speech in Larkin, Johor Bahru  when an officer from the Health Department told him to put on his mask.
Mr Anwar however refused to do so and said that he would fight any compound issued against him in court.
He told the crowd that his voice was unclear when he spoke with a mask, and that even the speaker of parliament allowed him to be unmasked while speaking in parliament.
On Sunday, Health Minister Khairy Jamaluddin said the ministry had recommended to the EC to give flexibility for those giving political talks, by allowing them not to put on the face mask while campaigning in the Johor state election. 
During the nomination day on Feb 26, the Malaysian United Democratic Alliance (MUDA) candidate for the Bukit Permai seat Azrol Rahani  said that he was slapped with a RM1,000 compound for a fist bump with a supporter. 
The organiser of the opposition coalition Pakatan Harapan (PH) campaign talk said it was also  fined RM3,000 on Mar 1, for not adhering to the health standard operating procedures (SOPs) set by the EC, including for speakers not wearing face masks while on stage.       
As of Tuesday, a total of five candidates were reported to have tested positive for COVID-19.
They are PKR's Gambir candidate Naim Jusri, PKR's Bukit Batu candidate Arthur Chiong Sen Sern,  Barisan Nasional's Penggaram candidate Ter Hwa Kwong, DAP's Pekan Nanas candidate Yeo Tung Siong, and DAP's Jementah candidate Ng Kor Sim.
Several members of the media have also tested positive while covering the election.        
Unlike the health protocols for Melaka and Sarawak state elections last year, the SOPs for the Johor polls are said to be more flexible.
Apart from physical campaigning, candidates in the Johor election are also allowed to visit homes and organise rallies or talks during the 14-day campaigning period from Feb 26 to Mar 11.
However, the rallies may only be organised at the party's headquarters or official offices and not more than 100 people may be present.
For house-to-house visits, not more than five people are allowed to move around at one time, and candidates are prohibited from entering houses. 
More than 2.59 million voters are eligible to cast their ballot in this state election, with the EC targeting a 70 per cent voter turnout.
There will be a total of 239 candidates contesting in all 56 state seats, with all seats will see  multiple-cornered fights. More than half of them have at least four candidates vying for each seat.
Early voting takes place on Tuesday, while polling day will be on Saturday. 
Malaysia is still consistently recording more than 20,000 COVID-19 infections daily amid the spread of the Omicron variant.
On Monday, Malaysia recorded 26,645 COVID-19 cases, taking the cumulative national tally to more than 3.6 million since the pandemic began.
Download our app or subscribe to our Telegram channel for the latest updates on the coronavirus outbreak: https://cna.asia/telegram