US tops China in power influence in Asia; ASEAN countries feature in top 10: Study
The Asia Power Index, released by Australia-based think tank Lowy Institute, scores 26 countries and territories in terms of their ability to exert influence in Asia.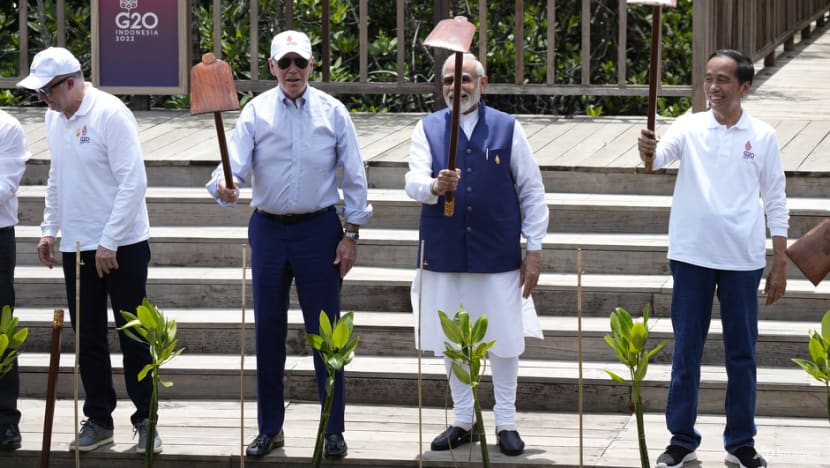 SINGAPORE: The United States remains the top power in Asia, with China close on its heels but slipping due to COVID isolation, a study analysing the influence of players in Asia showed.
Southeast Asian countries are playing catch-up on the rankings, with the report calling the Association of Southeast Asian Nations (ASEAN) member states "more diplomatically dynamic than ever".
The Asia Power Index, released by Australia-based think tank Lowy Institute on Sunday (Feb 5), scored 26 countries and territories in terms of their ability to exert influence in Asia, based on eight measures including economic, military and diplomatic capabilities.
Japan was ranked third after the US and China, with India in fourth place and Russia taking the fifth spot. These five countries have consistently been the top five most powerful nations in Asia since the index started in 2018.
Australia and South Korea took the sixth and seventh places, with Singapore, Indonesia and Thailand rounding up the top 10.
Most countries' overall scores dropped over the last year due to long-term effects of the pandemic fallout. The institute said that many nations are now less resilient than before COVID-19.
China, while ranked second, weakened the most in its overall scores due to its strict zero-COVID policy and self-imposed isolation, leading to sharp declines in people-to-people connectivity and economic links with other countries.
This caused its economic capabilities score – its strongest indicator in the study – to plummet to its lowest since 2018.
SUPERPOWERS USA AND CHINA
The US widened its lead over China in the past year despite a continuing downward trend, taking the pole position in six out of eight indicators, emerging particularly strong in defence capabilities and alliances.
"The US has many durable advantages in Asia, one of which is its defence networks, which is far ahead of China," Ms Susannah Patton, project lead for the study, told CNA's Asia Tonight.
"At this point, China's advantage is really primarily in terms of economic relationships," she added.
The US has led China in the index every year since the study was launched. However, Beijing has been gaining ground in recent years, taking advantage of proximity and connectivity to foster economic diplomacy with its neighbours.
China narrowly reclaimed the top position for diplomatic influence from the US, with Beijing wooing counterparts in Asia and the Pacific in the past year more actively than Washington did.
Ms Patton, who is also director of the Southeast Asia program at the Lowy Institute, said that Washington's approach to Asia tends to focus on deep partnerships with a select group of allies including Japan, Australia, India, and South Korea.
China, on the other hand, has a much broader, albeit "potentially shallower" presence in the region, and has focused on courting relationships with more countries.
Beijing has also emerged stronger in its military capabilities compared with previous years.
While the study said that the US is "unlikely ever to re-establish a decisive lead" in the region due to China's rise, Washington is still expected to be the most influential power in the region in at least the next few years as current trends show that Beijing is less likely to surpass the US by the end of the decade.
ASEAN'S QUIET RISE
Southeast Asian nations have a growing prominence in the Indo-Pacific region, with ASEAN foreign leaders expressing a need to be more forthcoming in the South China Sea and engaging cautiously with more powerful countries.
While most nations declined in scores, ASEAN members Cambodia, Brunei and Laos were the only countries in the study that saw gains, due to their increased activities in the regional bloc.
While the region has been undermined as "not particularly dynamic" and struggling to respond to challenges posed by greater powers, Ms Patton said the data showed that most Southeast Asian nations are highly networked and diplomatically active.
"(ASEAN) is far from the stereotype of being caught between superpowers. Indonesia in particular, continues to improve its scores in terms of overall power and also diplomatic influence, which reflects some of Indonesia's recent activism like on Myanmar, and also Russia and Ukraine."
Indonesia hosted the Group of Twenty (G20) major economies summit last year in a challenging geopolitical climate amid Russia's invasion of Ukraine. As the latest chair of ASEAN, Jakarta has also stood firm on unifying the regional bloc's response to Myanmar's coup.
MIDDLE POWERS
Japan, third on the index and the largest of Asia's middle powers, has been weakening in standings on wealth, economic size, and technological edge, causing a profound impact on its regional influence.
Traditionally a powerhouse in those aspects, the report showed that the nation is rapidly becoming a less important source of trade and investment for countries in Asia.
Tokyo has recently stepped up its military capability through joint training and defence dialogues, but the improvement was not enough to offset overall decline.
Meanwhile, the study described India as an "under-achiever", having performed less well than expected given its available resources.
While its overall score has declined every year, the study said India, currently in fourth place, has enormous potential in economic and military influence in the region in the future.
Russia, which continues to rank as the fifth most powerful country in Asia, has dropped in scores across the board, with the largest decline in diplomatic influence as countries shun Moscow following its war on Ukraine.
Ms Patton said the research shows that the US-China competition is here to stay, with neither in a position to push the other out.
"The two countries – they each have their own enduring advantages. So if there is one lesson to take away, it is the fact that this kind of great power competition is something that's here to stay."