World leaders need to strengthen trading system to allow countries unimpeded access to energy and food: PM Lee
NUSA DUA, Indonesia: At the G20 summit on Tuesday (Nov 15), Singapore Prime Minister Lee Hsien Loong called on world leaders to strengthen the rules-based multilateral trading system and collectively accelerate net-zero ambitions.
This is needed to tackle global food and energy insecurity, which has been exacerbated by the COVID-19 pandemic and Russia's ongoing war against Ukraine, said Mr Lee on the first day of the Group of 20 Leaders' Summit in Indonesia's resort island of Bali.
"It is important that all countries continue to enjoy unimpeded access to energy, food and agricultural commodities, especially during crises," he said, adding that Singapore takes its role as a trusted hub for logistics, transportation, and energy very seriously.
"We look forward to working with partners to keep global supply chains free and open."
Countries will also need to scale up sustainable financing in order to achieve climate goals and help hard-to-abate sectors decarbonise or switch to clean energy, he said.
Last month, the Monetary Authority of Singapore injected S$5 million into a new grant which aims to provide funding for studies on innovative blended finance solutions and mobilise capital in target sectors in Asia.
Mr Lee cited the Asia Climate Solutions Design Grant as an example of how countries can support efforts to encourage more private sector participation in sustainable infrastructure projects.
During his intervention at the summit, he also highlighted Singapore's climate plans which include raising carbon taxes and developing a hydrogen economy.
Last month, the country raised its climate targets – ahead of this year's UN climate summit (COP27) – pledging to reduce emissions to around 60 million tonnes of carbon dioxide equivalent (MtCO2e) in 2030 after peaking emissions earlier. In the longer term, Singapore is targeting to achieve net-zero by 2050.
However, high production costs and a lack of infrastructure remain obstacles in the usage of hydrogen in Singapore. Whether or not the country will meet its climate targets will depend on how quickly it can overcome these barriers as well as technological advances.
Wrapping up his speech, Mr Lee said Singapore looks forward to working with G20 partners to strengthen global food and energy security.
Singapore is not a G20 member but the country has been invited to participate in many past summits and related meetings as the convenor of the Global Governance Group (3G) – an informal grouping of 30 small- and medium-sized members of the United Nations.
Established by Singapore in 2009, the 3G aims to promote greater dialogue between the G20 and the broader UN membership.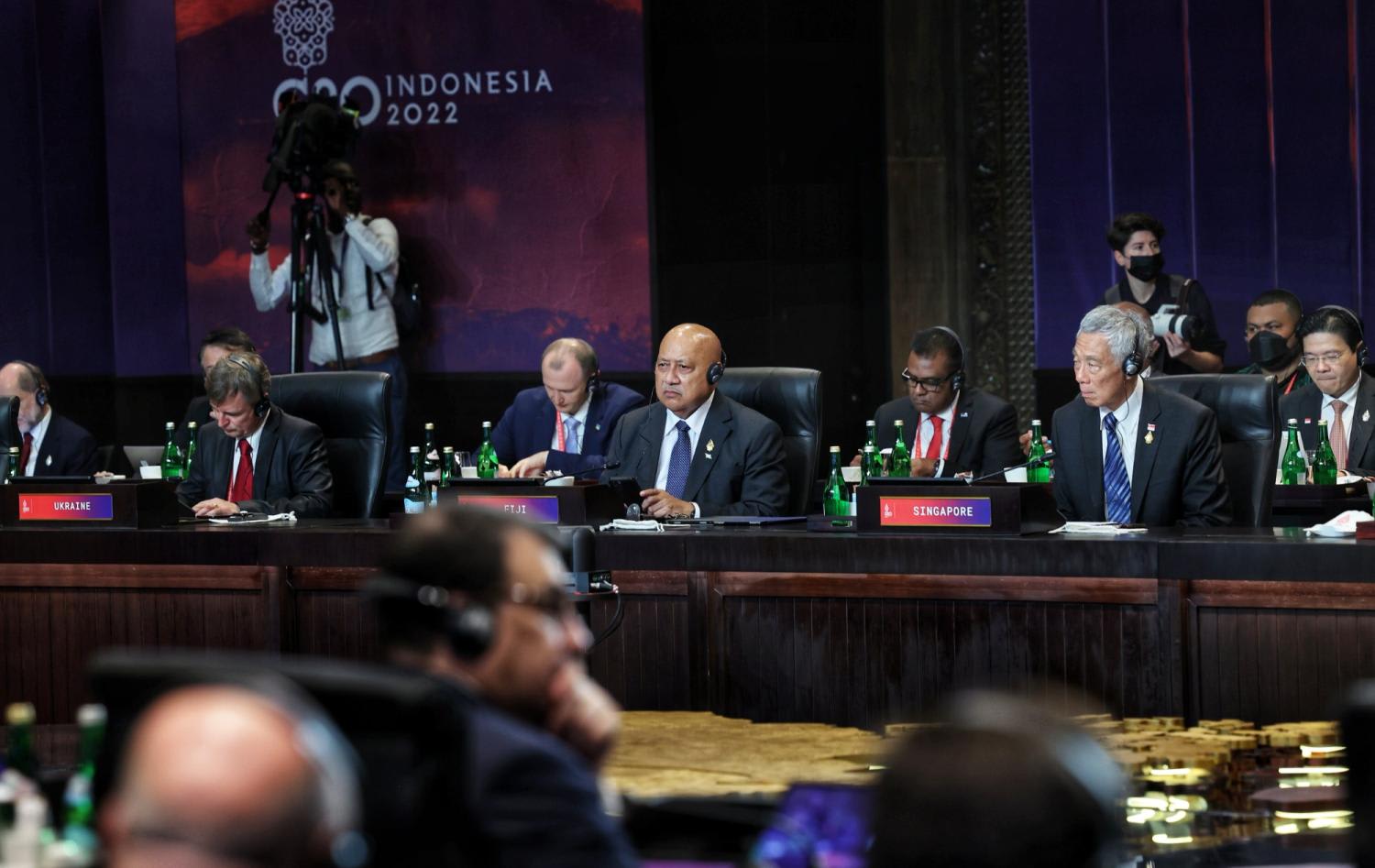 Mr Lee is attending the meeting at the invitation of Indonesian President Joko Widodo, in Indonesia's capacity as this year's G20 presidency.
He is accompanied by Deputy Prime Minister Lawrence Wong, who is also Finance Minister, as well as Foreign Affairs Minister Vivian Balakrishnan.
On Tuesday, Mr Lee met Spanish Prime Minister Pedro Sánchez and discussed deepening collaboration on digitalisation and developing smart cities, according to a spokesperson from the Prime Minister's Office in Singapore.
Mr Lee also met Dutch Prime Minister Mark Rutte and discussed regional and global developments, including the war in Ukraine, Sino-US relations and implications for the region.