CNA Explains: What is low-carbon hydrogen and will it help Singapore reach net-zero?
Hydrogen could supply up to half of Singapore's needs by 2050, depending on technological developments and the development of other energy sources.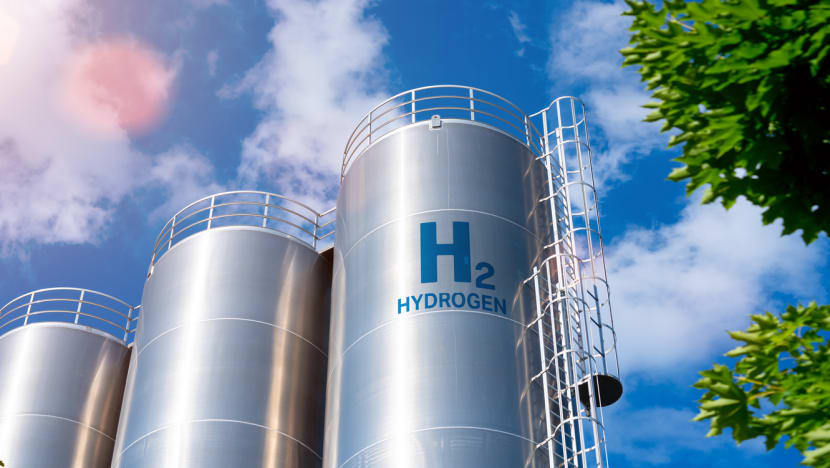 SINGAPORE: It's the most abundant element in the universe and when produced with renewable energy, hydrogen does not create any harmful emissions.
This is why Singapore is now eyeing low-carbon hydrogen as a means to decarbonise its economy and achieve its climate targets.
The country is committing to reach net-zero emissions by 2050 and reduce emissions to around 60 million tonnes of carbon dioxide equivalent (MtCO2e) in 2030, after peaking emissions earlier.
However, high production costs and a lack of infrastructure may hinder the usage of hydrogen here. Whether or not Singapore will meet its climate targets will depend on how quickly it can overcome these barriers as well as technological advances.
What is low-carbon hydrogen?
Hydrogen, like electricity, is an energy carrier that needs to be produced from another substance such as renewable sources, fossil fuels or biomass before it can be used as a source of energy or fuel.
Currently, most of the world's hydrogen is produced using fossil fuels such as coal, oil and natural gas, using a process involving water called "steam reforming".
This involves mixing fossil fuels with steam under high heat and pressure to produce hydrogen and carbon dioxide, which are then separated. The latter eventually gets released into the atmosphere and the hydrogen produced is known as "grey hydrogen".
This is not the type of hydrogen Singapore is looking to use. Instead, the country is striving for low-carbon hydrogen, which produces little to no emissions.
Low-carbon hydrogen typically refers to "green hydrogen", which is produced from renewable energy sources mainly through the electrolysis of water.
It does not produce carbon dioxide and when used in a fuel cell, the only by-product it produces is water.
While green hydrogen is generally regarded as low carbon, there have been debates about whether "blue hydrogen" – essentially grey hydrogen but includes the process of capturing and storing carbon dioxide emissions – qualifies as such.
In a report published in scientific journal Energy Science & Engineering in August last year, researchers from Cornell University and Stanford University suggested that blue hydrogen emits over 20 per cent more carbon dioxide than burning natural gas or coal for heat.
Why does Singapore want to switch to hydrogen?
As a small, resource-constrained country, Singapore has limited renewable energy options to decarbonise its economy.
While the country is aiming to deploy at least 2 gigawatt-peak of solar energy by 2030 – equivalent to powering about 350,000 households for a year – this will only meet a small fraction of its energy demands.
According to statistics by the Energy Market Authority, Singapore's annual electricity consumption is about 50 terawatt hours (TWh).
At the Singapore International Energy Week on Oct 25, Deputy Prime Minister Lawrence Wong said that even if Singapore were to maximise all its available spaces for solar deployment, it would still not be able to generate enough electricity to keep the lights on.
There are also limits to how much low-carbon electricity Singapore can import from the region. 
However, with an exponential increase in global investments and key technologies across the value chain expected to become commercially available in the coming years, low-carbon hydrogen has emerged as a promising solution for Singapore.
According to the Ministry of Trade and Industry, hydrogen could supply up to half of the country's needs by 2050, depending on technological developments and the development of other energy sources.
Besides providing an alternative for domestic emissions, low-carbon hydrogen and hydrogen-derived fuels can also be used in the maritime and aviation sectors, both of which are carbon-intensive.
It will also complement and diversify the country's power mix alongside solar, imported electricity, and other potential low-carbon energy sources.
What are the challenges in hydrogen deployment?
Despite the optimism surrounding clean hydrogen, key uncertainties remain.
Producing hydrogen from low-carbon electricity is more expensive than producing it from fossil fuels.
According to a report from the International Energy Agency (IEA), green hydrogen costs more than US$7 per kilogram at the higher end. In comparison, hydrogen produced from natural gas and coal cost below US$3 in 2019.
Extensive infrastructure will be required to support a hydrogen economy. During his speech at the Singapore International Energy Week, Mr Wong said Singapore is likely to need new storage and distribution infrastructure as it has different properties from natural gas.
A study commissioned by the National Climate Change Secretariat, Singapore Economic Development Board and Energy Market Authority estimated that the capital expenditure of constructing a new hydrogen pipeline infrastructure in Singapore could be US$364 million.
This would be a large project implemented in phases over several years, the report said.
To overcome these challenges, Singapore is setting aside an additional S$129 million to support hydrogen research and development. A significant amount of this will be directed towards projects that can help the country import, handle and utilise hydrogen and its carriers safely and at scale. 
It will also study the land and infrastructure requirements needed to deploy low-carbon hydrogen in the longer term.
You may also be interested in: