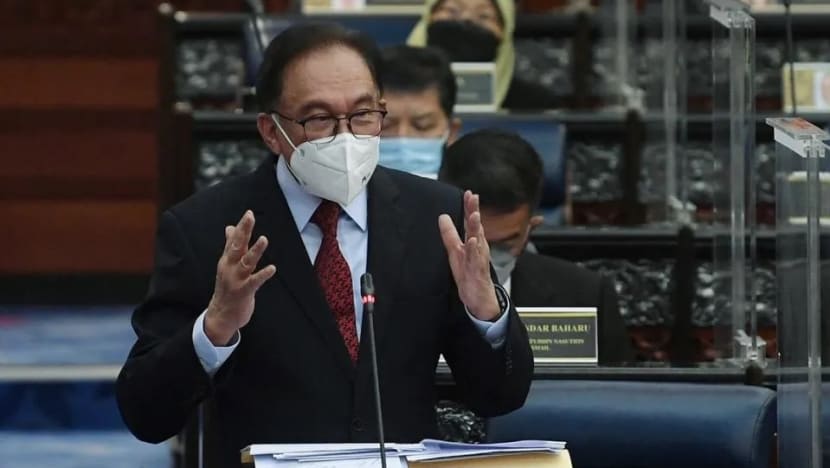 KUALA LUMPUR: Malaysian opposition leader Anwar Ibrahim said the 5.5 to 6.5 per cent economic growth forecast in the country's 2022 budget is not a realistic projection. 
"If you look at the projection for GDP growth, which is expected to be (around) 6 per cent, this is among the highest in the world," he said in the parliament on Monday (Nov 1), kicking off the parliamentary debate for Malaysia's 2022 budget among Members of Parliament (MPs). 
Last Friday, Malaysia's Finance Minister Tengku Zafrul Tengku Abdul Aziz unveiled a RM332.1 billion (US$80.06) budget for 2022, the largest allocation ever. 
The budget, up from RM320.6 billion this year, is set to roll out RM530 billion worth of stimulus packages to soften the COVID-19 blow. 
The government also expected a gross domestic product growth of between 5.5 and 6.5 per cent next year, with revenue to expand 5.9 per cent to RM234 billion.
Mr Anwar, when participating in the debate, outlined that GDP growth worldwide was projected to be at 4.9 per cent, developing countries at 4.5 per cent and developed countries at 5.1 per cent. 
He also cited how the GDP growth forecast for the United States, Europe, China, South Korea, Singapore, Indonesia and Thailand were all lower than Malaysia's projected numbers. 
"This forecast, to us, seems not very realistic," said Parti Keadilan Rakyat president and Port Dickson MP. 
"If it does happen, thank God. But the forecast, as announced by the finance minister, has to be realistic," he added. 
Mr Anwar then outlined that the projected revenue of RM234 billion in 2022, which represents a 5.9 per cent increase from last year, was too lofty an objective given that the country was still overcoming issues that arose from the COVID-19 pandemic. 
"We have just restarted the economy, so it's not realistic that we'll reach the levels we did in 2019 in such a short time," said Mr Anwar. 
Meanwhile, Mr Anwar acknowledged in his speech that the budget addressed concerns shared by the lower income groups.
He lauded initiatives such as increasing the allocation for the Bank Negara Malaysia (BNM) fund for small- and medium-size enterprises (SMEs) to RM4.5 billion as well as interest-free financing for smaller companies.  
Mr Anwar also expressed thanks that the opposition was consulted before the budget was tabled. 
"I would like to thank the finance minister because the process this time is unique, it involves consultation with the opposition," said Mr Anwar. 
"There is space for us to present some issues, and we note some changes were made but not all. I hope that with this opportunity to debate (the budget), there is still room for changes before voting takes place, as there are some views … on the basics and implementation that must be taken into consideration," he added. 
ANWAR URGES INVESTIGATIONS INTO MUSLIMS PARTICIPATING IN GAMBLING 
In his speech, Mr Anwar also urged the finance ministry to investigate reports of increase in gambling activities, especially among the Malay Muslims. 
He noted that he had received information that there are more gambling clubs sprouting out in areas such as Mont Kiara, and that a high proportion of the club members were Malay Muslims. 
"The number of Malay Muslims participating in these activities are in the tens of thousands," said Mr Anwar.
The opposition leader said that he had learnt that around 45 per cent of the members of 62 gambling clubs were Muslims and that the government seemed to be deliberately hiding this. 
"I ask the government and police to conduct investigations … on how gambling companies are able to invite Malay Muslims to participate in these activities," he added.