Malaysia PM Anwar Ibrahim scheduled to visit Singapore by end-January
A proposed state visit by Singapore President Halimah Yacob to Malaysia is also on the cards in March.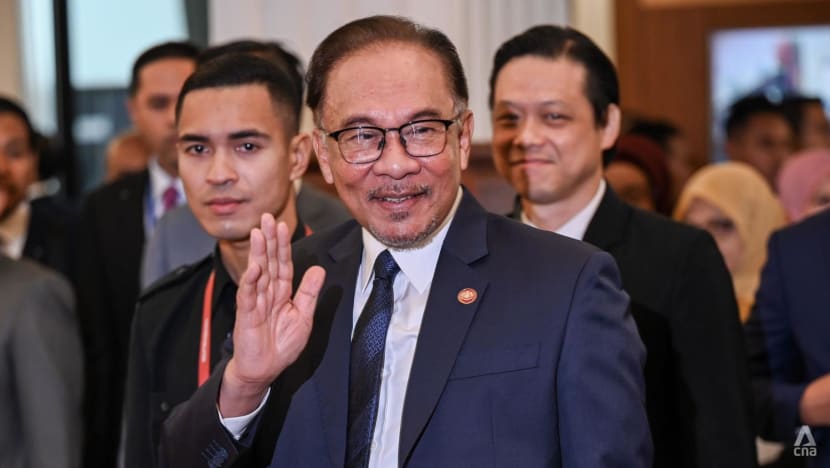 PUTRAJAYA: Malaysia's Prime Minister Anwar Ibrahim is scheduled to make an official visit to Singapore by the end of January, according to a press statement issued by Malaysia's Foreign Affairs Minister Zambry Abdul Kadir on Tuesday (Jan 17).
The statement was issued following Dr Zambry's meeting with his Singapore counterpart Dr Vivian Balakrishnan in Kuala Lumpur on Monday. Dr Balakrishnan is on a four-day visit to Malaysia - his first official visit to the country since Mr Anwar Ibrahim was made Malaysia's 10th Prime Minister in November last year.
In his statement, Dr Zambry outlined how both ministers "reaffirmed the excellent and longstanding relations" between the two countries. 
"We are committed to continue positive engagements through the existing bilateral mechanisms and emphasised resolving issues harmoniously and finding amicable solutions to preserve the strong Malaysia-Singapore bilateral relations," said Dr Zambry. 
"We both also discussed how the two countries can move forward in bringing the relationship to greater heights."
He added that the two ministers also touched on Mr Anwar's official visit to Singapore "scheduled to be held by the end of this month" as well as a proposed state visit by Singapore President Halimah Yacob to Malaysia in March. 
Dr Zambry added that the meeting between him and Dr Balakrishnan underscored the ongoing efforts to strengthen existing close ties between the two countries under Malaysia's new unity government.
Following Mr Anwar's appointment as prime minister in November 2022, Singapore Prime Minister Lee Hsien Loong congratulated him and invited him to visit Singapore soon.
"I have known Dato' Seri Anwar for several decades," wrote Mr Lee in a Facebook post, adding that the pair last met in Singapore in 2018 when Mr Anwar delivered a lecture at the Singapore Summit on the importance of bilateral relations between Singapore and Malaysia. 
"Indeed, Singapore and Malaysia are close partners. Our countries share a longstanding friendship, underpinned by strong historical, cultural, and interpersonal ties."
Mr Lee added that there is more that both sides can do to enhance the bilateral relationship for mutual benefit.
"I look forward to working with him and the new government to further strengthen our bilateral relationship."
At that time, Mr Anwar replied by saying that he looked forward to meeting Mr Lee "at the earliest opportunity" and to working together to further elevate Malaysia-Singapore bilateral relations.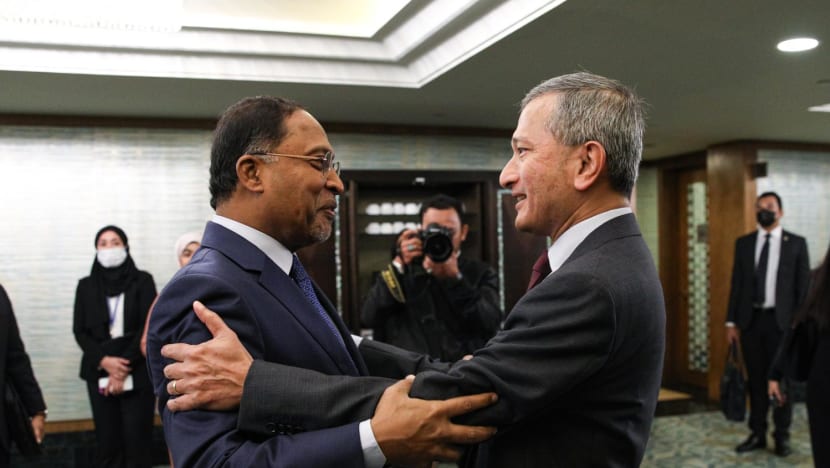 As part of his official visit to Malaysia this week, Dr Balakrishnan had an audience with Malaysia's King Al-Sultan Abdullah Sultan Ahmad Shah on Monday. 
The king and Dr Balakrishnan "reaffirmed the excellent ties" between Singapore and Malaysia, and their commitment to strengthen bilateral cooperation, said Singapore's Ministry of Foreign Affairs (MFA) on Monday. 
The minister also met with Dr Zambry, when the pair noted the good progress on the Johor Bahru-Singapore Rapid Transit System Link project and looked forward to the commencement of passenger services by end-2026, MFA added.
MFA added that Dr Balakrishnan and Dr Zambry also discussed how both countries could expand bilateral collaboration, including into new areas such as the digital and green economies.
"Minister Balakrishnan invited Minister Zambry to make an official visit to Singapore soon," MFA said.