Lift ban on chicken exports to Singapore before it is too late, Malaysian breeders tell government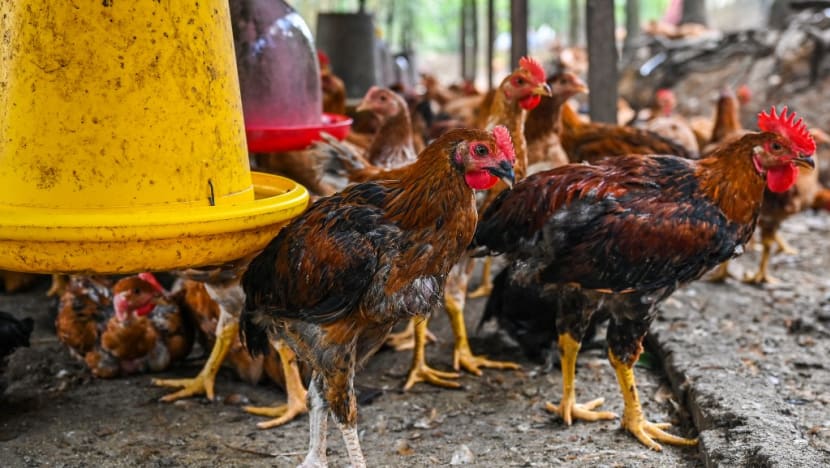 KUALA LUMPUR: Malaysia's poultry industry players have urged the government to lift the chicken export ban, or they will lose out on the Singapore market. 
They also stressed that supply in the domestic market has already stabilised.
Federation of Livestock Farmers' Associations of Malaysia (FLFAM) advisor Jeffry Ng said they are in talks with the government about ending the export ban, which took effect from Jun 1.
He said a lot of farmers are chasing the association as they have ongoing contracts with Singapore customers, whom they have cultivated a relationship with for many years.
"We should continue to provide the service. That is a market that we had for a long time," he told CNA. 
"Some of the farms are solely catering to the export market and not the local market. If they cannot export, then their operations will have to change," he added. 
The export ban of up to 3.6 million chickens a month was introduced following supply and pricing issues in Malaysia, with some chicken traders selling whole chickens above the price ceiling to cover their costs. 
Rising production costs, disease infection and weather conditions were among the factors affecting the operations of chicken farms. 
In response to the export ban, Singapore, which imported about one-third of its chicken supply from Malaysia, announced that it will buy chickens from Indonesia. 
The Singapore Food Agency (SFA) said on Jun 30 that Indonesia had been added as a new source for chicken imports, joining a list of more than 20 countries accredited to export chickens to Singapore.
Johor Poultry Breeders Association secretary Lau Ka Leng told CNA that farmers are worried about losing their Singaporean customers if the export ban is not lifted in time. 
"Most of the chickens exported to Singapore are from farms in Johor," he said.
He said while breeders can cope with the situation now, there is a worry that they will not be allowed into the Singapore market once the Indonesian exports start. 
"Once you lose a market, it won't be easy to get it back," he said, adding that there are about 700 chicken farms in the state.
DOMESTIC SUPPLY HAS STABILISED: BREEDERS
Mr Lau said the supply of chicken in Johor is back to normal and he hoped that the export ban would be overturned soon.
He added that Malaysia is 114 per cent self-sufficient in chicken production. 
The lack of supply a few months ago was due to high demand, said Mr Ng of the national federation.
"After almost two years of lockdown, everyone had kenduri (feasts), weddings and open houses at almost the same time. We had never seen this kind of demand before. It wasn't really a supply issue," he said.
If the ban is not lifted, there will be a surplus of chicken in the market, he added. 
Mr Ng said during the federation's discussions to end the export ban, the Malaysian government had asked the breeders to ensure domestic supply. 
"We are talking to the government now. They are asking us for a plan. The issue now is whether we can maintain the supply and at the same time export. 
"The government is asking us to assure a sufficient supply. We are working on the process," he said.