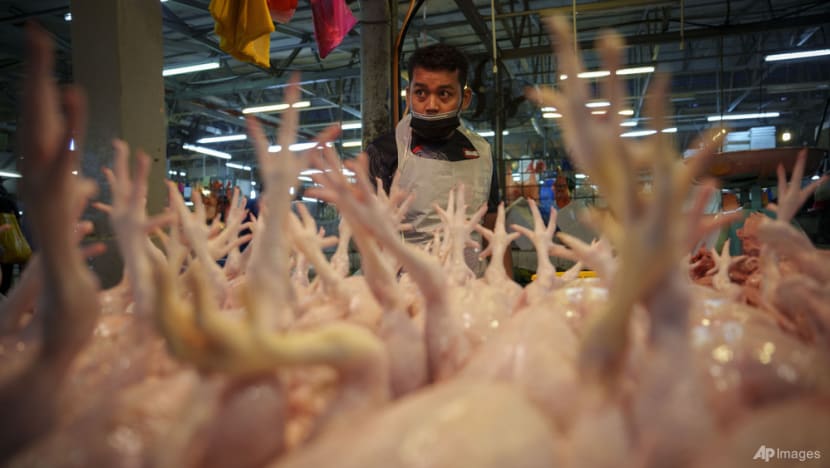 JOHOR BAHRU: The supply of chickens in Malaysia is still lower than the amount required for local consumption, but it is expected to stabilise from June onwards, said Minister of Agriculture and Food Industries Ronald Kiandee in a statement on Thursday (Jun 9). 
Dr Kiandee said that his ministry, during a Cabinet meeting in Putrajaya on Wednesday, had presented the national food supply status for eight main food commodities, including chicken, beef, eggs, fresh milk, fish, fruit, vegetables and rice.
"In general, the national food supply is sufficient to cater to local consumption," said the minister.
"However, the supply of chicken has been lower than the monthly amount required, starting from February 2022. Yet, this supply is gradually recovering and is expected to stabilise from June 2022 onwards," he added. 
He also said that the Cabinet has decided to implement some "short-term proactive measures" to ensure that the chicken supply is secure. 
These included stockpiling chicken with immediate effect, easing the process of subsidy claims for breeders and making the process of importing chicken feed simpler. 
Dr Kiandee, who is also the Member of Parliament for Beluran in Sabah, said that the government would review electricity tariffs to reduce the operating costs for suppliers, grant a special exemption to allow chicken farms to recruit foreign workers and study mechanisms to lower crude palm oil costs for feedmill operators.
He added that the Ministry of Agriculture and Food Industries (MAFI) has been offering subsidies worth RM729.43 million (US$165.95 million) to chicken breeders since Feb 5.
So far, 1,644 subsidy requests worth RM113.2 million have been approved by MAFI, he said.
"All breeders can submit their requests for the subsidies to be channelled. The government will continue to play an effective role, with the help of all stakeholders, to ensure that the food supply is sufficient and priced at a suitable level for the 'Malaysian Family'," he added. 
On Jun 1, Malaysia imposed a ban on the export of up to 3.6 million chickens per month, in a bid to address the supply shortage issue. 
"The government's priority is our own people," Prime Minister Ismail Sabri Yaakob said on May 23 when he announced the ban.
Chicken traders have complained that the increased costs have cut into their profit margin, especially when a price ceiling is in place. 
The price control mechanism has been in effect since November last year. 
The government had lowered the price ceiling for whole standard chickens a few times, from RM9.50 per kg to the current RM8.90 per kg, while offering a subsidy of 60 sen per kg to breeders in February this year.  
Whole standard chickens are processed and sold with head, feet and organs, while whole "super" chickens, with a ceiling price of RM9.90 per kg, refer to poultry that have been processed, weighed and sold without their head, feet or organs.
Despite the export ban, prices of chicken at Malaysian wet markets have yet to come down, according to checks by CNA.