Malaysia GE15: Barisan Nasional, Pakatan Harapan in tough tussle for bellwether state Johor
The upcoming parliamentary polls are expected to be a much tighter contest than the March state elections when BN swept more than two-thirds of the seats.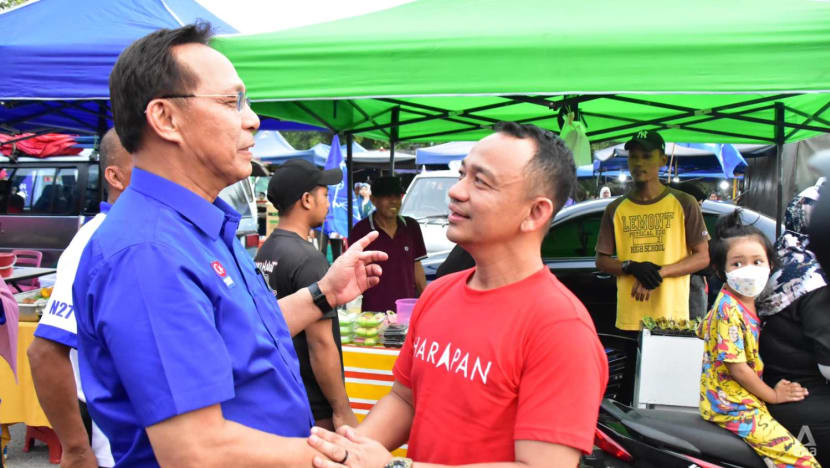 MUAR, Johor: In his first campaign stop outside of his home state of Pahang, Malaysia's caretaker prime minister Ismail Sabri Yaakob arrived in Ayer Hitam last Wednesday (Nov 9) to much fanfare.
The town's community centre in central Johor was filled with hundreds of Barisan Nasional (BN) supporters decked in royal blue. 
As Mr Ismail Sabri walked down the aisle, those present mobbed him for selfies, fist bumps and handshakes. 
"Johor is the first state I have visited for this campaign," said the vice president of the United Malays National Organisation (UMNO), BN's biggest component party, during a speech.
"(My visit) is to show support and endorsement of BN candidates in Johor. My party colleagues always stress that Johor is a fortress for UMNO and BN," added Mr Ismail Sabri.
"UMNO was born in Johor. If Johor falls, the whole country falls. This was proven in 2018, that's why Johor must go back to being a key bastion for BN and UMNO," he said to loud cheers. 
Just the day before, Pakatan Harapan's (PH) prime minister candidate Anwar Ibrahim received a similarly raucous reception when he made several campaign stops in Johor. 
He visited federal seats to campaign on behalf of PH candidates, including in Johor Bahru, Ledang, Tebrau, Simpang Renggam and Ayer Hitam. 
SIGNIFICANCE OF THE JOHOR VOTE 
Both BN and PH are on a mission in Johor for the 15th General Election (GE15). 
In GE14, the Johor state government fell to PH for the first time in Malaysia's history. Back then, BN won just 8 of the 26 federal seats, as the Najib Razak administration fell. PH managed to win 18 federal seats then. 
However, during the Johor state elections in March this year, BN romped to victory, clinching 40 out of 56 seats in the legislature, more than a two-thirds majority. 
BN is now aiming to finish the job in the southern state, with the coalition leadership setting a target of 20 federal seats to help the coalition return to government.
On the other hand, PH is also looking to redeem itself after a poor showing in the state polls earlier this year. It is eyeing between 21 and 22 seats in the southern state. 
There are a total of 222 seats in Malaysia's Lower House and a minimum of 112 seats is needed to clinch a simple majority and form a new government. 
PH comprises the Democratic Action Party (DAP), Parti Keadilan Rakyat (PKR) and Parti Amanah Negara (Amanah). It has also formed an electoral pact with the Malaysian United Democratic Alliance (MUDA) for the Nov 19 polls. 
While both BN and PH are gunning for dominance in Johor, some party candidates and observers said that the contest is expected to be much tighter this time around. 
Malaysia political analyst Francis Hutchinson, who is a senior fellow at the ISEAS–Yusof Ishak Institute, told CNA the results in Johor could give a strong indication of which coalition eventually prevails at the national level. 
"Because of its per capita income, ethnic diversity, and degree of urbanisation, Johor is a very good bellwether for national trends. When you look at the coalition in power at the federal level, it is matched in Johor," said Dr Hutchinson. 
BN BULLISH ON GAINING GROUND
BN's Johor election director Hasni Mohammad told CNA that the 20-seat target set by the coalition leadership is a tough task. But he stressed that it was "not impossible". 
"What I can say today is that it's not an easy target. Nevertheless, we have no issue to at least win 16 seats. The other 4 seats must be won by (BN's other) component parties such as MCA (Malaysian Chinese Association)," said Mr Hasni who is a former chief minister for Johor. 
"We know that there are heavyweight contenders in Johor for the opposition but we are confident that we can continue the determination we showed at the state elections," he added.
Dr Hutchinson noted that BN is making a push to win back urban seats in southern Johor, such as Johor Bahru and Pasir Gudang, by fielding candidates like Mr Noor Azleen Ambros who are making their political debut at the federal level. 
"They lost them in 2018 in the swing in urban areas away from UMNO as a result of Najib Razak and 1MDB," said Dr Hutchinson.
"This time around, UMNO is fielding young, entrepreneurial types in Johor Bahru and Pasir Gudang in an attempt to get voters back," he added.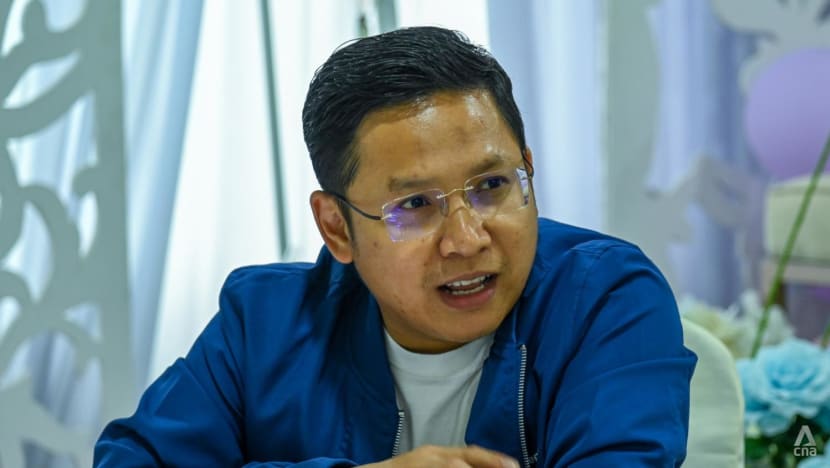 In an interview with CNA, Mr Noor Azleen, who is standing in Pasir Gudang, said that recapturing the southern Johor belt is important for BN as PH is eyeing these seats as a base.
"Firstly we must understand how important southern Johor is as an economic region not just for the state, but also for the country. Reclaiming these seats is very crucial in giving BN a boost to recapture Putrajaya," said the 37-year-old.
He said that BN's decision to field young debutants in three of these seats in the southern belt - Johor Bahru, Pasir Gudang and Tebrau - is an indication that it has the future of Johoreans in mind. 
The BN candidate for Johor Bahru is 42-year-old architect Johan Arifin Mohd Ropi while the candidate for Tebrau is MCA youth chief Nicole Wong, who is also 42. 
"I think this is the best time for us to prepare southern Johor and Pasir Gudang for the future," said Mr Noor Azleen. 
"The short-term goal is to recapture (federal seats) in Johor from Pakatan Harapan. But what's more important is the bigger agenda, to improve the economy, provide employment and care for the residents," he added. 
HIGH VOTER TURNOUT COULD TURN THE TIDE FOR PH 
Dr Hutchinson of ISEAS-Yusof Ishak Institute outlined that like in many parts of the country, BN has a strong grassroots network and core voter base in Johor. 
However, based on data collected from the 2018 national polls and the 2022 state elections, he noted that BN only received 17,000 more votes, even though the electorate grew by 1.2 million in the state.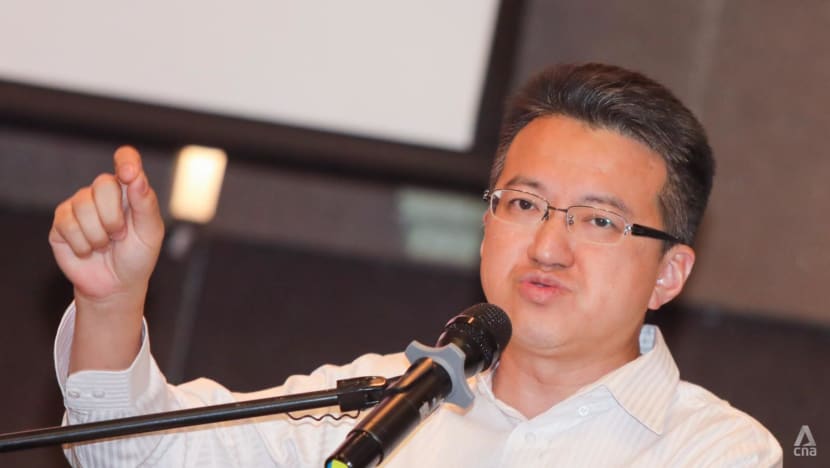 In an interview with CNA, PH candidate for Iskandar Puteri Liew Chin Tong, said that these figures indicate that support for BN as a percentage of the electorate in Johor actually dropped from 2018 to 2022. He posited that BN managed to win big during the March state polls because of a "very low voter turnout". 
"They have a fixed pool of core voters in Johor, around 600,000. But beyond that, this number does not seem to be increasing," said Mr Liew, who is also DAP's election director. 
The voter turnout for the March Johor state polls was around 55 per cent while in the 2018 polls it was more than 80 per cent in the state. 
MUDA president Syed Saddiq Abdul Rahman told CNA that the general trend is that voter turnout in the general elections is typically higher than in standalone by-elections or state polls. 
He cited how the voter turnouts in the Kuala Kangsar and Sungai Besar by-elections in 2016 were lower than the voter turnout for GE14. 
"In General Elections, voter turnout is typically 10 to 20 per cent higher and this time round it will likely be the same," said the former youth and sports minister. 
"We are canvassing younger voters who have just been automatically registered via Undi 18 to also come out to cast their ballots and vote for the candidates they feel will make a difference for them," added the incumbent member of parliament for Muar. 
Undi 18 is a constitutional amendment to lower the voting age from 21 to 18. The law took effect on Dec 15 last year.
On how PH's performance in Johor could help the coalition nationally, Mr Liew predicted that with several days to go until the end of the campaign, winning 15 federal seats in Johor out of 26 is "highly possible". 
"I will set 15 as the low base and I would like to top up a bit more," added the DAP Johor chief. 
On how this will help PH at the national level, Mr Liew said that seats in Johor will contribute to PH winning around 80 out of 165 in Peninsular Malaysia. 
"We are likely to be the largest bloc in the peninsula but this doesn't guarantee us a mandate to form the government," he said, adding that this will depend on how other coalitions such as Perikatan Nasional perform and how negotiations play out on polling night. 
When asked to predict how the results in Johor will go, Dr Hutchinson told CNA that it is likely to be somewhere between GE14 which favoured PH and the March state polls which favoured BN. 
"It seems that the BN campaign machinery is a little slower off the mark than during (the state polls). Also, surveys indicate that people are worried about the influence of (UMNO president Ahmad) Zahid Hamidi, who does not seem to be very popular," said Dr Hutchinson. He was referring to surveys by various pollsters, including Merdeka Centre, which has reported Ahmad Zahid's approval ratings at just 12 per cent. 
On the other hand, PH may not necessarily benefit from high voter turnout as it was in 2018 as there is still political apathy among the electorate, he said.   
"There is a fair amount of apathy and people are more focused on economic issues, rather than governance-related topics. And, PH does not have the same air of novelty that it did in 2018," said Dr Hutchinson.