Malaysia's electric vehicle push gets a turbo boost, but speed bumps lie ahead
It is still too early to say if Malaysia can become an EV powerhouse in the region, but proactive government policies are helping push the industry, say observers.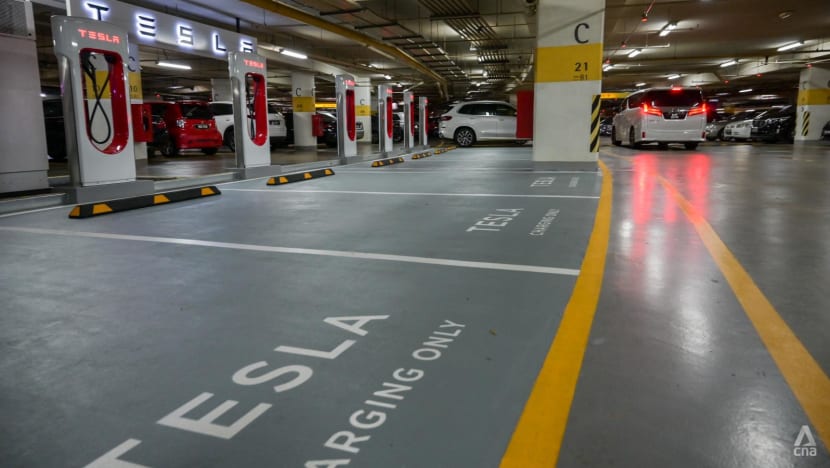 KUALA LUMPUR: For quite a while now, pilot Mohd Radzi Desa, 58, has been planning on getting an electric vehicle (EV) as his next car.
He currently owns a plug-in hybrid electric vehicle (PHEV) and sees an EV as the next logical step for an upgrade. 
"EVs are smoother, quieter, and are supposed to require less maintenance compared to other types of vehicles. It is also better for the environment," said Mr Mohd Radzi, who has stopped buying traditional Internal Combustion Engine (ICE) vehicles since 2013.   
He told CNA that he plans to buy the EV by 2025, which is when Malaysians will have to start paying import and excise duties for fully imported EVs into the country.  
And his head has been turned by a recent announcement that Tesla have been officially taking orders for their cars in Malaysia, with deliveries expected early next year. 
"I am very excited because Tesla is basically the pinnacle of electric vehicles. It helps that they are bringing it in officially. My mind is 60 per cent made up, but I will still consider the other brands when the time comes to make a decision," he said.
On July 20, Tesla announced that its mid-sized Model Y sports utility vehicle (SUV) was available for booking online in Malaysia, with a RM199,000 (US$42,560) price tag for its base model. 
Then, in early Sep, the EV manufacturer also announced that it would also be bringing in its Model 3 sedan into Malaysia, with the base model priced at RM189,000, the cheapest in the region. 
Even without the certificate of entitlement (COE), the same model costs S$104,970 (US$76,970) in Singapore while in Thailand it costs 1.659 million baht (US$46,730).
Tesla's move was among similar efforts by other automotive firms in Malaysia that have collectively not only created a buzz and attracted a lot of attention but also raised expectations over the country's position as an EV hub in the region.
While the race to adopt EV is still considered to be in its infancy in Southeast Asia, many countries in the region including Malaysia are competing to attract the biggest companies and manufacturers as the industry is expected to grow exponentially in the future.     
Prime Minister Anwar Ibrahim told CNBC in an interview last month that EV was a priority for the country while the Malaysian Automotive Association (MAA) declared that Malaysia was on the right path to becoming an EV powerhouse in the region. 
Industry experts and analysts believe that while the sector will grow in Malaysia in line with government policies, it will take a massive shift for the country to transition to EVs and for the country to become an industry powerhouse in the region.
This is especially as the prices of EVs are still not affordable for most people.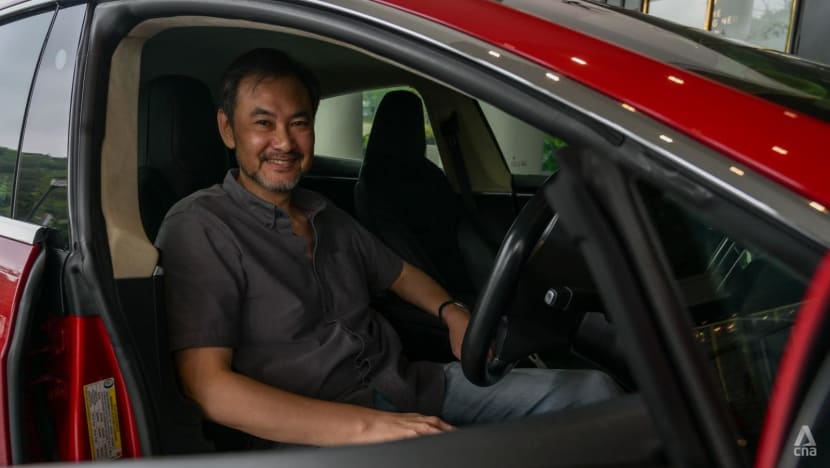 POSITIVE POLICIES ATTRACT INVESTORS
In August, EP Manufacturing Berhad – a local auto parts manufacturer – signed a memorandum of understanding with BAIC Motor Corporation Ltd - one of China's largest automobile groups - to develop local production of vehicles including EVs in Malaysia.
Chinese automaker Geely - which holds a 49.9 per cent stake in Malaysian manufacturer Proton - meanwhile will invest RM30 billion in the development and commercialisation of the Automotive High-Tech Valley (AHTV) in Tanjung Malim, Perak with a focus on EV.   
But Mr Shahrol Halmi, the co-founder of the Malaysia Electric Vehicles Owners Club (MyEVOC) told CNA that Tesla's moves made the biggest news on EVs because many were surprised by how "affordable" it was in relation to other brands. 
"It is very big news. BYD was a hot seller when it was launched earlier this year at RM170,000 but you don't need to top up much more to get a Tesla model Y while a comparable BMW i4 is substantially higher in price," he said.
There are more than 40 models of EVs currently being sold in the Malaysian market.
Besides Tesla, they include models from newer brands in the Malaysian market such as BYD, Ora and Neta from China as well as BMW, Volvo, Mercedes, Hyundai and even Rolls Royce. 
Mr Shahrol believes Malaysia's EV push began when the government approved the Low Carbon Mobility Blueprint (LCMB) in Oct 2021, a policy framework that sought to reduce emissions from the transportation sector, ranked as the second-largest emitter of Carbon Dioxide (CO2) after the energy sector.
During the 2022 Budget, the government announced full exemption from import and excise duties as well as sales tax for EVs, road tax exemption for EVs, and income tax reliefs for the purchase of charging facilities. 
The government this year then extended import duty exemptions for components for the local assembly of EVs, the excise duty and sales tax exemptions for locally assembled completely knocked down (CKD) EVs to 2027, as well as the import and excise duty exemptions on imported completely built-up (CBU) units to 2025.
CBU refers to cars that are imported while CKDs are cars manufactured in the country. 
EV users also don't have to pay road tax until 2025.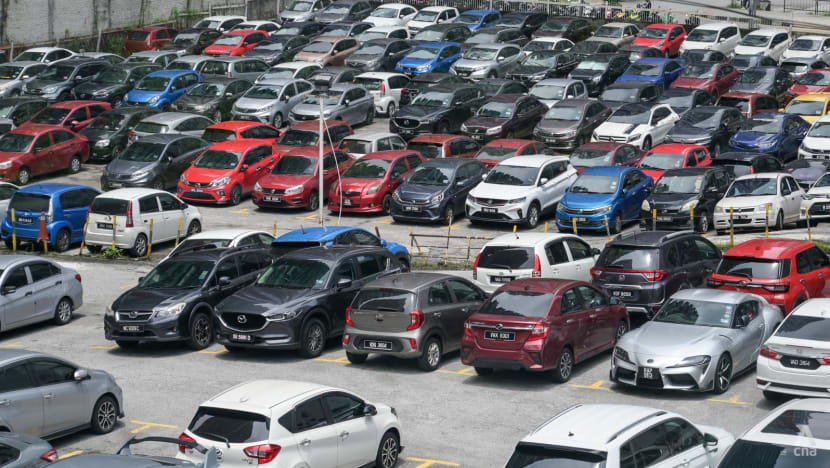 Mr Jigar Shah, head of sustainability sesearch of Maybank Investment Banking Group, told CNA that the entry of Tesla and the investment proposed by Geely in the EV sector in Malaysia are positive reflections of the recent policies set by the government.
"Malaysia is setting prudent and proactive policies to benefit from the coming boom in the EV sector especially by attracting investment from Tesla and announcing a massive increase in share of renewables in the next two to three decades," he said.  
Mr Jigar pointed out that local Malaysian companies such as Petronas and Yinson are also setting up charging stations, which will be critical as consumers shift to EV from traditional Internal Combustion Engine (ICE) vehicles that run on fossil fuels such as petrol or diesel.
He also said that a recent government decision to significantly increase the share of renewables to 70 per cent in the total energy mix by 2050 was very positive for the EV sector as well.
He added that Malaysia is the third largest car market within ASEAN behind Indonesia and Thailand, and its per capita transport emissions are higher than the world average,
"These developments augur well for the country to scale up fast and transition the entire ICE vehicle sector to electric in the next 10 to 15 years," Mr Jigar said, adding that Malaysia has an opportunity to develop an EV manufacturing base and ecosystem for the local and export markets.
Malaysia has targeted 15 per cent of total industry volume (TIV) to be contributed by EV and hybrid vehicles by 2030 and 38 per cent of TIV by 2040.
Rakuten Trade head of equity sales Vincent Lau told CNA that recent developments in the Malaysian EV sector are significantly shaping its growth prospects, saying that brands such as BYD and Ota are offering EVs that are more "affordable".
"It is still too early to say that Malaysia can be an EV powerhouse, but they are on the right track with the policies that are in place," he said. 
In 2022, EV sales in Malaysia totalled 2,631 while the year before it was 271 sales. 
BMI, a Fitch Solutions company forecasted in a commentary on Aug 24 that Malaysia's total EV sales will quadruple this year, although the EV penetration rate in the country would be at just 1.8 per cent.
LONG ROAD AHEAD FOR EV PRODUCTION IN MALAYSIA
Mr Shahrol of MyEvoc said that in terms of manufacturing EVs, Malaysia still lags the likes of Thailand who are the leading market of EVs in the region. 
According to a report by the Nation, Thailand manufactured 92,746 EVs in 2022, an increase of about 38 per cent compared to the previous year. Altogether Thailand was reported to have assembled 1.9 million vehicles last year.   
The numbers in Thailand are expected to increase as Chinese automakers such as BYD, Great Wall Motor, SAIC Motor and NETA have invested heavily in the country to set up EV manufacturing bases.
The Thai government has set an ambitious target of one million EVs on the road by 2030. 
No data was available for the number of EVs Malaysia produced last year but it assembled more than 700,000 vehicles altogether.  
Other countries in Southeast Asia that are making a push to attract investors in the EV industry include Indonesia and Vietnam.
The Indonesian government has targeted EVs to make up one-fifth of all domestically manufactured vehicles by 2025 while Vietnam's own manufacturer VinFast is now focusing only on EVs.    
"From the government perspective, manufacturing provides jobs, especially as EVs are geared towards integration of software and high technology. We can understand why it is a new frontier the government is keen to get a head start in," said Mr Shahrol. 
According to the International Energy Association (IEA), global sales of electric cars are set to grow by 35 per cent this year, expanding its share of the overall car market to 18 per cent.     
"Electric vehicles are one of the driving forces in the new global energy economy that is rapidly emerging – and they are bringing about a historic transformation of the car manufacturing industry worldwide," said IEA Executive Director Fatih Birol in a statement in April.
Industry players say this is why countries including Malaysia are aggressively pushing for investments for EV investments.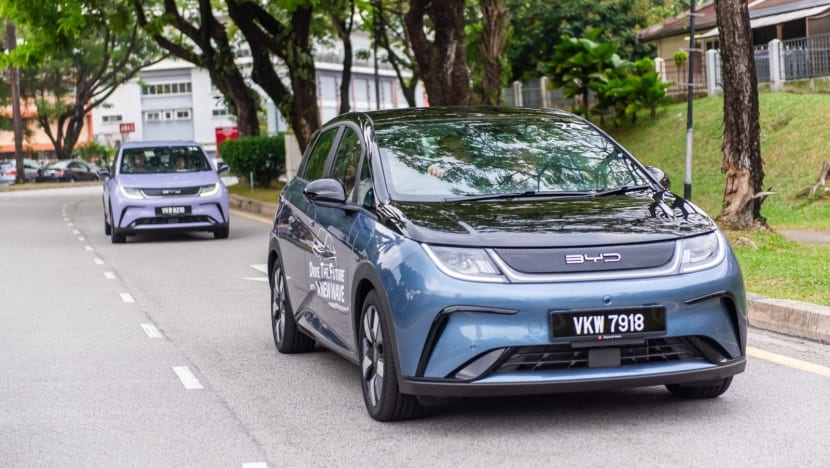 Currently, only Volvo and Mercedes are assembling EVs in Malaysia.  
Mr Charles Frump, managing director of Volvo Car Malaysia, told CNA that the increased interest and investments by automotive firms in Malaysia's EV sector signals a promising future for the country's automotive industry.
He said that the company is aiming for 50 per cent of their global sales to be fully electric cars by 2025, and for all new cars to be fully electric by 2030.
Volvo was the first to assemble an EV in Malaysia - its XC40 SUV model - at its plant in Shah Alam, Selangor since last year. 
He added that Malaysia is now Volvo Cars' regional hub, exporting EVs to neighbouring countries such as Indonesia, Taiwan, Thailand, Philippines, and Vietnam. 
"The increased interest and investments by automotive firms in Malaysia's EV sector signals a promising future for the country's automotive industry," Mr Frump said, in an emailed response to queries by CNA on the EV industry in Malaysia. 
"With Government support for EV infrastructure and with the surge of traditional and new brands entering the local EV space, we are seeing an affirmation of our electrification ambitions and a growing interest for local EV adoption in the coming years."
According to the BMI report, Mercedes has indicated that it plans to have 30 percent of all its vehicles sold in Malaysia electrified by 2030, as the country offers one of the highest EV penetration rates for its products globally.
Malaysia's International Trade and Industry Minister Tengku Zafrul Tengku Abdul Aziz had said in July that as the EV industry is relatively new to Malaysia, many investors, both local and foreign, are still waiting for "certainties" in the market before making any investment decision.
"We are in a way, liberalising the industry, and we have to push. We want to make sure the regulations are clear," he was quoted as saying by Bernama.
CNA has reached out to Mr Zafrul for additional comments.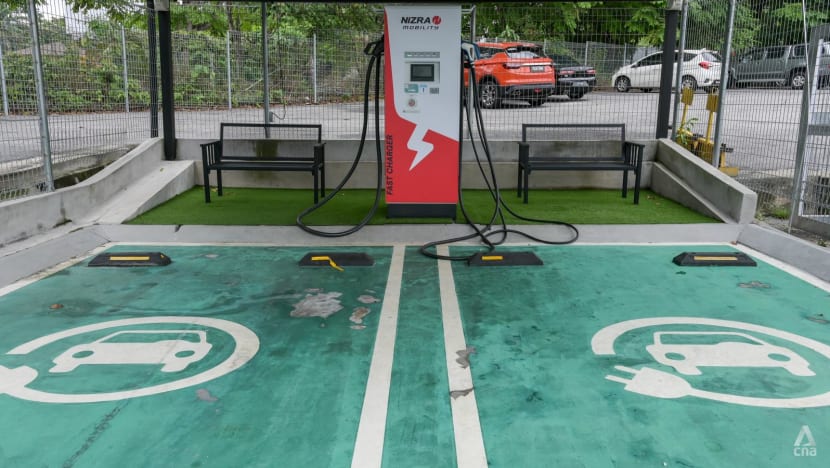 SCALING UP CHARGING NETWORK, BRINGING PRICES DOWN
As with many countries engaged in the EV push, the main concern of consumers in Malaysia about adopting EV centres on the charging infrastructure that industry players say needs to be scaled up.
The government aims to have 10,000 EV charging stations nationwide by 2025, comprising 9,000 units of alternating current (AC) type and 1,000 units of direct current (DC) type.
There are over 1,000 EV charging stations now installed all over Malaysia.
Mr Shahrol of MyEvoc said that the charging network is an indisputable part of the EV experience, adding that it has grown and is now relatively easier to get around the country compared to a few years back.
He said that there were no issues along the Kuala-Lumpur to Singapore transport corridor but it was still underdeveloped in the east coast of peninsula Malaysia for example.
Mr Frump of Volvo said that one of the key challenges for Malaysia lies in the reality of "range anxiety" due to the relative scarcity of public charging facilities currently.
"As charging infrastructure becomes more widely available, especially in homes, we expect less resistance to EV adoption especially as a secondary car for daily commutes," he said. 
Another hurdle to the expansion of EVs in Malaysia is their costlier price tag compared to ICE vehicles, which has fuelled hope among some for Malaysia car manufacturers to start producing homegrown EVs that might be cheaper.
Perodua and Proton, which hold a 60 per cent share of the vehicle market in Malaysia, have yet to sell any EVs.
Mr Zafrul has previously said that his ministry had discussed with both the carmakers on expediting the production and introduction of affordable EVs. 
Currently, the cheapest EVs in Malaysia – which are imported - cost RM100,000.
Perodua CEO Zainal Abidin Ahmad told business portal The Edge in August that they had plans for the local assembly of EV models with their Japanese partner Daihatsu.
He said that the jumping on the EV bandwagon was not a question of "if but "when", and that the vehicles had to be affordable for most Malaysians.
Mr Lau of Rakuten said that ultimately the minimum RM100,000 cost for an EV in the market was out of reach for the mass market.    
Citing Perodua Myvi, one of Malaysia's most popular models of cars which is sold from RM46,500, he added: "Both Perodua and Proton have said they are looking into it and that EVs are in their pipelines. The EVs will only be attractive to the masses when the prices are the same as a Myvi."