'No more chaos please': Malaysian businesses hope for stability, confidence after election
Stability is a crucial selling point, said a political observer, adding that any party promising stability will likely be favoured by both small businesses and big companies.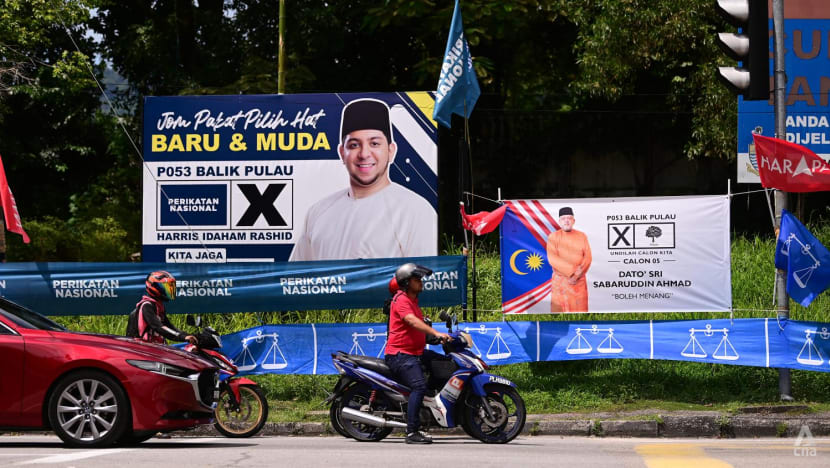 KUALA LUMPUR: In the race to Putrajaya, Malaysian political bigwigs are pulling out the stops to attract and connect with voters.
Parti Keadilan Rakyat (PKR) president Anwar Ibrahim, for instance, belted out a tune to cheering crowds as he campaigned in the densely-populated Klang Valley.
"Oi, oi, ya oi, Siapa sokong penyamum?" Mr Anwar crooned, as supporters sang along to the catchy tune.
The Malay lyrics, which translate to "who supports bandits?" is from a song composed by local singer Altimet to reflect public disgust over endemic corruption in the country. The song is regularly played at opposition political rallies.
Not losing out, caretaker prime minister Ismail Sabri Yaakob also sought to relate and impress when addressing small traders in Kuala Lumpur, recounting his own experience as a vendor.
"I was also a trader once, I used to sell oranges at five-foot-way and fish in markets," said Mr Ismail Sabri, referring to roofed walkways commonly found in front of shops in Malaysia.
He has promised to immediately disburse all goodies in a recently-tabled budget – which has not yet been approved by parliament – including a one-off cash payment to traders if the ruling Barisan Nasional (BN) coalition returns to power.
"NO MORE CHAOS PLEASE"
Businesses in Malaysia are not buying the campaign tactics, saying all they want is political and economic stability in order for confidence to return, regardless of which political coalition forms the next government.
"We just want stability in Malaysia, no more chaos please," said one trader.
However, many are not getting their hopes up as yet, knowing that they face numerous challenges such as a labour crunch, a plunge in the value of the ringgit and rising costs.
Malaysia goes to the polls on Saturday (Nov 19) in one of the most polarised elections.
Three major coalitions – BN, Perikatan Nasional (PN) and Pakatan Harapan (PH) – each with its own strengths and governing experience, are vying for control of the 222 seats in parliament.
Many businesses, still recovering from the effects of the COVID-19 pandemic, are hoping that the next government will extend the debt moratorium to help businesses tie through the next six months to a year.
"The people are still struggling without a doubt after being hit for more than two years, it won't take such a short time to recover, the repercussions are great," said Mr Abdul Malik Abdullah, chairman of the Federation of Malaysian Business Associations.
Stability is a crucial selling point, said political observer Fui Soong, adding that any party promising stability will likely be favoured by both small traders and big companies.
"You want to talk about change, you want to talk about how we are going to transform, where we're going to take the country to. I think that can wait, let's make sure that our economy stabilises," she said.
INSTABILITY AND UNDERLYING CONFLICTS
Still, a stable government might be a stretch even if BN reclaims its dominance in the general election, due to underlying conflicts within its dominant party the United Malays National Organisation (UMNO).
"Whoever becomes prime minister will be doing UMNO party president Ahmad Zahid Hamidi's bidding. How is he going to manage the country? By taking orders from someone that's facing court cases? In short, BN is a no-go," said PN chairman and former prime minister Muhyiddin Yassin.
Mr Ahmad Zahid is currently facing charges of criminal breach of trust, corruption and money laundering.
Speaking to CNA in an interview at his constituency in Bagan Datuk, the UMNO president said he is determined to clear his name.
"Of the 87 charges, I won 47 of them. My lawyers have all the evidence and document to prove that I am clear," Mr Ahmad Zahid said.
"It's political prosecution against me, started by the government of 22 months and continued by the government of 17 months," he added.
Mr Ahmad Zahid was referring to PH, which took power under Dr Mahathir Mohamad following the 2018 election, only to fall apart 22 months later due to infighting. This allowed PN's Mr Muhyiddin to take over leadership for 17 months before he lost majority support in parliament and resigned.
BN returned to power in August last year with Mr Ismail Sabri as Malaysia's third prime minister since that election.
VOTERS FACING POLITICAL FATIGUE
The political turmoil has waned the confidence of many voters for the three main coalitions. 
"All (coalitions) have won before; BN – 62 years, PH – 22 months, PN – 17 months. People were worried about spending, so businesses suffered because people lost confidence," a vendor told CNA.
With more Malay-centric parties joining the fray, further splitting Malay votes for BN and PN, analysts said this might just give multi-racial PH an edge, especially if the voter turnout is high.
While analysts are hesitant to call the outcome of the election, they said that the issue of stability is a vote-changer.
This comes as the country strives to avoid an economic recession next year on the back of global headwinds, including the war in Ukraine, and the persistence of zero-COVID policy by Malaysia's biggest trading partner China.
"Without all this certainty, it is very hard for SMEs (small- and medium-sized enterprises) to invest in growth," said Mr William Ng, chairman of the Small and Medium Enterprises Association of Malaysia.
"What we want to see is an orderly election, one that hopefully will result in a clear mandate by whoever it is that takes over the government next," he said.
He added that the country needs a strong, competent team of ministers and policymakers to lead Malaysia "out of the rut".