Malaysia GE15: Will there be a 'big tent' approach by opposition parties this time?
There has been talk of the country's opposition parties working together to stop the ruling Barisan Nasional coalition from winning the upcoming polls.
SINGAPORE: Political parties looking to form Malaysia's next government after the general election will likely have to forge coalitions – an uphill task given various factors such as race and religion issues, and the possibility of parties hopping between existing alliances.
With so many parties contesting the Nov 19 polls – likely splitting the votes in a number of areas – none of the main coalitions is expected to achieve a simple majority. This means negotiations will have to be conducted before the next government can be formed.
Factored into their decisions would be the stance towards race issues in the country, with the significant Malay vote at play, and political baggage of candidates who had switched parties before the anti-hopping law was introduced.
POSSIBLE PARTNERSHIPS
There has been talk of a "big tent" strategy by the opposition parties to work together and block the ruling Barisan Nasional (BN) from returning to power.
But that seems increasingly unlikely and unnecessary, due to the current polling figures, said political science professor Meredith Weiss from the University at Albany.
"The issue is that the vote could well be so sufficiently split, that we really have multiple different options, some including a bigger tent than others," Dr Weiss, who is also a visiting senior fellow at the S Rajaratnam School of International Studies (RSIS), told CNA Asia First.
Forming coalitions also goes beyond just the number of supporters garnered by the component parties combined.
Dr Lau Zhe Wei, assistant professor at the International Islamic University Malaysia's political science department, said that the supporter base of the three main coalitions are also very different in nature.
The BN and Perikatan Nasional (PN) supporter bases are more loyal towards the party leadership, and more willing to compromise and leave the freedom of decision-making to the coalition's leaders.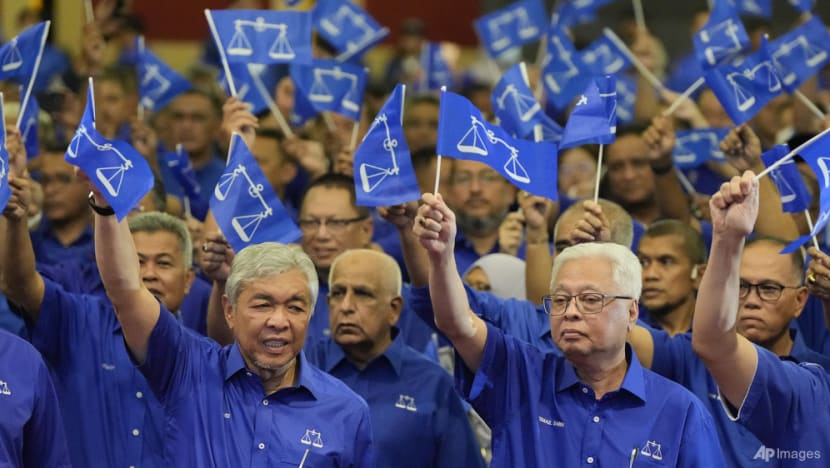 However, Pakatan Harapan (PH) supporters are more vocal and active. "They will demand what they want. Yes, I elect you, but make sure you do things that I want," Dr Lau told CNA's Asia Tonight.
"So it will be a problem for them to simply combine with any other component party or any other coalition," said Dr Lau, who thinks the most likely collaboration would be BN and PN coming together under the name of Malay-Muslim unity.
STRIKING A BALANCE
Dr Lau noted that to win elections in Malaysia, one needs to strike a balance between securing the Malay vote while also pursuing diversity.
"At the end of the day, Malaysia politics still rely a lot on ethnicity or religion, and also on diversity. It sounds a bit contradictory, but basically it's about having both together."
He explained that although the Malay community forms the voting majority, a party would still not have the votes to win enough seats to form the federal government just by courting them alone.
The only occasion in which a component party could form the government on its own was United Malays National Organisation (UMNO) back in 2004, when it won 110 out of 219 seats, said Dr Lau, a result he described as "a huge tsunami".
He added that due to the Malaysian electoral system, the lack of electoral pacts would mean parties heading into contests on their own would lead to the splitting of votes, and further prevent a clear winner from emerging.
The new anti-party hopping law would also not sufficiently address the formation of coalitions.
"Parties themselves can still hop from one coalition to another and that is very much a possibility shortly after the election," said Dr Weiss.
Malaysia had introduced the anti-party hopping law to address political defection, with the law kicking in on Oct 5, five days before Prime Minister Ismail Sabri Yaakob announced that parliament was dissolved.
There are however other considerations such as political baggage. 
For example, UMNO has issued strong statements against aligning with Bersatu in a potential post-election coalition, as they are made of former UMNO members who hopped over.
Dr Weiss said that there could be movements among politicians before the next general election or even before a by-election, such as candidates who were dropped as nominees moving to stand for another party.
There are also coalitions that stood together and compete under one banner, but whose members still have loyalties to their own component parties, such as BN and PH, said Dr Weiss.
"So it could well be that we see a fracturing of the pre-set coalitions. We're already hearing some murmurings about, for instance, that the BN might ally with PAS (Parti Islam Se-Malaysia) but not with Bersatu, and so splitting the Perikatan Nasional."