Ismail Sabri must explain refusal to heed MetMalaysia's advice against holding polls this year: Lim Guan Eng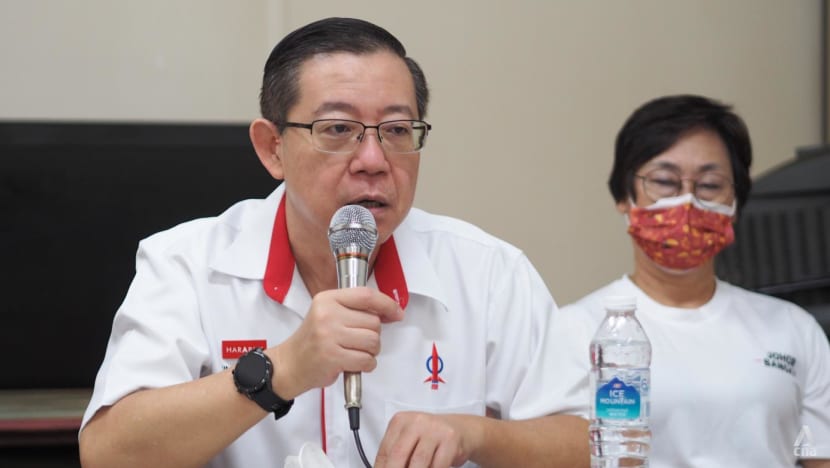 KUALA LUMPUR: Caretaker prime minister Ismail Sabri Yaakob must publicly explain his refusal to heed the Malaysian Meteorological Department's (MetMalaysia) expert advice against holding a general election this year, said Democratic Action Party (DAP) chairman Lim Guan Eng. 
This came after Mr Ismail Sabri said on Sunday (Nov 6) that the Election Commission (EC) has the right to postpone the 15th General Election (GE15) in the event that major floods which prevent people from voting occur. 
Speaking while campaigning in his Bera constituency in Pahang, Mr Ismail Sabri said that the EC would call for meetings with related agencies to look for possible alternatives to proceeding with the election process in the event of floods.
"It is up to the EC to decide if it wants to stop the election," he said as quoted by the Star. 
"If major floods occur to the extent of preventing people from going out (to vote), then the EC will see if there are alternatives," he added. 
In his statement on Monday, Mr Lim said that Mr Ismail Sabri had no sense of shame for putting the country and the people through unnecessary suffering and endangering the people's safety,  merely to satisfy his party's greed for political advantage by calling for an early general election. 
Mr Lim added that Mr Ismail Sabri could have heeded MetMalaysia's advice against holding early polls this year, so that resources could be fully focused on flood crisis management. 
"There would be no necessity to waste time, energy and resources on the general election but focus fully on flood crisis management to avoid possible loss of lives and property," he said. 
Mr Lim emphasised that the potential floods is the reason why Pakatan Harapan (PH) decided not to dissolve the three state assemblies under its rule: Penang, Selangor and Negeri Sembilan, for the state polls to take place concurrently with the federal election.  
In GE15, only the Barisan Nasional (BN)-led states of Perlis, Pahang, and Perak were dissolved for the federal and state elections to be held simultaneously.  
In his statement, Mr Lim also criticised Mr Ismail Sabri's failure to manage the economy and control inflation.
"Caretaker Prime Minister Ismail Sabri Yaakob is a failed prime minister who heads a failed government, particularly in its primary duty of managing the economy and containing the rising cost of living," he said. 
"The people must punish and reject both BN and PN on November 19 for being a failed prime minister and government," he added, referring to the BN and Perikatan Nasional (PN) coalition government led by Mr Ismail Sabri. 
The calls for an early general election by BN, especially by United Malays National Organisation's (UMNO) president Ahmad Zahid Hamidi, have been severely criticised by the opposition as well as Mr Ismail Sabri's own Cabinet members due to flood warnings from MetMalaysia. 
Mr Ismail Sabri then explained that he opted to dissolve parliament in order to prevent disharmony in the Cabinet, after PN ministers wrote to the king to voice their objections over holding polls during the monsoon season this year.
MetMalaysia had forecast that the northeast monsoon season would begin from last Saturday and to end till March next year, which could result in flooding in low-lying and riverine areas.
In a statement on Friday, it said that thunderstorms could be expected in both Peninsular Malaysia as well as in Sabah and Sarawak.
On Monday evening, MetMalaysia issued a continuous rain warning alert for Kelantan, Terengganu, Pahang and Johor from Tuesday until Friday.
It said that the affected areas are the whole of Kelantan and Terengganu; Kuantan, Pekan and Rompin in Pahang; and Mersing, Kota Tinggi and Johor Bahru in Johor.
In GE15, more than 21 million voters are expected to cast their ballots on Polling Day on Nov 19 to elect 222 new members of the Lower House of parliament. Early voting is fixed on Nov 15.