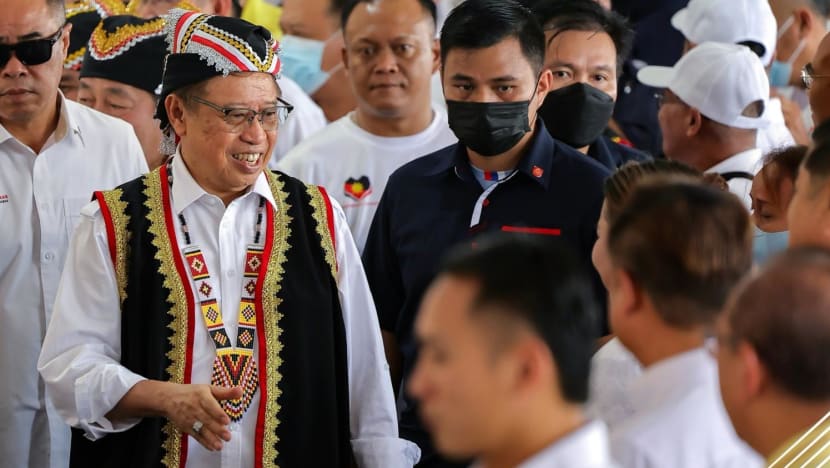 KUCHING: Gabungan Parti Sarawak (GPS) needs to win big in Malaysia's 15th General Election (GE15) to ensure that the state has a strong voice in the federal parliament, said coalition chairman and Sarawak premier Abang Johari Abang Openg.
According to Mr Abang Johari, GPS does not have political affiliation with any parties from Peninsular Malaysia and thus needs to have a strong voice in dealing with the federal government.
To negotiate with Putrajaya, "our voice must be strong," he was quoted as saying by the Borneo Post at an event on Wednesday (Nov 16). 
"We in GPS are already on our own; we have no political affiliation with people over there,"  added Mr Abang Johari.  
He pointed out that with only 31 parliamentary seats in Sarawak, GPS cannot form the federal government even if it wins all the seats.
However, he said, no single party or coalition in the peninsula would likely win more than half of the 222 parliamentary seats needed to form the federal government. They will thus need to rely on GPS for support.
"So, whoever wants to work with GPS, they must know what to do for Sarawak.
"Because of that, we must send all the 31 GPS candidates to parliament. When we are strong, we can continue to fight for Sarawak's rights," stressed Mr Abang Johari.
He added that it was because GPS had a strong voice in parliament that they were able to amend and gazette changes to the Malaysian Constitution that include the recognition of the rights of Sarawakians and Sabahans. 
He said that more things still need to be fought for, including recognising several state and technical departments to implement federal projects in Sarawak, and giving its head of state the right to appoint judicial commissioners.
"After the last general election, we left BN (Barisan Nasional) and we have agreed that the four local-based parties (must) fight on their own feet under GPS. We all believe that we must struggle based on our spirit for Sarawak First," said Mr Abang Johari. 
GPS is a four-party coalition comprising former BN's component parties: Parti Pesaka Bumiputera Bersatu (PBB), Sarawak United People's Party (SUPP), Parti Rakyat Sarawak (PRS) and Progressive Democratic Party (PDP).
In a separate television interview on Wednesday evening, Mr Abang Johari spoke about the need to have a stable federal government that can efficiently discharge its duties for the people. 
He said that with the growing concern of worsening economic conditions due to the recession, the country needs to have a strong government to overcome the challenges. 
Mr Abang Johari, who is also PBB president, has been leading GPS since its formation following the defeat of BN in the 2018 May general election. 
GPS did not join the then Pakatan Harapan (PH) government, but following the collapse of the government in Feb 2020, GPS then gave its support to the Perikatan Nasional (PN) administration under former prime minister Muhyiddin Yassin. 
However, under an agreement with PN, GPS would not join the coalition but remain as a partner only. 
More than 21 million eligible voters in Peninsular Malaysia and the two Borneo states of Sabah and Sarawak will be casting their ballots on Polling Day on Nov 19.