BN hopes to do well, likely to work with Sabah, Sarawak parties after Malaysia GE15: Ismail Sabri
Caretaker prime minister Ismail Sabri Yaakob said that political parties in Sabah and Sarawak cannot be left out in the formation of the federal government after Malaysia's 15th General Election.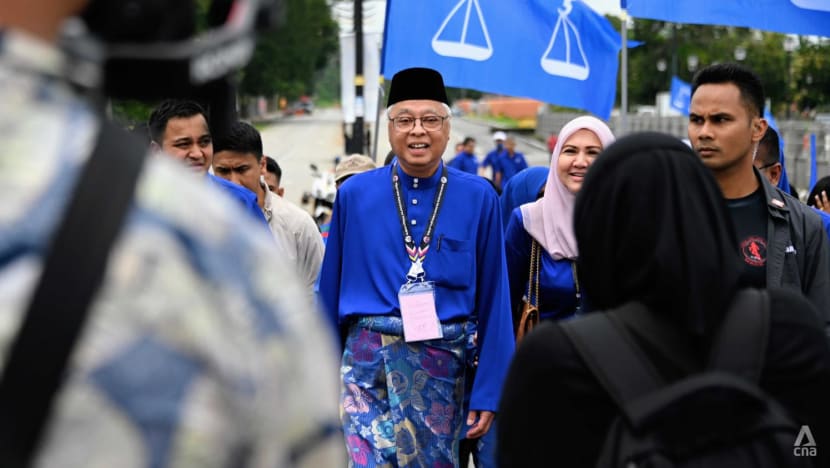 KUALA LUMPUR: Caretaker prime minister Ismail Sabri Yaakob said that Barisan Nasional (BN) hopes to do well enough to be in a dominant position in any future coalition government after the 15th General Election (GE15). 
In a special televised interview on Tuesday evening (Nov 15), Mr Ismail Sabri noted that BN is competing in 178 seats in the election, adding that it must come out dominant in GE15.
He said that if BN gets 80 to 90 seats then it will be easier for other parties to join it in forming a new coalition government.
"Of course, if you ask us today we are sure we will cross 112, but if that doesn't happen and there is no choice but for us to form a mixed government, then we would like to lead it," he said as quoted as saying by Free Malaysia Today (FMT).
In GE15, where Polling Day is set to take place on Nov 19, 222 seats of the lower house of parliament will be contested by parties and independent candidates.
Coalitions and parties will need to gain at least 112 seats in order to be able to form a new government.
In the interview, Mr Ismail Sabri said that most other countries are led by coalition governments and Malaysia must prepare for an era where no one group is dominant.
"I believe our country is moving towards the system of other developed countries, in which you rarely have one ruling party for many years.
"So we are also ready, if we cannot cross 112, we are ready to form a mixed government," said Mr Ismail Sabri.
He said that it was still too early to decide which parties BN might work with, but added that it was very likely that they would invite Sarawak's Gabungan Parti Sarawak (GPS) parties as well as Sabah's parties under the Gerakan Rakyat Sabah (GRS) group.
He added that the political parties in Sabah and Sarawak cannot be left out in the formation of the federal government after GE15.
 
"We are also ready to cooperate and will invite GRS and BN Sabah, because for me no matter how many seats we get, 120 to 130, we must have parties from Sabah and Sarawak. They cannot be left out in the coalition to form the federal government," Bernama quoted Mr Ismail Sabri as saying.
He said that through the recently tabled Budget 2023, the BN government will focus on the development of Sabah and Sarawak, especially in infrastructure development.
"As we have promised, we will treat Sabah and Sarawak the same way as we do the peninsula. In fact, in terms of focusing on infrastructure development (and the economy) and so on, we will prioritise and give advantages to Sabah and Sarawak," Bernama quoted Mr Ismail Sabri as saying.
He said that in Budget 2023, Sabah and Sarawak have been allocated development projects worth about RM6.3 billion (US$1.4 billion) and RM5.4 billion, respectively.
The budget, which was tabled on Oct 7, prioritises the development of rural infrastructure, including roads in villages, in addition to continuing efforts to complete major projects like the Pan Borneo Highway, said Mr Ismail Sabri. 
Also included in Budget 2023 is the implementation of water, electricity, road, health and education infrastructure projects.
CAN WORK WITH ANY WINNING COALITION: GPS 
In Kuching, Sarawak deputy premier Dr Sim Kui Hian said that GPS is interested in forming a stable federal government with the coalition that wins the most seats and will not work exclusively with the United Malays National Organisation (UMNO) only.
He was responding to a claim by Democratic Action Party (DAP) that GPS will only work with UMNO after GE15.
"GPS decided to go on our own for this GE15 because we want to see who else gets the most votes after the election to form a government," said Dr Sim as quoted by the Borneo Post.
He said that GPS never said that it will only work with UMNO after GE15.
GPS is a coalition comprising Parti Pesaka Bumiputera Bersatu (PBB), Sarawak United People's Party (SUPP), Parti Rakyat Sarawak (PRS) and Progressive Democratic Party (PDP).
They are former component parties of BN. In June 2018, they announced their exit from BN after the latter's loss in GE14 to the Pakatan Harapan (PH) coalition.
Dr Sim said that GPS needs to wait and see which coalition wins the most seats because of the current political situation in Peninsular Malaysia where there are many political coalitions.
 
"The fact that a few coalitions are offering Sarawak the deputy prime minister post before GE15 shows that they really want our support. Hence, we must wait until GE15 is over, then we decide who to work with," he added.
According to him, if the federal government is stable, GPS can do a lot and the government can solve a lot of pressing issues in the country.
"I hope that voters in Sarawak will get it clear that we are not necessarily working with UMNO after the GE15. Anyone can work with us if we feel that a stable federal government can be formed with them," said Dr Sim.