First week in office: Malaysia PM Ismail Sabri signals policy continuity, truce with opposition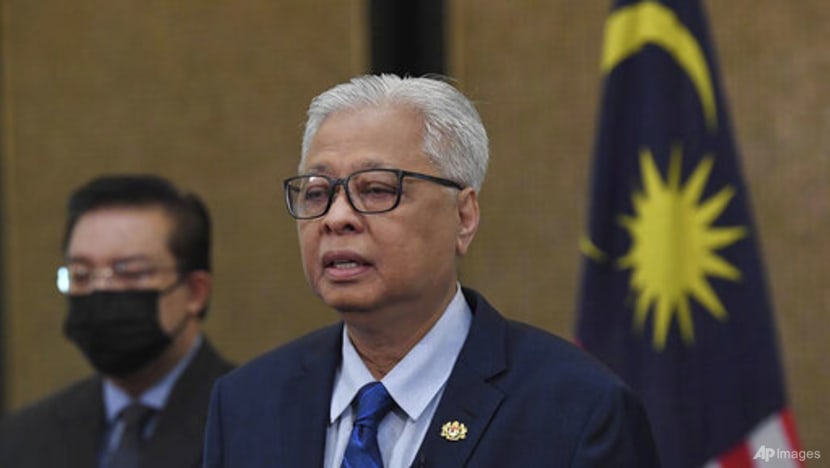 KUALA LUMPUR: It has been a week since Mr Ismail Sabri Yaakob was sworn in as Malaysia's ninth prime minister last Saturday (Aug 21).
In his first televised address the next day, he called for bipartisan cooperation in Malaysia's fight against the COVID-19 pandemic, as well as the country's economic recovery. 
The vice president of United Malays National Organisation (UMNO) also touted the "Malaysian family" concept to promote inclusivity across the religion, race and ethnic boundaries. 
Shortly after clocking into the office in Putrajaya on Monday, he made a working trip north to visit flood victims in Kedah. 
On Wednesday, he struck a symbolic deal with the opposition Pakatan Harapan (PH) coalition in finding common ground for cooperation. 
In announcing his Cabinet line-up on Friday, he appeared to prioritise policy continuity and retained quite a few political office holders from the previous government. He also gave each ministry 100 days to prove their performance. 
Mr Ismail Sabri's rise to power came amid political turbulence in Putrajaya. Formerly a senior minister in the Perikatan Nasional (PN) government led by Mr Muhyiddin Yassin, he was promoted to deputy prime minister on Jul 7 when UMNO was threatening to pull out of PN. 
After Mr Muhyiddin resigned, slightly more than half of the 220 MPs in Malaysia named Mr Ismail Sabri as their candidate of choice to be the next prime minister. 
With 114 statutory declarations backing him, the coveted post is back in the grip of UMNO, after two years of premiership under PH from 2018 to 2020 and subsequently 18 months under PN.  
The current government is made up of MPs from Barisan Nasional (BN, comprising UMNO, Malaysia Chinese Association, Malaysian Indian Congress and Parti Bersatu Rakyat Sabah), PN (Parti Pribumi Bersatu Malaysia, Parti Islam Se-Malaysia and Parti Solidariti Tanah Airku Sabah), Gabungan Parti Sarawak and Parti Bersatu Sabah.
POLITICAL TRUCE
In his Aug 22 televised address to the country, Mr Ismail Sabri extended an invitation to the opposition leaders to be part of two government bodies, namely the National Recovery Council and Special Committee on COVID-19. 
The offer was in sync with King Al-Sultan Abdullah Ri'ayatuddin Al-Mustafa Billah Shah's decree for the politicians to work as one team and set aside the "winner takes all" mentality. 
Later on Wednesday, Mr Ismail Sabri met with PH chiefs, namely Leader of the Opposition Anwar Ibrahim who heads Parti Keadilan Rakyat (PKR), Democratic Action Party (DAP) secretary-general Lim Guan Eng and Parti Amanah Negara (Amanah) president Mohamed Sabu.
The meeting appeared to have been a success, as the four leaders later issued a joint statement stating that both sides would focus on the people's interests and finding common points. The statement also emphasised on strengthening the institution of parliament and recognising the importance of judicial independence as well as institutional reforms. 
In return, Mr Anwar told the press later that as long as the new government would focus on people-centric policies, the opposition would not "complicate" Mr Ismail Sabri's upcoming motion of confidence to prove his legitimacy. The confidence vote was a condition set by the king.
For political scientist Prof Ahmad Martadha Mohamed in Universiti Utara Malaysia, the olive branch and Wednesday meeting were a good outcome, as some opposition MPs had previously voiced reservations on whether their inclusion in the two bodies were just to make up the numbers, or to rubber-stamp legitimacy.
"You do have opposition MPs who are qualified and merit their appointment, like former health minister (Dr Dzulkefly Ahmad) and economic experts particularly from DAP and PKR who have worked in the Finance Ministry or other capacities related to economic development," he said. 
Mr Ismail Sabri's olive branch was probably sincere as it was offered on the back of a royal decree, the academic said. 
"I'm sure at least, these committees will have a greater voice in policy making in both economic recovery and COVID-19 management, meaning they won't be just rubber stamps. As long as the committees have substantial voice, I'm sure they'll welcome the invitation," Prof Ahmad Martadha noted.
However, Dr Oh Ei Sun, senior fellow with the Singapore Institute of International Affairs, worried that the "olive branch" might be a non-starter on both sides, as the new prime minister could not include opposition MPs in his Cabinet.
The two bodies could merely put forth recommendations, which might or might not be adopted by the government, he added. 
Members in these committees might not be able to divulge their objections and suggestions if they want to openly criticise the government for not accepting their proposals, Dr Oh added. 
"The purpose of joining is to jolt them into action. Else why join?" he said.
"If the government's policy fails, you will also shoulder the burden if blame-shifting occurs because you're now part of the government's set-up, even if it's a secondary institution."
FAMILIAR LOOKING CABINET
The Cabinet line-up unveiled by Mr Ismail Sabri on Friday closely resembles the previous Cabinet under Mr Muhyiddin. Some names were dropped or reshuffled but most were familiar faces. 
One notable similarity was the absence of a deputy prime minister. The position had been vacant in the early days of Mr Muhyiddin's administration, before Mr Ismail Sabri was promoted. 
Both Cabinets also have four senior ministers.   
Mr Mohamed Azmin Ali from Parti Pribumi Bersatu Malaysia (Bersatu) has been retained as minister of international trade and industry, while Dr Mohd Radzi Md Jidin, a Bersatu senator, returned as education minister.
Mr Fadillah Yusof from Gabungan Parti Sarawak is named senior minister and works minister again. Mr Hishamuddin Hussein from UMNO, the former foreign affairs minister who was later promoted to senior minister, is now holding the defence portfolio.  
Senator Tengku Zafrul Tengku Abdul Aziz will serve as finance minister again, while former communications and multimedia minister Saifuddin Abdullah has now returned to the Foreign Affairs Ministry, which he helmed during the PH administration. 
One move which has garnered approval was switching Mr Khairy Jamaluddin, the former minister of science, technology and innovation, to the health portfolio. 
"KJ's move to health is a bright spot, because he was probably the only minister who was seen as performing quite well, hands-on, and the Health MInistry is seen as the most critical ministry at this juncture," Dr Oh noted. 
"So with him helming the ministry and hopefully, still driving the vaccination effort, we can get out of this pandemic sooner." 
Comparing the two Cabinets, Dr Oh said the current line-up comprises largely the same faces and composition, and even its size is similar to the previous one. 
"I think Ismail Sabri does not want to rock the boat, so he largely keeps the same crew, just minor reshuffles in their various functions in terms of ministerial portfolios," he added.  
Dr Oh voiced his doubts on whether the Cabinet could work more effectively on the twin fronts of Malaysia's pandemic management and economic recovery. 
"How do you expect the same group of people to come up with newer, and more effective solutions?" he said. 
For Prof Ahmad Martadha, the number of familiar names in the Cabinet meant it would be easier for the government of the day to implement policies which had been paused due to the fall of the previous government. 
"It's important for him to ensure the ministers and deputy ministers can perform their jobs well, and it's easier, because he's worked with them before," the academic said. 
Several influential political veterans who are former ministers also made it into the new line-up, such as Mr Noh Omar and Mr Mahdzir Khalid from UMNO. Prof Ahmad Martadha believed they could buttress support for the prime minister. 
The absence of a deputy prime minister, he said, was a good move and an expected one to prevent further infighting between potential candidates. 
"WIth no deputy prime minister appointee, that helps calm down the government for the moment, and also prevents unhappiness among the ruling coalition's members," Prof Ahmad Martadha said. 
With less than two years to govern before the next election is due - barring any further turmoil - he said the new prime minister needed stability, continuity and trust to strengthen the government of the day. 
WORKING VISIT TO KEDAH
During his trip to the Kedah district of Yan to check on the aftermath of floods, Mr Ismail Sabri announced an allocation of RM78 million (US$18.61 million) for infrastructure repair and victim aid. 
"The visit to Yan was quite significant, as a thousand houses and families were affected by the massive flash floods. Even the king sent condolences to the victims," Prof Ahmad Martadha said.
Had the disaster occurred under the previous administration, the then-prime minister would likely have had to make a visit given the severity of the situation, he added. 
However, a massive billboard welcoming the prime minister's arrival at the disaster site and the huge entourage have prompted some criticism and memes from ordinary Malaysians and the opposition.
"Unfortunately, the visit wasn't perceived very positively because some people took advantage of the visit and put up the large signboard and added on to the motorcade," Prof Ahmad Martadha said.
He said it was very likely that local UMNO grassroots were riding on the fact that UMNO is now holding the prime minister's post again after over three years of absence. The party had previously ruled the country for over 60 years as the main party in the BN coalition. 
"The party isn't exactly back in charge, it's not alone in government but part of a coalition, but the prime minister is from UMNO. And they joined the popularity bandwagon, it's sheer excitement because now they are 'back in power,'" Prof Ahmad Martadha added. 
Dr Oh, nonetheless, felt that one should not read too much into the PM's first working visit.
"It looks like an opportunistic one, just that he has nothing better to do during his first week. It's not as if he could unveil a new policy in combatting the pandemic, or reviving the economy," he pointed out. 
"So might as well take the opportunity for this trip to show that you care," he added.