Commentary: A new prime minister appointed but Malaysia politics still on knife's edge
Ismail Sabri must hold together a fractious political coalition and shore up confidence from a public weary with the COVID-19 fight, says RSIS' Dr Johan Saravanamuttu.
SINGAPORE: Malaysia's king announced on Friday (Aug 20) that United Malays National Organisation (UMNO) vice-president Ismail Sabri will be Malaysia's new prime minister.
Ismail's unexpected ascendancy to Malaysia's highest office occurred after a series of political machinations which saw the former defence minister gain the support of some 114 parliamentarians.
Appointed deputy prime minister just weeks ago, he beat opposition leader Anwar Ibrahim to the finishing line in a replay of the Sheraton move of February 2020 when Muhyiddin Yassin was chosen to be premier under a Perikatan Nasional (PN) government after the Pakatan Harapan (PH) coalition unravelled.
And yet, Muhyiddin himself resigned after only 18 months at the helm.
SLIPPERY SLOPE POLITICS REVOLVING AROUND UNMO
The reality is Malaysia entered a slippery period of power-sharing politics which arguably began after UMNO's collapse in the 2018 General Election (GE14).
But one thing has been constant – Malaysian politics continue to revolve around UMNO.
To some extent, PH only won in 2018 because UMNO splintered with former party stalwarts Mahathir and Muhyiddin joining forces to form the PH, together with the Democratic Action Party and Parti Keadilan Rakyat (PKR). They crossed the finishing line to oust the Barisan Nasional after it has held onto power for about six decades.
Even Muhyiddin's downfall happened because the UMNO "court cluster" of parliamentarians, namely those implicated in ongoing corruption charges, and their allies withdrew their support.
Muhyddin's last-ditch appointments of Ismail Sabri as deputy prime minister and Hishammuddin Hussein as senior minister could not stop the pull-out of 15 UMNO parliamentarians from the PN coalition.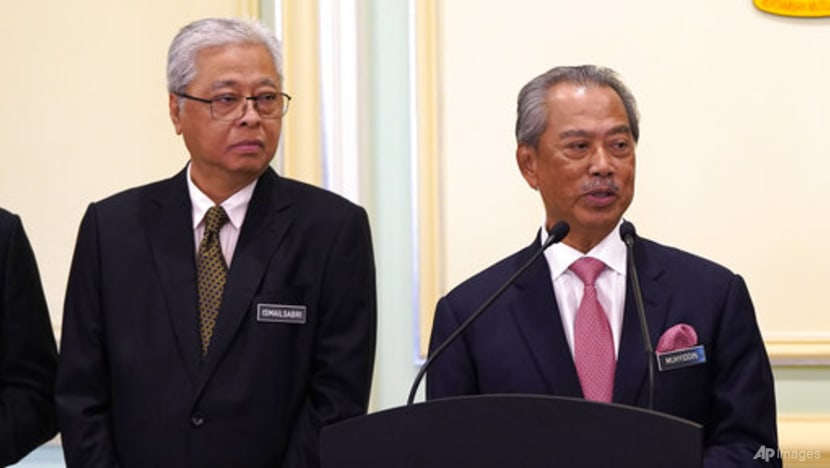 WILL POLITICAL STABILITY BE RESTORED?
But now that an UMNO leader has taken the top job, could this lead to some level of political stability?
Will Ismail's appointment see a real change to Malaysia's current fractious politics? Or is this just another round of political musical chairs?
These are questions that can only be answered in the months ahead. For now, the new prime minister must first be confirmed by Parliament through a confidence vote in the coming session of Parliament which sits on Sep 6, as decreed by the king.
Ismail meanwhile has the difficult and unenviable task of selecting a new Cabinet to deal with a fast-deteriorating pandemic situation and the dire economic crisis.
And yet, horse-trading and behind-the-scenes jostling for Cabinet posts have already begun.
Bersatu, with the largest slice of 31 votes, are hinting that Muhyiddin should become a "minister mentor" or something similar. Former senior minister Azmin Ali who commands an important faction of Bersatu that defected from PKR will also want a role.
Ismail must also manage Bersatu's expressed condition to disqualify candidates with outstanding trial cases from Cabinet positions.
The court cluster of Ismail's party would minimally push for their corruption charges to be reduced or even quashed.
The GPS group of parties from Sarawak will also want its pound of flesh. They may demand the position of deputy prime minister when there was much talk of GPS initially supporting PH and Anwar for the top job.
Ismail must play his cards right for he also faces the potential wrath of a Malaysian public who have suffered much under the government's mismanagement of the pandemic. He knows there is an online petition rejecting him as prime minister with allegedly more than 350,000 Malaysian signatures.
His early move to invite the opposition to play a role in the National Recovery Council seeking to build bridges and co-opt bipartisan support is welcomed.
The key issue he will have to grapple with is whether he can fix UMNO's broken politics while not appearing to be genuflecting to president Zahid Hamidi and former president Najib Razak, both of whom face egregious corruption charges.
FRAGMENTATION OF MALAY PARTIES, PRESSURES FROM EAST MALAYSIA
In the medium term, coalition politics in Malaysia have become increasingly fluid after the Sheraton move even as Malay political dominance with power-sharing has remained the order of the day.
With the fragmentation of Malay parties, the splintering of peninsular non-Malay parties and rise of Sarawak and Sabah parties, finding a minimum winning coalition to govern has not been easy.
The PN government was a patchwork of three Malay-based parties, Bersatu, PAS and UMNO with the kingmaker being the 18 MPs of Sarawak parties, the GPS. This gave PN a slim parliamentary majority of about four votes.
East Malaysian politicians today have persisted in calling for the federal government to resolve the unsettled issues of the Malaysia Agreement (MA63), and grant Sarawak and Sabah status as entities with more autonomy on par with Peninsula Malaysia.
ISEAS-Yusof Ishak Institute's Dr Francis Hutchinson and Singapore Institute of International Affairs' Dr Oh Ei Sun tackle questions on UMNO, Ismail Sabri's coalition, cabinet picks and more:
Malaysia's political terrain of multi-party politics and fluid party alignments where several third-parties can become kingmakers puts the country on knife's edge. To compound matters, party hopping (or "frogging") has also become an endemic feature of politics.
In short, stable two-coalition politics, which arguably saw the co-existence of two strong coalitions, the PH and BN, after the 2018 general election may be a thing of the past.
Any modicum of political stability will not return to Malaysia until the political fog clears after a general election. This is set for 2023 but could be held earlier if the current coalition so decides.
Johan Saravanamuttu is Professor Emeritus of Universiti Sains Malaysia (USM) and Adjunct Senior Fellow at S Rajaratnam School of International Studies, Singapore.