PM Ismail Sabri calls for bipartisan cooperation in national recovery for the sake of 'Malaysian family'
KUALA LUMPUR: Malaysia's Prime Minister Ismail Sabri Yaakob called for MPs from both sides of the political divide to unite in national recovery efforts for the sake of the "Malaysian family". 
Speaking during his first televised address to the country on Sunday (Aug 22), a day after he was officially sworn in as prime minister, Mr Ismail Sabri offered opposition politicians the opportunity to be part of the National Recovery Council and the Special Committee on COVID-19.
"I would like to urge all members of the House of Representatives, whether within or outside of the government, to work together to help our nation recover. Let us open our minds and hearts to forget our differences by working together. 
"We need to find a common ground and move towards building a consensus for the security and safety of our family, Malaysian family," he said. 
He picked the concept of "Malaysian family" as it is inclusive in nature and cuts across boundaries of religion, race and ethnic, Mr Ismail Sabri added. "The concept of Malaysian family is akin to the strength of a nation bound together by such values." 
Heeding the king's call for the politicians to set aside their differences, Mr Ismail Sabri invited opposition leaders to be part of the National Recovery Council and the Special Committee on COVID-19.
The United Malays National Organisation (UMNO) vice president said the political turmoil besieging the country has distressed the public.
"Therefore, it is imperative that political stability is swiftly achieved through togetherness, and this includes cross-party cooperation.
"Therefore, I would like to offer the opportunity to the leadership of the
Opposition to be part of the National Recovery Council and the Special Committee on COVID-19," he said. 
Mr Ismail Sabri also noted that Malaysia has seen two governments since the last general election, and that such "swift changes" within a short period of time was detrimental to the people and country. 
"Thus, let us move forward. We must stamp out this grab for political power. Let us (work) as one big family - comprising civil servants, the private sector workers and those self-employed - in repairing, healing and recovering our nation," he said. 
"NO ONE WILL BE LEFT BEHIND" 
In his speech, Mr Ismail Sabri pledged comprehensive efforts to bring down the number of COVID-19 cases in the country.
Malaysia has so far recorded more than 1.5 million COVID-19 cases and around 14,000 deaths. As of Saturday, 54.3 per cent of the adult population have been fully vaccinated. 
The prime minister stressed that the government will further strengthen initiatives to increase the coverage of the national COVID-19 immnuisation programme. 
He expressed optimism that with the success of the programme, Malaysians can look forward to resuming activities halted due to COVID-19, including returning to their hometowns and travelling domestically. 
"Youngsters can once again enjoy recreational activities, return to their higher learning institutions and most importantly, our children can return to school," he added. 
Mr Ismail Sabri noted that this is "not just an empty dream", citing how the daily cases in the federal territory of Labuan has dropped to single digits for seven consecutive days after the vaccination rate of its adult population reached 90 per cent. 
"This does not mean that we will be completely free from the threat of COVID-19. Rather, when we have reached herd immunity, the virus will not pose a serious threat as it (does) today," he said.
Mr Ismail Sabri also promised to reduce long-term negative economic impact through escalating the purchasing power of domestic consumers and strengthening the private sector's roles as growth drivers. 
"Our focus will be on Malaysians who have lost their jobs and their only source of income, middle-income Malaysians, small- and medium-size enterprises as well as industrial sectors including domestic tourism," he said. 
"I will personally ensure that no one will be left behind or neglected, regardless of race, religion and ethnic differences," he added.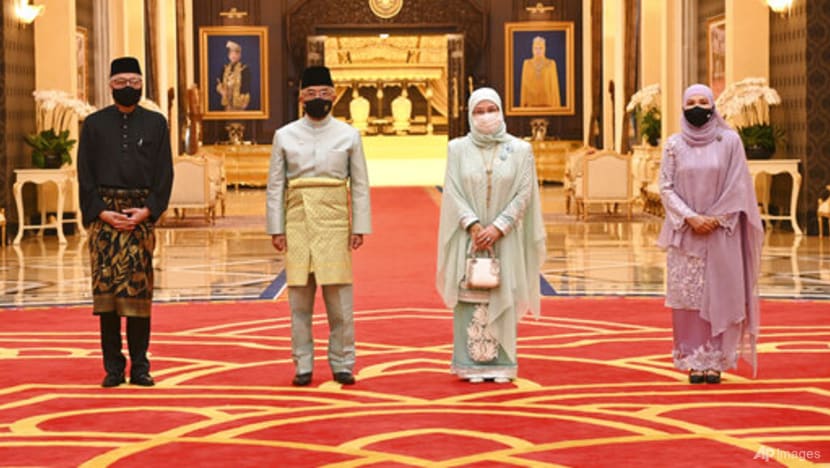 Mr Ismail Sabri was most recently deputy prime minister and defence minister in the Perikatan Nasional (PN) government led by Mr Muhyiddin Yassin, who resigned on Monday after losing majority support in the Lower House.
A number of UMNO MPs, led by party president Ahmad Zahid Hamidi, had withdrawn their support for Mr Muhyiddin. The PN government was formed only about 18 months ago in March 2020 after a power tussle caused the Pakatan Harapan government to collapse.  
On Tuesday, Malaysia's 220 MPs were asked to submit a statutory declaration stating their preferred prime minister candidate to the palace.
A total of 114 MPs picked Mr Ismail Sabri, giving him a simple majority.
He was supported by 50 MPs from PN and 41 MPs from Barisan Nasional. Additionally, 18 lawmakers from Gabungan Parti Sarawak, one from Parti Bersatu Sabah and four independent lawmakers also backed Mr Ismail Sabri.
Another UMNO politician who was said to be in the running to be nominated by the party as its prime minister candidate was veteran lawmaker Tengku Razaleigh Hamzah. He abstained from backing Mr Ismail Sabri.
The opposition's candidate for prime minister, Mr Anwar Ibrahim, was backed by 105 lawmakers. He has urged his supporters to accept Mr Ismail Sabri's appointment.
On Thursday, Mr Muhyiddin said PN's support for Mr Ismail Sabri was "conditional" and he must ensure that his Cabinet appointees are those who have integrity, trustworthy and free from court cases. 
King Al-Sultan Abdullah Ri'ayatuddin Al-Mustafa Billah Shah had earlier decreed for the MP appointed as the new prime minister to seek a confidence vote in the parliament as soon as possible. 
During the royal audience with the political leaders on Tuesday, the king and his deputy Sultan Nazrin Muizzuddin Shah had expressed their views that all MPs should strive to create unity among all political parties and focus on solving current issues.
The king also reminded leaders that to ensure harmony, MPs who win should reach out to cooperate with those who have failed, and all parties should be ready to cooperate in one team.
"In other words, the winner does not win everything while the loser does not lose everything," a statement from the palace on Wednesday read.