Authorities in Johor vow 'strict action' against operators who sell RON95 petrol to foreign-registered vehicles
JOHOR BAHRU: The Malaysian Domestic Trade and Consumer Affairs Ministry's division in Johor has pledged to step up enforcement against operators who sell RON95 petrol to foreign-registered vehicles in the state. 
In response to CNA's queries on Monday (Apr 4), the division's director Mohd Hairul Anuar Bohro said that his officers will continue to be deployed on the ground to ensure that drivers and operators adhere to the regulation. 
"Ministry enforcement officers in the state … will continuously monitor and do checks to ensure that there are no illegal sales of controlled items, especially petrol and diesel, in the state of Johor," he said, adding that the operation involves some 200 people. 
"Strict action will be taken if there are businesses which commit offences relating to controlled goods under the 1961 Control of Supplies Act," Mr Mohd Hairul Anuar added. 
Malaysia has imposed a ban prohibiting the sale of RON95 petrol to foreign-registered vehicles since Aug 1, 2010. RON95 is subsidised for locals. 
Foreign-registered vehicles can refuel with RON97 petrol. These vehicles are also allowed to refuel with diesel, but this is limited to once a day with a 20-litre limit at any petrol stations within 25km of the Malaysia-Singapore land borders. 
Following the reopening of the land borders between Johor and Singapore on Apr 1, a photo of an individual refuelling a Singapore-registered car with RON95 petrol at a kiosk in Johor Bahru went viral on social media. 
Sharing the photo on his Facebook, former prime minister Najib Razak wrote that allowing a foreign-registered car to fill up 40 litres of RON95 would cause the government to lose RM68 (S$21.90). 
For the week of Mar 31 to Apr 6, RON95 is sold at RM2.05 per litre while the retail price of RON97 is RM3.91 per litre. Diesel is available at RM2.15 per litre. 
Mr Mohd Hairul Anuar told CNA that he was aware that the photo had gone viral on social media and that his division took "initiative and proactive action" to monitor petrol kiosks, especially those located near the borders. 
"Based on reports from our monitoring and checks done from station to station by enforcement officers, it's clear that there was no illegal activity as what was reported, and the sales of petrol were done satisfactorily," he added.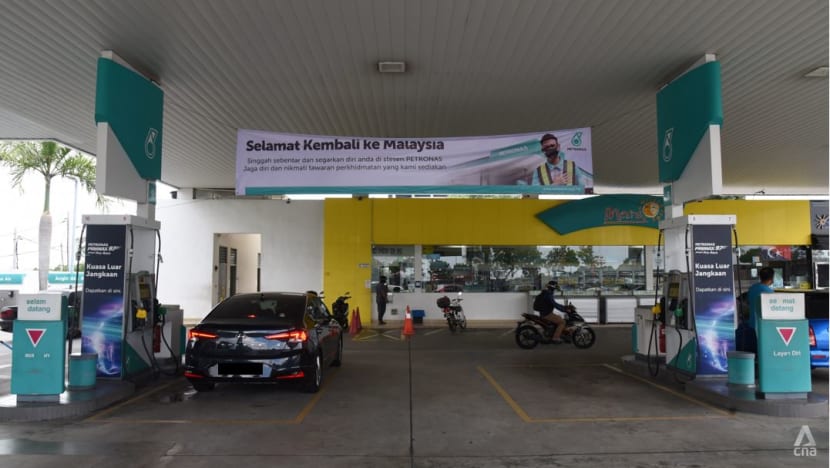 CNA visited four petrol kiosks in Johor Bahru near the Woodlands Causeway on Monday afternoon and observed that no Singapore-registered cars were refuelling with the RON95 petrol. 
At a Shell station along Jalan Lingkaran Dalam, a pump attendant was seen walking around the pumps to ensure that drivers with foreign-registered cars were not purchasing RON95. 
"Only a small number needed me to remind them, but most of the drivers are aware of the law," said the Shell employee who declined to be identified. 
At a Petronas station at Jalan Yahya Awal, there were signs plastered at each pump, outlining that the purchase of RON95 petrol by foreign-registered vehicles is "strictly prohibited". 
On Sunday afternoon, Domestic Trade and Consumer Affairs Minister Alexander Nanta Linggi warned that petrol station operators caught selling subsidised RON95 petrol to foreign-registered vehicles could be fined up to RM2 million (S$643,000).
In a statement, the minister also ordered all state ministry offices bordering Singapore and Thailand "to intensify monitoring and inspections as well as to take stern action against any party" that violated the law. 
Under the Control of Supplies Act 1961 and Control of Supplies Regulations 1974, individuals can be fined up to RM1 million or jailed three years, or both, if found guilty, while entities and companies can be fined a maximum of RM2 million.