Driving from Singapore to JB: Hassle-free and no vaccination checks, but Touch 'n Go cards sold out
Four CNA journalists made the trip from Singapore to Malaysia this morning by car, initially fearing long queues and struggles with the MySejahtera app. They discovered these concerns were not warranted.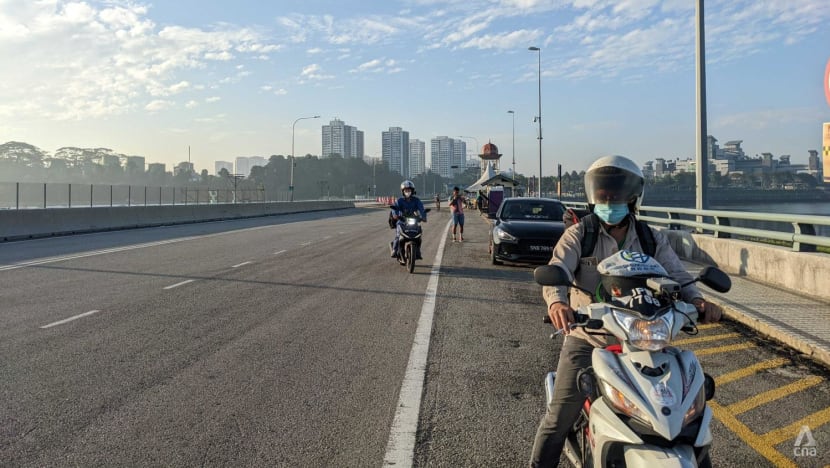 JOHOR BAHRU: At 8am on Friday (Apr 1), the situation at the Causeway was a starkly different picture from the night before.
Mere hours earlier at midnight, snaking lines of cars and motorcycles filled the Woodlands entrance of the bridge, their drivers and riders honking and waving as Singapore and Malaysia fully reopened land borders for the first time in two years since COVID-19 struck.
But in the morning, there were no lines to enter Woodlands Checkpoint. 
CNA journalists entered by private car between 6am to 8am. After two years of border restrictions, getting onto the Causeway felt surreal. This was particularly because traffic had been so much smoother than in any of our pre-pandemic trips. 
At Singapore's borders, clearance processes weren't too different from the past: Passports were digitally stamped and toll charges were paid using a CashCard. But today, they only took a matter of minutes.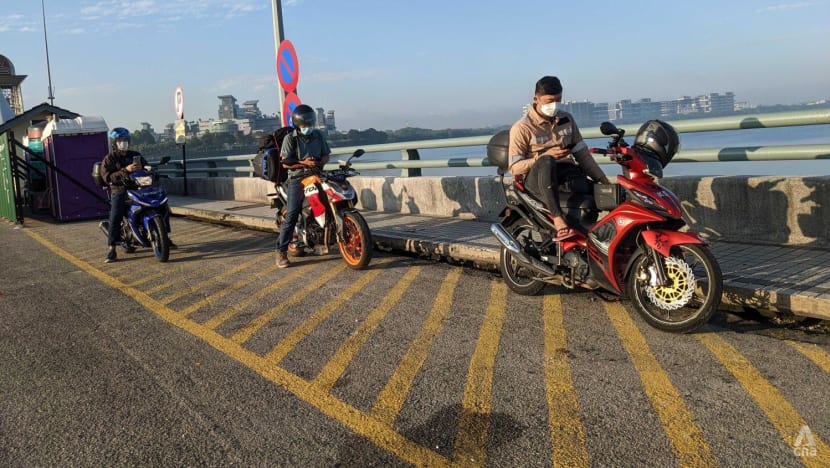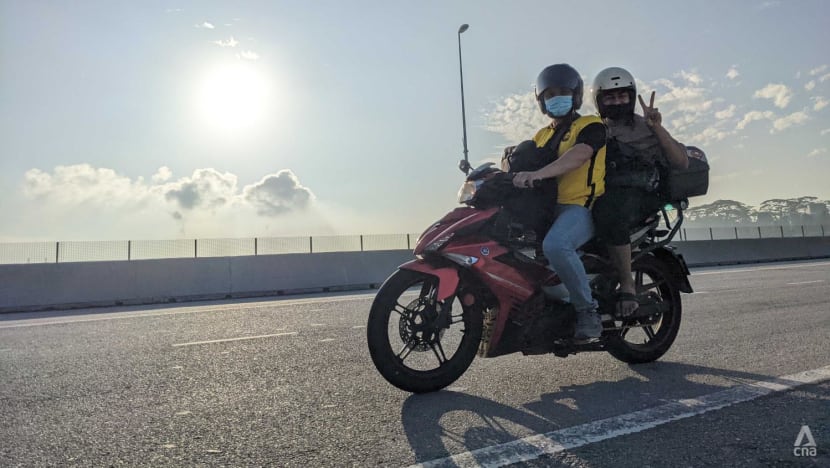 In the morning glare, several motorists stopped near the middle of the bridge to take photos.
One of those making the trip was Malaysian Muhammd Syafiq Abdullah, who works as a cleaner in Singapore. He has not seen his family in Malaysia since the borders shut.
"Everything is okay now," said the 44-year-old, wearing shades and listening to music. "I've not been here in so long, so I'm happy."
The immigration clearance at Bangunan Sultan Iskandar in Johor Bahru also went without a hitch. Officers did not check the MySejahtera app to verify our vaccination status.
The only hiccup was when an official volunteer asked one of us for a Touch 'n Go card for toll charges – despite an earlier announcement by Malaysian authorities that such charges would be scrapped.
When told about this, the volunteer let the car through.
HAVE THINGS CHANGED?
At JB Sentral, the normally bustling transport hub was a shadow of its former self. The majority of stalls were shuttered, and gone were the stands where property agents used to advertise the latest housing projects in Johor Bahru.
Nearby City Square Mall was no different: Footfall grew throughout the day but crowds remained thin – a far cry from pre-pandemic times. Many shop units were also empty.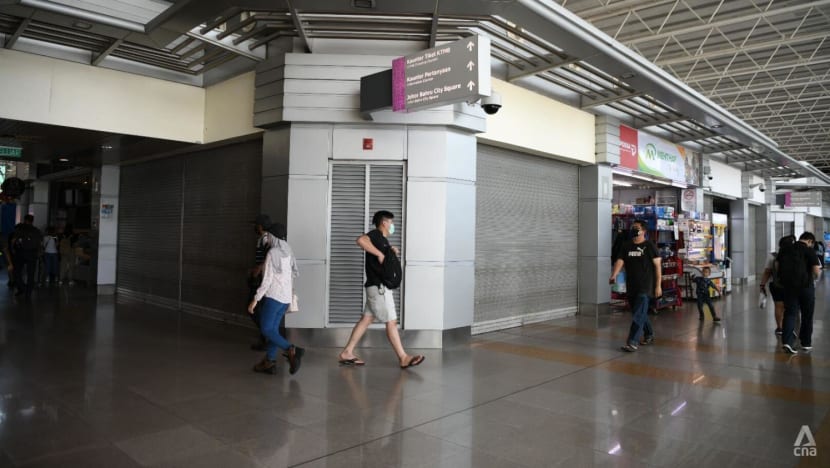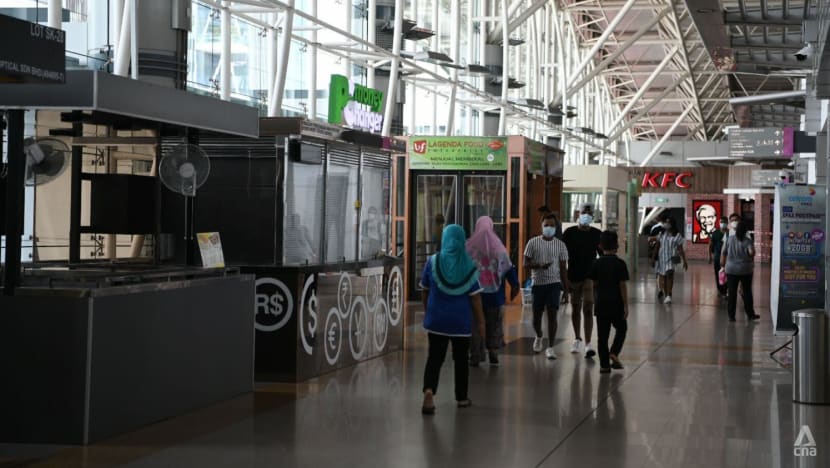 Nevertheless, retail workers from the remaining shops were optimistic about business returning.
Ms Beth Lopez, who works at popcorn shop MyEureka, said that as of 2pm, sales were already five times higher than yesterday's.
"We're really, really (happy about Singaporeans coming back). We're praying for it," she said.
Ms Nursafiqah Johari, a retail assistant at shoe shop Converse, also said that sales have not been good, and the hope is to see more shoppers from across the border.
The 21-year-old Malaysian also welcomed the reopening of the borders for another reason: "Maybe I can go inside and find another job."
It was a more vibrant scene at Jalan Tan Hiok Nee, a cafe-lined street frequented by Singaporeans and locals alike.
Though some eateries had shuttered, new ones had sprouted in their place. The surrounding area had also been spruced up with new infrastructure such as pedestrian walkways.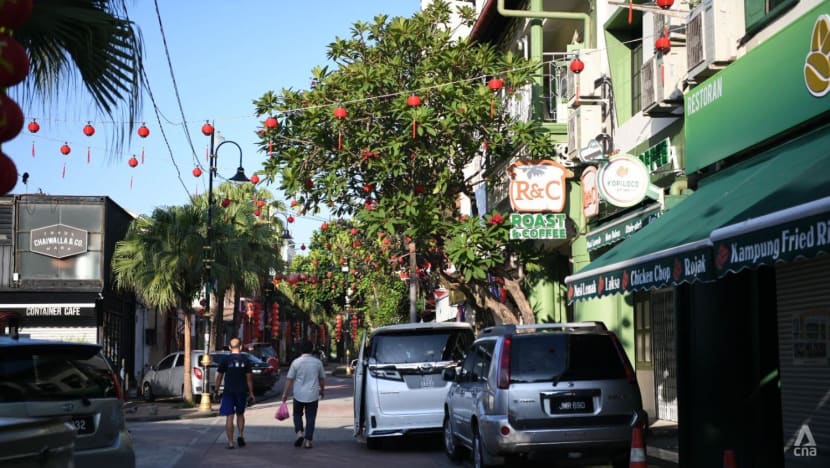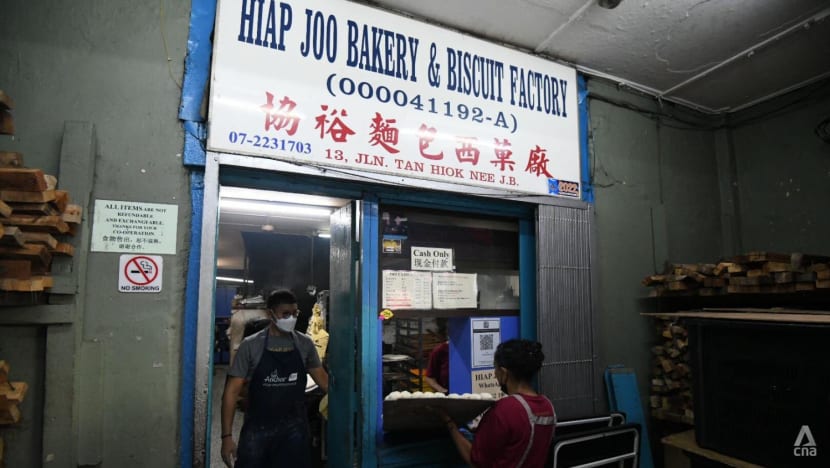 Still standing along this road was Hiap Joo Bakery, a century-old establishment famed for its banana cake. The bakery's owner, Mr Lim, told CNA: "I'm very happy (about the borders reopening).
"We count a lot on our Singaporean customers and they make up at least 50 per cent of our business. So in these two years, the impact on business has been quite bad."
To gear up for the first day of borders reopening, the bakery prepared 20 to 30 per cent more buns and cakes than usual, he said, as a steady stream of customers filed into the shop.
HEADING FURTHER INTO JB
Those looking to exchange their Singapore dollars for Malaysian ringgit should venture beyond JB Sentral – the ones there were closed – and head to the petrol stations visited by many Singaporeans near the checkpoint.
One of the money changers there was open and buying Singapore dollars at an exchange rate of 3.07.
Nearby, Singaporean Muhammad Shah Rizal, 34, was waiting for his car to be washed. He had crossed over to get familiar with the immigration process after being away for so long.
"I came on the first day of the reopening because I find that I miss Malaysia. When I entered I almost cried, because it's been some time," the security officer said, adding that he would visit Paradigm Mall to do some shopping.
Next stop was grocery shopping at Lotus' supermarket in Tebrau, a 15-minute drive from the checkpoint.
Crowds were manageable and there was a good variety of essentials on offer. A tray of 30 eggs was priced at RM12.30 (S$3.96), while a jumbo pack of Gardenia white bread went for RM4.
The self check-out machine had trouble accepting different ringgit notes, but a staff member was on hand to help out.
Just beside Lotus was IKEA, which opened to much fanfare in November 2019. The furniture megamart was far from packed this time, and security officers checked vaccination statuses using the MySejahtera app.
Singaporeans whose vaccination status have not been updated can use their TraceTogether app.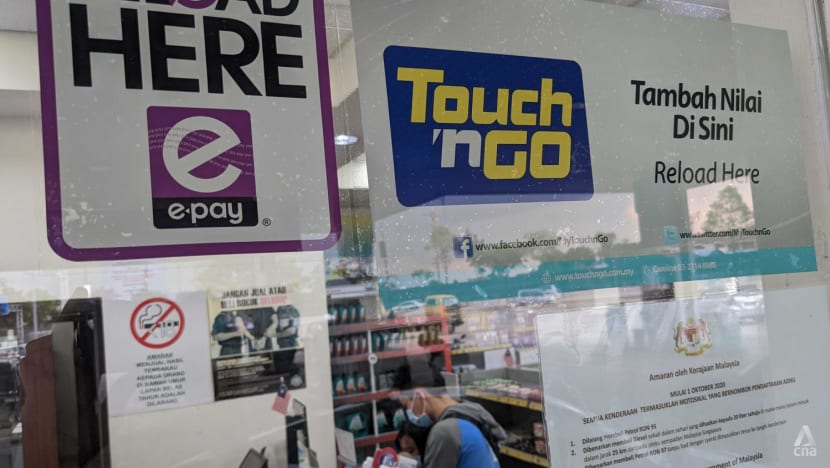 Then it was time to fill up the car with petrol and get it washed – quintessential activities for Singapore motorists visiting Johor Bahru.
The rate at a Petron station along the Tebrau highway for 97-grade fuel was RM4 per litre.
The BV car wash, named after the Banafee Village eatery beside it, takes up a large outdoor parking lot and predominantly serves Singapore-registered cars. A full wash plus a vacuum of the interior cost RM30.
Car wash attendant Jamil Ali, who hails from Pakistan, said he expects profits to go up since the borders have now fully reopened.
"We couldn't earn a lot when borders were closed. Now, a lot of Singapore cars are coming in again, so we feel good," the 22-year-old said, adding that some Singaporean drivers give tips too.
"I used to earn RM60 to RM70, now I can get about RM100. I can save up for when I go back to my kampung."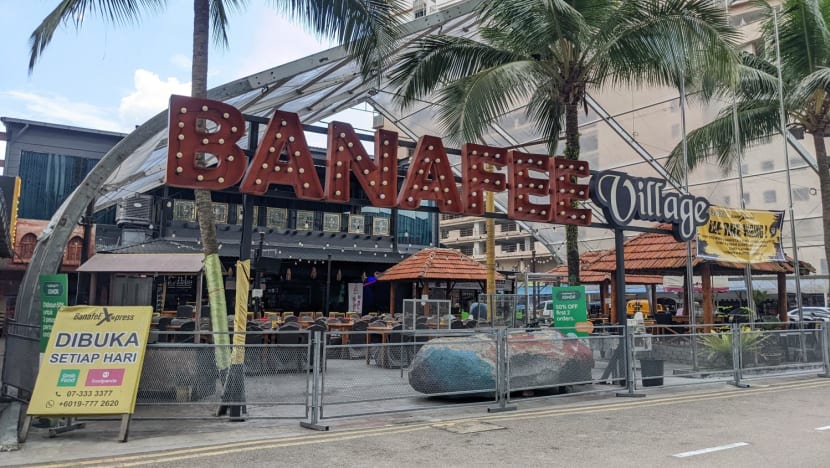 Banafee Village is a favourite haunt for Singaporeans due to its wide menu and proximity to the checkpoint. While the outdoor seating was still closed, it would no doubt welcome the throng of visitors expected later tonight and over the weekend.
If there was one thing to pick on, it would be that Touch 'n Go cards were sold out at the five petrol stations we checked. The attendants there said the cards flew off the shelves since last night, with many buying more than one card each.
Motorists might have better luck getting the card from a Watsons outlet, although they would have to pay RM20 for a bundled membership with the pharmacy.
AN UNEXPECTEDLY EASY TRIP
After ticking off our to-do lists in Johor Bahru, it was time to return to Singapore. Going home was as easy as getting in.
To save time, motorists should make sure to fill up their SG arrival cards beforehand. Officers stationed near the entrance reminded motorists about this.
When it came to security checks, one auxiliary police officer was rather meticulous, opening the glove box and sifting through bags in the car boot.
Overall, the trip to Johor was much easier than we anticipated. We had concerns about long queues and difficulties in registering our vaccination statuses in the MySejahtera app.
Ultimately, these worries proved to be unfounded.