Perikatan Nasional's move to nominate me as PM-designate not a daydream, Muhyiddin tells Ahmad Zahid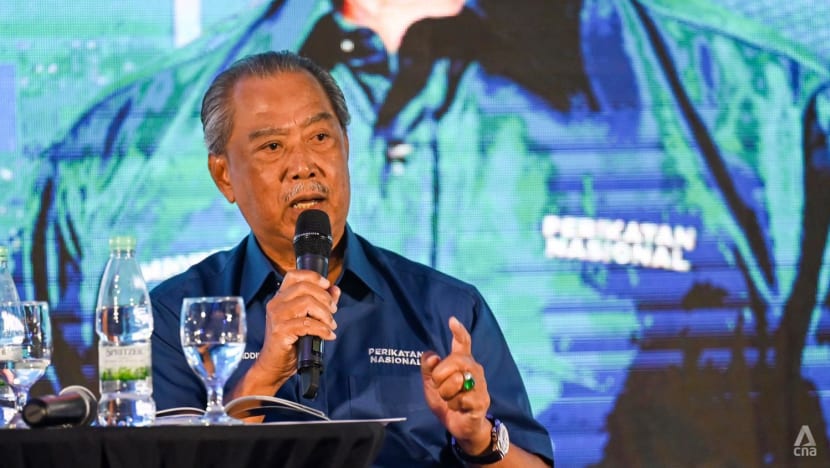 KUALA LUMPUR: Mr Muhyiddin Yassin said on Friday (Nov 11) that Perikatan Nasional's (PN) decision to nominate him as prime minister-designate for the 15th General Election (GE15) was not a daydream.
He was responding to remarks by Barisan Nasional (BN) chairman Ahmad Zahid Hamidi, who stated that PN was a failure and the latter's move to pick a prime minister-designate was akin to daydreaming. 
Mr Muhyiddin said on Friday that the decision was made by the coalition's leadership because the people wanted to know who the prime minister would be if PN wins GE15.
"There is no daydream or nightdream, we are being realistic, not talking nonsense. There is a basis, and this is a decision made by the PN leadership to name the prime minister-designate.
"This is to form a government... the people want to know whether the future prime minister will come from the court cluster or (are) ex-convicts. Will the people want to vote? Or will they (the people) think it's good?" said Mr Muhyiddin, according to a report by New Straits Times. 
While BN has maintained that caretaker prime minister Ismail Sabri Yaakob is its prime minister candidate, there has been intense speculation that Ahmad Zahid - who leads the coalition - may try to go for the job if his alliance prevails in the Nov 19 polls.
The former deputy prime minister has denied the rumours. Within BN, Ahmad Zahid holds a more senior position than Mr Ismail Sabri.
Earlier this month, there were signs that Ahmad Zahid had purged the coalition of some long-time members who were aligned with Mr Ismail Sabri, dropping them as candidates for the election.
He is on trial for graft and has pleaded not guilty.
On Thursday, Mr Muhyiddin said he was confident that the people's support for PN is increasing based on the extraordinary response he has seen during campaigning for GE15. 
He said most of the people he met while on the campaign trail have expressed their desire to reform the country's administration.
"Perhaps, this is because they want a government that is more attentive and responsible considering that life is not that good after the COVID-19 pandemic," he said, according to Bernama.
Separately, PN deputy chairman Abdul Hadi Awang has asked the voters to give the coalition a chance to govern Malaysia for one term so that its performance can be evaluated.
"Give us (PN) one term to govern the country and see what we can do, and if proven wrong, then vote us out in GE16," said Mr Abdul Hadi, who is also Parti Islam Se-Malaysia (PAS) president. 
PN comprises Bersatu, PAS, Gerakan, Parti Solidariti Tanah Airku (Star) and Sabah Progressive Party (SAPP). 
More than 21 million people will cast their ballots in Malaysia's GE15 to elect 222 new members of the Lower House of parliament. 
The Election Commission has fixed the polling day on Nov 19 and nomination on Nov 5.