Malaysia GE15: Flash floods hit several areas, forcing candidates to suspend campaigning
Pakatan Harapan's candidates in Selangor called off their campaigning events on Tuesday evening due to heavy rain and flood warnings.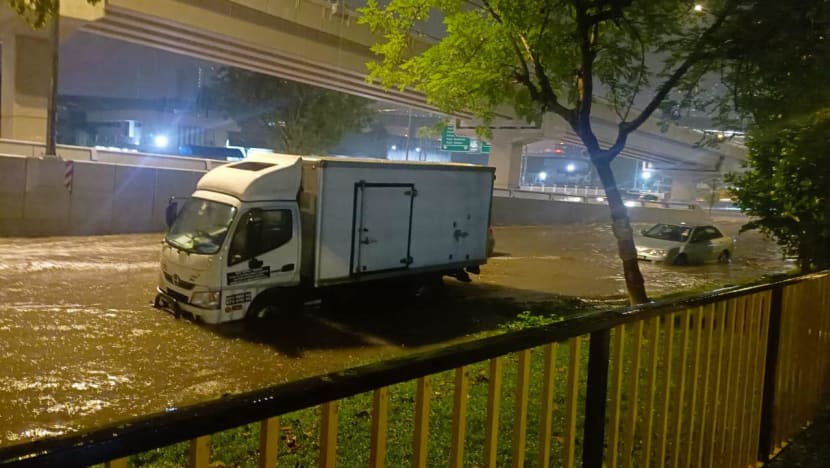 SHAH ALAM, Selangor: Several areas in Selangor and Kuala Lumpur were hit by flash floods on Tuesday (Nov 9), forcing candidates contesting the 15th General Election (GE15) to suspend their campaigning events. 
Several areas in Shah Alam, including Taman Sri Muda and Bukit Naga, reported flash floods after heavy rain occurred around 3pm on Tuesday. 
The Selangor Fire and Rescue Department said that the roads around Taman Sri Muda were flooded due to clogged drains despite the Sri Muda water lock being in operation, said its director Norazam Khamis who was quoted as saying by Bernama. 
He added that the roads around the residential areas in Bukit Naga in Shah Alam were also flooded due to blocked drains. 
However, Mr Norazam gave the assurance that the situation was under control as the rain had ceased.
Taman Sri Muda was one of the badly affected areas in last December's floods in Selangor which caused several casualties and damages.
In preparation for more potential floods, Shah Alam district police have issued an advisory warning for Taman Sri Muda residents to park their vehicles on elevated ground. 
"Residents in the Taman Sri Muda area are advised to park their vehicles in high areas and monitoring is carried out from time to time. The situation is still under control," said Assistant Commissioner Mohd Iqbal Ibrahim as quoted by Bernama. 
He said that the Shah Alam City Council has opened the Sri Muda Modern Market multi-storey car park for surrounding residents to temporarily park their vehicles in the event of a flash flood. 
The Klang district disaster management committee has also established an onsite control centre that will operate around the clock at Taman Sri Muda to manage the possibility of more floods in the area.
In Kuala Lumpur, two areas – the Muhibah People's Housing Project tunnel and parts of Jalan Kuchai Lama – were hit by severe flash floods after a heavy downpour in the city on Tuesday evening. 
Flash floods were also reported around other parts of the city centre with some vehicles stuck in the water following a downpour. 
Caretaker minister in the Prime Minister's Department for special functions Dr Abdul Latiff Ahmad said that the control centre was established based on early warnings received from the Malaysian Meteorological Department (MetMalaysia). 
It also received data obtained from related agencies, including the Department of Irrigation and Drainage on identified flood hotspots.
Eleven water pumps have reportedly been prepared, with eight located in Taman Sri Muda and four more expected to be added.  
Selangor Fire and Rescue Department Operations assistant-director Hafisham Mohd Noor said that 15 personnel and five boats have been assigned to the centre.
During last year's severe floods in Shah Alam, hundreds of vehicles, homes and shops were under water. Many residents had to be rescued and sent to temporary shelters.  
Seven people were also found dead in Selangor, with three of them from Taman Sri Muda.
CAMPAIGN EVENTS SUSPENDED 
Reports of heavy rain and flash floods on Tuesday affected campaigning activities for GE15 with some candidates deciding to suspend their events. 
Pakatan Harapan (PH) candidates in parts of Selangor suspended two campaign events following the heavy rain and flash floods in some areas in the state. 
Shah Alam PH candidate Azli Yusof and his team cancelled a walkabout in a market and a rally in Padang Jawa to focus on flood preparations.   
"The PH 'ceramah' (campaign talk) that was scheduled at 9pm on Tuesday, Nov 8 in Padang Jawa has been cancelled to focus on preparation if flood occurs," said Mr Azli's spokesman as reported by the Malay Mail. 
Mr Azli was scheduled to speak at the event alongside three state assembly persons in the Shah Alam constituency and Malaysia United Democratic Alliance (MUDA) secretary-general Amir Abdul Hadi.
Bangi and Sungai Buloh PH candidates Syahredzan Johan and R Ramanan also cancelled their events on Tuesday night due to heavy rain and flood warnings.
Democratic Action Party (DAP) chairman Lim Guan Eng had previously called for caretaker prime minister Ismail Sabri Yaakob to publicly explain his refusal to heed MetMalaysia's expert advice against holding GE15 this year. 
The calls for an early general election by BN, especially by United Malays National Organisation's (UMNO) president Ahmad Zahid Hamidi, have been severely criticised by the opposition as well as Mr Ismail Sabri's own Cabinet members due to flood warnings from MetMalaysia. 
Last week, MetMalaysia had forecast that the northeast monsoon season would begin last Saturday and go on until March next year, which could result in flooding in low-lying and riverine areas.
On Monday evening, it issued a continuous rain warning alert for Kelantan, Terengganu, Pahang and Johor from Tuesday until Friday.
It said that the affected areas included Kuantan, Pekan, Rompin, Mersing, Kota Tinggi and Johor Bahru. 
On Tuesday, the National Disaster Management Agency (NADMA) also released a warning of flash floods in several states and cities including Shah Alam and Kuala Lumpur. 
Campaigning in GE15 is picking up momentum since Nomination Day last Saturday, with many candidates making their rounds in all constituencies in Peninsula Malaysia as well as in Sabah and Sarawak. 
More than 21 million voters are expected to cast their ballots on Polling Day on Nov 19, while early voting will be on Nov 15.